Kansas Snapshots by Gloria Freeland - November 19, 2021
Quilts also warm your heart
Earlier this year as spring turned into summer, I swapped our winter bed comforter with a lighter one. While rummaging in the closet, I came across my doll coverlet made by great-great aunt Ella Freeland. I don't remember much about Ella, as she died when I was just a toddler, but I do remember putting my dolls to bed under the small 17-inch by 21-inch blanket. The top side is made of squares of various colors, while the reverse has an ivory background with pink roosters and my name is stitched across one corner.

No doubt I have come across it every season change, but this time I decided to display it on an old wooden chair in our bedroom. It joined two crazy-quilt remnants I had framed after finding them in a trunk on the Freeland family farm decades ago. Judging by the similar materials, those latter two were made at about the same time. One has "1896" stitched on it.

I wish I knew the "back story" of these pieces, such as who made them. I presume they were intended to be part of a larger quilt, but time or life ran out before they were completed. One has three interlocking circles, probably from the "triple links" logo of the Independent Order of Odd Fellows. My ancestors belonged to several such groups and the IOOF was very popular. Founded in 1819, it was a nonsectarian fraternal social organization with a focus on helping individuals and families when struck with difficulties. The rings represented friendship, love and truth. But husband Art said his dad always joked that the letters stood for "Independent Odd Old Fools."

Crazy quilts were quite the thing in the Victorian era, spurred on by the 1876 Philadelphia Centennial Exposition, according to the website womenfolk.com/quilting. One of the most popular exhibits was the Japanese pavilion with its "crazed" ceramics and asymmetrical art. Women were eager to incorporate this new look into their quilts, so they sewed odd-shaped pieces of velvet, silk, brocade and other scraps together in abstract arrangements. Rather than use a consistent stitch as was traditional, more variety was added by mixing feather, herringbone, fly and chain stitches along the seams. The word "crazy" implied not only wild, but also broken or crazed into splinters - a good description of the various triangles and other odd shapes in these quilts and the framed segments I have.

"The Crazy Quilt" - a poem published in the Feb. 20, 1885 Manhattan (Kansas) Nationalist - describes women's fascination with them.
O, say can you see by the dawn's early light
What you failed to perceive at the twilight's last gleaming;
A cranky concern that through the long night
O'er the bed where you slept was so saucily streaming?
The silk patches so fair
Round, three-cornered and square
Give proof that the lunatic bed-quilt is there.
O, the crazy-quilt mania triumphantly raves
And maid, wife and widow are bound as its slaves.
My grandmother Ethel (Stewart) Freeland was a quilter, but hers were not of the crazy variety. While neither mom nor I followed in her footsteps, sister Gaila has been a member of a quilting group in La Paz, Bolivia for years. She and her friends get together to chat, drink tea and help each other with patterns, just as grandma did with her EWT - Eat, Work, Talk - club. Gaila also asked her sister-in-law Hilda to design quilted wall hangings for daughters Gabriela and Larisa and to stitch teddy bears made from dad's ties and cats made from mom's blouses. When Gaila retired in the spring, her group gave her a wall hanging with a book theme - to honor her 30-plus years as school librarian.

I mentioned to friend Allana Parker, the interim director of the Riley County Historical Museum, that I had recently been thinking about quilts. She shared a story about one her grandmother made.
... I have such an affinity for them as it was one of my Gramma's primary hobbies. She made over 100 quilts! One of my favorite stories was a quilt she made out of discount fabric she found at the store. To her, the fabric pattern was black and white peaches and peach blossoms. She was so proud of this quilt, I will never forget when she revealed it to the family. The only thing was, the pattern was not peaches and blossoms… they were skulls!! She could not see them even after it was pointed out! I love that story, though, because it speaks so much to her genuine heart and personality. She saw the good in everything.
Although the museum has nearly 100 quilts, one in particular "caught my fancy" a number of years ago. It's a "Servicemen's Bedspread" made by Jessie Lee Brown Foveaux of Manhattan, Kansas. She began near the end of World War II and it took her six and a half years to complete. Jessie put shoulder patches and insignia given to her by soldiers stationed at nearby Fort Riley onto a yellow satin background and edged each one with a tatted blue and gold medallion. On the bottom, she embroidered in blue, "God Protect Our Boys on Land At Sea and In The Air." Jessie and the quilt were featured in a 1952 edition of "Ripley's Believe It Or Not" syndicated newspaper panel. The tatted work purportedly includes a patch from Gen. Douglas MacArthur.

Art has often said, "Quilts don't do much for me, except they keep you warm." In contrast, whether it has "crazed" designs from the Victorian era, a patchwork similar to grandma's or "pictures" like the one Gaila's friends made, I'm curious about them. Unlike a meal or a gift bought at a store, a quilt represents hours of work, usually by someone who knew the person it was made for. So in the parlance of antique dealers, I want to know the "provenance" of the piece - who made it, why the person made it, what its history is, and what stories it has to tell. The one Ella made for me would never keep a body comfortable in the cold, yet it warms my heart each time I see it, knowing she took the time near the end of her life to make it for me.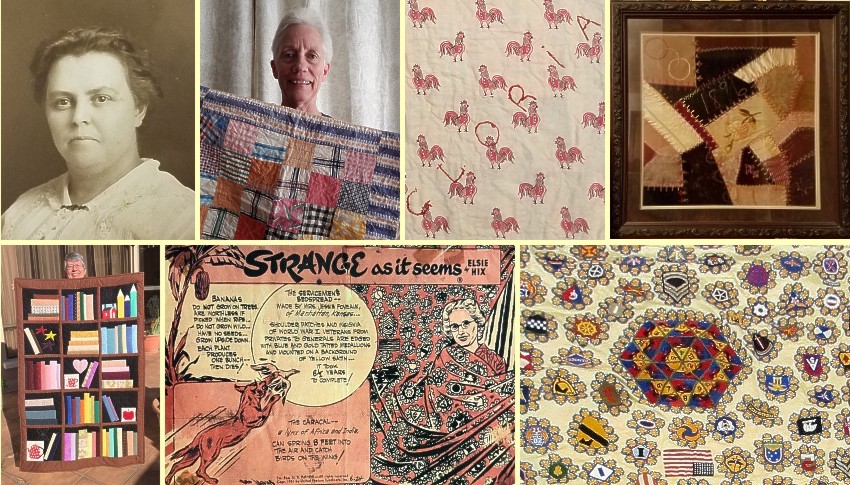 Top (l-r); Great-great aunt Ella Freeland; Gloria with coverlet front and back; one of the framed crazy-quilt remnants containing the date and the three rings. Bottom (l-r): Gaila with her librarian-themed quilt; Ripley's newspaper panel with mention of Jessie's quilt and the center section of the quilt. (Last two images courtesy Riley County Historical Society and Museum.)