Kansas Snapshots by Gloria Freeland - August 13, 2021
Mural magic
The shelves are lined with classic books - "To Kill a Mockingbird", "The Chronicles of Narnia", "Moby Dick", "The Wizard of Oz", "Anne of Green Gables" and others. They are bound in rich hues of blue, green and burgundy, and some of their spines are inscribed with gold lettering. There's nothing particularly unusual about them - except all these books are nine feet tall!

Not far away, a cow looks over her calves, penned by a white fence next to a red barn and a windmill - a familiar scene in rural Kansas. But this bucolic scene towers over the town.

No, we weren't in some sort of land of giants, but in Clay Center, Kansas, population 4,000. After husband Art had taken care of some business with one of his customers, we decided to pause a moment and enjoy the art. The books were two-dimensional ... paintings on a wall, fittingly next to the town's Carnegie Library. The farm scene was a few blocks south on 6th Street ... a 7,000-square-foot mural on the Key Feeds facility.

These are two of 13 paintings installed in the last eight months as part of Clay Center's "Mural Movement." One honors local first responders, while another depicts the flag-raising on Iwo Jima during World War II.

Friend Ron Wilson recently interviewed Brett Hubka, president of the Clay Center Rotary Club, about the murals for Wilson's "Kansas Profiles" column. Hubka said, "We have a lot to offer in Clay Center and this gives people a reason to stop."

In a sense, one of the paintings sums up what he was saying. It looks like a postcard with the words "Greetings from Clay Center."

When I mentioned our recent experience to a friend from Lindsborg, Kansas, he sent a photo of a mural from the village depicting Swedish dancers, a nod to the town's Swedish heritage.

A July 2021 farmprogress.com article focused on these larger-than-life pieces of art popping up across the state.
Communities across Kansas are embracing mural movements and sharing their unique history in artistic ways. ... As with all tourist attractions and destinations, economic development is the driver for this project. Beautifying Clay Center with these vibrant public art installments increases community pride, helping bring tourists to their town, which they describe as "a great place to live, work and play."
Manhattan, Kansas joined this movement in November 2019 when Brazilian artists Douglas de Castro and Renato Perreira completed a vibrant mural near the local mall. Folks can satisfy their hunger for food and art by choosing the outside-dining area of the adjacent pizzeria. The kaleidoscopic mural features a person studying, with flowers and a meadowlark springing from an open book. Its creation was an inaugural event for Incite MHK, a group dedicated to celebrating public art and working to find ways to bring more of it to Manhattan.

Another, sponsored by Incite MHK and the Manhattan Alliance for Peace and Justice, pays respects to the late Supreme Court Justice Ruth Bader Ginsburg.

Murals aren't just in Kansas and they aren't a new phenomenon either. Many large cities - Washington, D.C., Minneapolis, Minnesota and New York City - have had mural art for years. But their appearance in smaller places is relatively new and a number of them have literally stopped us in our tracks.

Art first noticed the ones in Wittenberg, Wisconsin, population 1,300, a number of years ago, while he was on his way to a nearby trout stream he fishes. The village has a "Walls of Wittenberg" (WOW) website to describe its efforts. WOW was founded in 2005 and is dedicated "to bring out the beauty and unique character of the Wittenberg area in a way that revitalizes the downtown, honors the areaís history and attracts visitors."

Its first mural, "Foundations of Faith," was painted in 2005-2006 to represent the faith communities that settled the area. In the following years, artists added 17 more and the village added an art park as well. "What We Do" was unveiled in May 2019. It is a series of paintings depicting the various professions of the town's citizens. Artís favorite is on the side of an eye-care business. It features an image of glasses and an eye chart made with 65 different colored circles embedded in other colored circles to simulate a color-blindness test. Another is a tribute to the Native Americans who lived in the area before white settlers arrived.

New London, population 6,300, is on the Wolf River about 20 miles from Art's hometown of Appleton. Members of the Wolf River Art League's "Start Art Project" have painted nearly 50 murals throughout the city. The project began during the early stages of the COVID-19 pandemic. Organizers say it has "brought hope and light during a time when people were confused, and now we've had so much love."

An art league member quoted on the New London Tourism website may have summed up what all these community efforts share:
Together. It's a common theme in our artwork. Together we can make this community. Together we can help each other. Together we can build one another up. Together we can spread love and joy. Together we can make New London a great place to live.
While these works of public art do serve to bring a town's citizens together, they also encourage a positive feeling toward the community from visitors. This is the magic of the murals.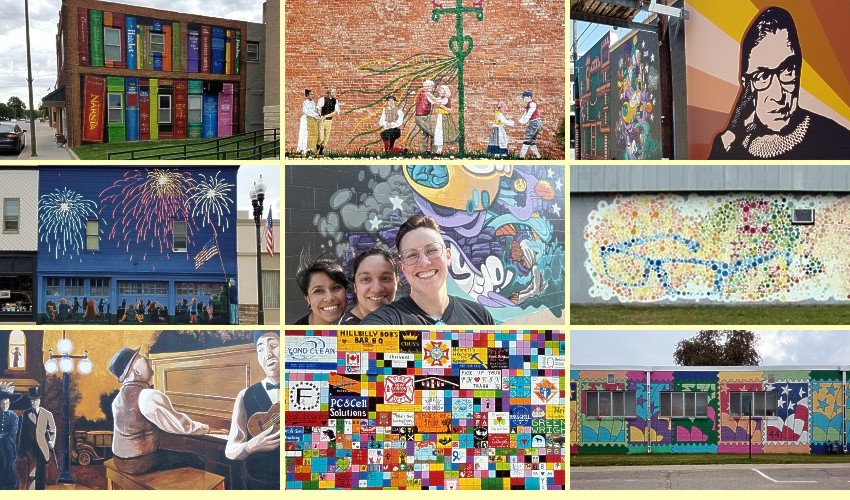 Top row (l-r): "Books" in Clay Center, next to the library; dancers in Lindsborg; triple mural in Manhattan with Justice Ginsburg on the right. Middle row (l-r): Wittenberg scene celebrating the Fourth of July; daughter Mariya with wife Miriam on the right and Miriam's cousin Anabell on left in front of middle painting from Manhattan's triple mural; Wittenberg's "color-blindness test mural. Bottom row (l-r): Building wall painting in Mount Vernon, Iowa; New London mural celebrating individuals, businesses and organizations; Side of the post office in Wittenberg decorated with "stamps." The color-blindness image is from jennbushman.com.