Kansas Snapshots by Gloria Freeland - June 18, 2021
The end of an era
Siblings Dave, Gaila and I recently sold our family farmhouse, outbuildings and about five acres. While none of us had plans to live on the farm again, it makes us a little sad. The home had been in the Freeland family since the early 1900s. Five generations worked, played, and shared laughter and tears in that house, purchased by our great-grandparents William and Mary. It witnessed at least two weddings, multiple anniversary celebrations, birthday parties, ordinary suppers, farm chores, grownups sitting on the porch swing, and children playing tag.

Mom and dad left about 20 years ago, but to know weíre no longer its owners creates a sense of loss thatís hard to describe. Part of that nostalgia is as much wrapped up in getting older as it is in the physical loss of the place we called home for so many years.

The folks moved to Manhattan in October 2000. For that Christmas, I put together a booklet - "Freeland Family Farms: Memories of nearly a century on two rural Marion County, Kansas farms" - with letters from relatives and friends who had spent time there. I then scoured my albums to find photos to complement each letter.

For me, the farm had been both a sanctuary and the center of family.
... When I think of my growing-up years and even recent years as I've reached middle age, I think of the farm as being my refuge in many of life's storms. It is hard to think that we wonít be going back to spend lazy summer days or cozy winter nights at the farm, but the memories of the people who lived and worked and played on the farm will always be with us.
As with all farm people, my memories are centered on the seasons.

Spring reminds me of hiding Easter eggs in the grass, looking forward to the tulips, irises and peonies coming up, and sneaking peas, strawberries and leaf lettuce from the garden.

Summer brings to mind dad and Dave working out in the fields, doing 4-H projects, eating homemade ice cream, spitting watermelon seeds, "swimming" in the cattle tank, savoring home-grown corn on the cob, and helping mom hang freshly-washed sheets on the clothesline. I see the sweet honeysuckle blooming on the windmill and bumblebees buzz around the deep-wine-colored hollyhocks nearby. Day lilies add splashes of orange in patches sprinkled here and there.

Autumn was about going back to school with new plaid dresses and Buster Brown shoes, having wiener and marshmallow roasts, hosting Halloween parties in our barn, raking leaves, and enjoying crisp days and nights.

Memories of winter include dad tying the sled behind the pickup and pulling us along the country roads, cutting a cedar from the pasture for Christmas, having sword fights with icicles, watching the magical bubble lights on the tree, and seeing the snow turn the landscape into a winter wonderland.

And always, always, I think of the people with whom I laughed and cried as we celebrated new life, mourned the deaths of loved ones, watched television, read quietly, sat in the swing, listened to cicadas, toads and meadowlarks, played board games, and did so many other ordinary things.

When the folks moved to Manhattan, we brought dishes, photo albums, framed pictures, clothes, clocks, books, heirloom furniture, old trunks from the brooder house and hayloft, tools, gardening supplies, a rickety milking stool, rusty chicken feeders, cracked crocks, pails, and much more.

But a small incident from that day stayed with me and I described it in an October 2007column:
... As the movers were completing their work, Dad noticed a garden hose still attached to an outdoor spigot. He got up and struggled to unscrew it. I tried, too, but it was stuck tight. I told him gently that the renters would take good care of it and we could buy him a new one once they settled into their new house. For some reason it struck me that this old garden hose seemed to symbolize his life on the farm. It was old and well-used, and it didnít want to leave either.

... As we slowly drove out the lane toward the highway, Dave and I honked our horns - something we did every time we left the farm to return to our own homes.

And always, mom and dad would be standing on the sidewalk, waving until we were out of sight.

But there was no one to wave that day.
The last time I was on the farm was probably in summer 2016, when we scattered mom's ashes in the corn field north of the barn. We had done the same after dad died in 2002. Now there is no going back.

In Thornton Wilder's 1938 play, "Our Town," Emily, a character who died young, returns to earth for one day, but is struck by how people don't appreciate life and what it has to offer. In one of her monologues, she says, " ... Good-bye to clocks ticking ... and Mama's sunflower. And food and coffee. And new ironed dresses and hot baths ... and sleeping and waking up. Oh, earth, youíre too wonderful for anybody to realize you!"

Growing up on a farm taught me to appreciate many of those simple things. And Jenny, the woman who bought our home, seems to enjoy them as well. She is truly excited to have a place in the country she can call her own and have a few animals. So while it's the end of an era for our family, it is a beginning for another. For everything, there is a season.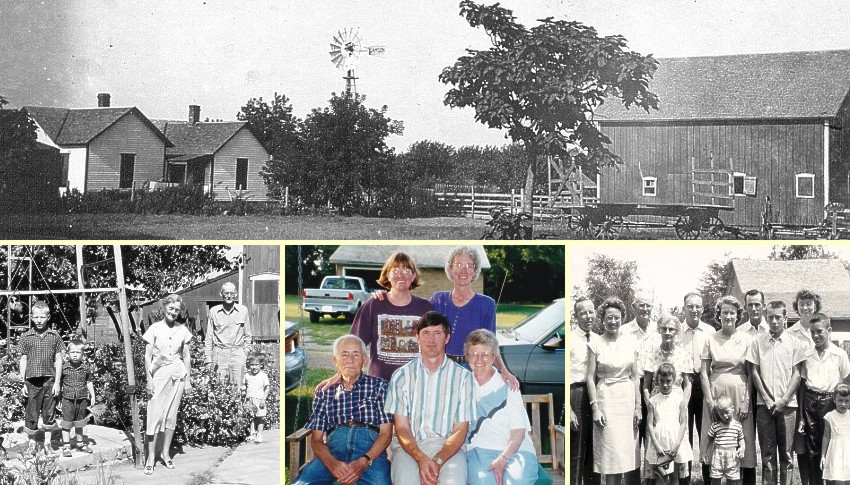 Top: The farm, looking to the southwest from the road, in the early part of the last century. Bottom (l-r): Cousins Bob and Jeff under the windmill and brother Dave next to our grandparents Ethel and Robert. The barn is in the back ground and just to the left of Bob's head hanging from the cross bar of the windmill is the drinking cup I rescued as a remembrance of our days on the farm. The middle photo has dad and mom on the swing with Dave in the middle and Gaila and I standing behind. The right-hand photo is of three generations. From the left: uncle Stan and wife Kay, grandfather Robert and grandmother Ethel with her hands on my shoulders, uncle Bob next to wife Hazel with her hands on their son Peter, dad Edgar, Bob's and Hazel's son Jeff, mom Edla behind brother Dave with hand on sister Gaila.