Kansas Snapshots by Gloria Freeland - March 26, 2021
"We could learn a lot from crayons"
I wonder why March 31 was selected as National Crayon Day. But when I learned about this made-up holiday, I began thinking about those ubiquitous colorful childhood tools.

"I still remember the smell of crayons!" college friend Deb said. And she's not alone! In a Yale University smell test, crayons were found to be the 18th most recognizable smell out of 80 items. A derivative of beef fat gives the crayon its scent and waxy feel.

Deb added, "I loved getting a new box of fresh crayons every school year and I would spend hours rearranging them while all new. They weren't as much fun when the paper was torn and they were nubbies."

In the spirit of full disclosure, Deb has had a business involving art for as long as I can remember, so maybe her interest in crayons is not entirely typical.

Still, I imagine many of us remember the elementary school teachers giving us those mimeographed sheets with already-outlined figures for us to color. They seemed to be coordinated with holidays - Kansas Day in January (brown for the bison and yellow for the sunflowers), Halloween (orange for pumpkins and black for witches), and Christmas (red for Santa, Rudolph's nose and candy canes). Occasionally, we were given free rein to draw whatever we wanted using any colors our hearts desired. What joy! What freedom!

Mom was artistic and wanted to encourage her grandchildren's creativity. So at their farm home, daughters Mariya and Katie, nieces Gabriela and Larisa, and nephews Paul and Michael used all sorts of media - colored pencils, glitter, watercolors, acrylic paints and yes, crayons.

The Smithsonian National Museum of American History has an exhibit of crayons. The exhibit description states:
Cherished by generations of child artists, Crayola crayons were invented in 1903 by the Binney & Smith Company of Easton, Pennsylvania. Using paraffin wax and nontoxic pigments, the company produced a coloring stick that was safe, sturdy, and affordable. The name "Crayola," ... [coined by Alice Binney, wife of the company's co-founder Edwin Binney ] ... comes from "craie," French for 'chalk,' and "oleaginous," or "oily." ... Both the packaging and the color names and crayon colors change over time reflecting social and cultural trends. Crayons are icons of American childhood that recall our collective memory for coloring both inside and outside the lines. Affordable and easily obtainable, they have transformed art education and fostered creativity in schools and homes, providing color to children for generations.
The year before it introduced the Crayola, the company invented dustless chalk, which became an instant hit with schoolteachers. The Crayola crayon was an even bigger success and would go on to be one of the original inductees into the National Toy Hall of Fame.

According to the holidayscalendar.com website description of National Crayon Day, the practice of combining various pigments with oil goes back thousands of years. Many different cultures, including Egyptians, Greeks and Romans, used the method. In the Middle Ages, artists used cylinders composed of charcoal and oil. Eventually, the charcoal was replaced with various pigments. A big breakthrough in crayon technology came when French lithographer Joseph Lemercier produced a crayon in 1828 that replaced the oil with wax. By the beginning of the 20th century, several companies, including Binney & Smith, produced wax crayons in the United States.

Some fun facts!
* Crayola has produced 120 different colors and has retired about 50 over the years, typically on March 31 (Maybe that is why it was chosen as National Crayon Day). Among those that have been discontinued are maize, magic mint, blizzard blue, mulberry, dandelion and raw umber.

* 12 million crayons are made daily and 2.5 billion are used in North America alone each year.

* Other brands besides Crayola include Dixon Ticonderoga and Rose Art Crayons, and there are also a number of generic brands.

* The 100-billionth Crayola crayon - "blue ribbon" - was poured by Fred Rogers of "Mister Rogers' Neighborhood" in 1996.

* Binney and Smith opened a plant in Winfield, Kansas, in 1952, but it was closed in 1997 when crayon operations were consolidated to Pennsylvania. But the company is now wholly owned by Kansas City's Hallmark Cards, Inc.

* On its 100th anniversary, Crayola unveiled the world's largest crayon. It was blue, more than 15 feet long and weighed over 1,300 pounds. It was made from crayon bits received from children across the U.S.

* In 2020, Crayola introduced a line of 24 colors named "Colors of the World" to reflect nearly 40 skin tones of people around the world.
Mariya tries to incorporate some kind of hands-on activity using crayons in her college class and Katie mentioned my giving them Crayola's special boxed set of 100 crayons to commemorate the company's 100th anniversary.

"Oh, and everyone used crayons to write messages to us at our wedding dinner!" Katie said. "That was cute!"

Husband Art said he used crayons "minimally" as they were too "gross" - meaning not fine enough - to do the kind of drawings he wanted to do. He opted for colored pencils instead. He grinned, then said, "But I did melt them to use the paraffin on some of my electronic parts!"

Hmm. Creative, but not very artistic!

Sister Gaila, who is a librarian, has been creating "virtual" libraries throughout this pandemic year. One of her latest includes a number of books about crayons: "Harold and the Purple Crayon," "The Day the Crayons Quit," "Mixed: A Colorful Story," "How the Crayons Saved the Rainbow" and others.

Seeing crayons depicted as characters with different personalities made me smile and think of something author Robert Fulghum suggested:
We could learn a lot from crayons; some are sharp, some are pretty, some are dull, while others [are] bright, some have weird names, but they all have learned to live together in the same box.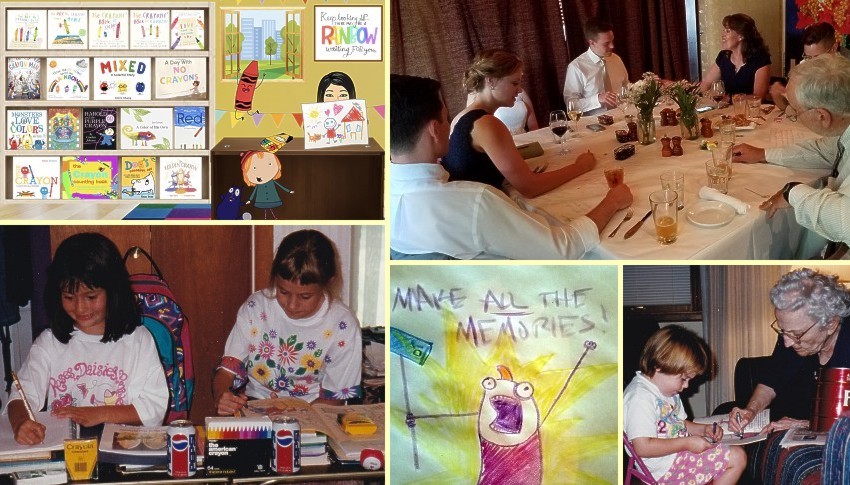 Top-left: One of Gaila's virtual library rooms featuring crayons; bottom-left: Niece Gabriela and daughter Mariya invoking their artistic talents some years back; top-right: Writing crayon "messages" to the bride and groom (sitting in front of the curtain); bottom-middle: Mariya's "Make All the Memories" message to the newlyweds; bottom-right: Katie with her grandmother Donna coloring together.