Kansas Snapshots by Gloria Freeland - February 19, 2021
The Tommy we knew
I recently made a mailing label for a package to send to husband Art's brother Tommy in Wisconsin. Each month, I typically send a letter, a loaf of my Friendship Bread and copies of my latest online columns - he declined getting internet access as he said he'd never leave the house if he did.

His response has been a 20-plus-page newsletter that included information about his recent activities and articles about the Green Bay Packers, historical topics, archaeology, music and movie stars. These were annotated in his precise printed handwriting, with some items underlined with red, black or green felt-tip pens for emphasis. Each arrived in a manila envelope sealed with tape around every edge, requiring a knife or scissors to gain access. The materials have always provided good bedtime reading "fodder."

But the day after I made the label, we learned Tommy had died. While it was sad news, we knew he had lived his 88 years in the manner he preferred, taking daily several-mile walks and reading incessantly, a pattern of more than 40 years begun not long after he retired from teaching in his 40s.

After texting Art's daughter Karen with the news of her uncle's death, she replied: "... what I remember about Tommy, as grandma used to say, 'he was an odd duck!'"

I met Art 33 years ago this past August and his mother Donna a month later when she came to Kansas to visit Art. She was a "character" and I could tell Art didn't fall very far from the tree! At Christmas that year, we traveled to Art's hometown of Appleton to meet the rest of his family, including Tommy. "Odd duck" was the same term his mom, brother, nieces, aunts, uncles and cousins used to described him.

Karen added:
... He was almost always happy and loved the Packers. He also loved to talk! And he wouldn't start the car until you put your seatbelt on, lol. I'll miss him. I liked Tommy. He was odd, but still very lovable. And he was always kind to me.
Tommy treated Karen and daughters Mariya and Katie as young adults rather than dismissing them as "just kids." He loved playing Scrabble with them, but unlike most adults, he wouldn't let them win just because they were young.

When Mariya and Katie were little, we traveled to Appleton in March to celebrate Donna's birthday, in the summer, and during Christmas vacation. Tommy would "pop over" to Donna's house several times while we were there, bringing with him a brown paper bag with handles. It contained articles he wanted to read out loud to us and also served as a depository for his hat and gloves during winter weather. Often, he brought along a crossword puzzle he had completed with pen - never pencil. Then, he and Donna, who had completed her own copy, would compare notes.

Since he lived in an apartment with no recycling accommodations, he brought his meticulously-arranged newspapers, cleaned cans, cardboard and other items to add to Donna's. He tracked the number of gallons of milk he drank each year and the number of times he mowed Donna's lawn in the summer and shoveled the snow off her driveway in the winter. Any mention of the family's trips hauling blueberries from Upper Michigan during World War II inevitably led him to emphasize that 1944 was the peak year with 4,186 cases - "and those were 16-quart cases too."

Tommy was exceptionally knowledgeable about the English language and grammar. His newsletters were well-written, as were a series of remembrances he wrote about his uncle Pete's and uncle Art's World War II service. His love of writing blossomed during the war as he wrote what he called "The Daily Bugle," a newsletter for his uncle Art. During the Korean War, he trained as a truck driver at Fort Riley before being stationed at Taegu. At both, he wrote letters home every day!

Donna, Tommy and Art were often the focus of family gatherings because they could recall dates and incidents others had forgotten. Donna's death in 2009 made Tommy the "patriarch" of the family, a role he relished as keeper of the family stories. He moved into her home, transporting many of his belongings, including several heavy metal file cabinets, two miles via a hand-held dolly.

He was an insatiable reader and was well-informed on many topics. He clipped items and put them in his wallet, later retrieving them and reading their contents aloud if a related topic arose - or even sometimes when it hadn't.

Katie was in vocal music and performed in musicals during high school. Art sent Tommy DVDs of those performances, and Katie said Tommy sent her notes and comments about every song. She recalled Tommy's high-waisted pants, his "kinda wheezy" laugh, and his love of chewing gum, which he would "save" on the edge of his plate during a meal for later chewing.

Mariya received letters from him with articles about historical events, movies and pop culture. "Uncle Tommy had an innate curiosity about most things he would come across," she said, adding:
... It was common knowledge in the family that when we opened [Christmas] presents, it was best to give any reading materials to Uncle Tommy as his last gift, as he would start reading aloud and not stop to open anything additional if he found himself immersed in the text. Which, when Katie and I were younger, we found incredibly frustrating as then we weren't able to finish opening our presents. So that quickly became an unwritten rule of the holidays.
Gag gifts were also part of those holidays. One year, we gave him a figure from the comic strip, "Barney Google," prompting him to recite the related song's lyrics.

The Tommy we knew was smart, entertaining, knowledgeable, funny and, at times, aggravating. But now his unique life will be part of our family lore! He's gone now, but he won't soon be forgotten.

NOTE: This column is a companion to next week's The Tommy we didn't know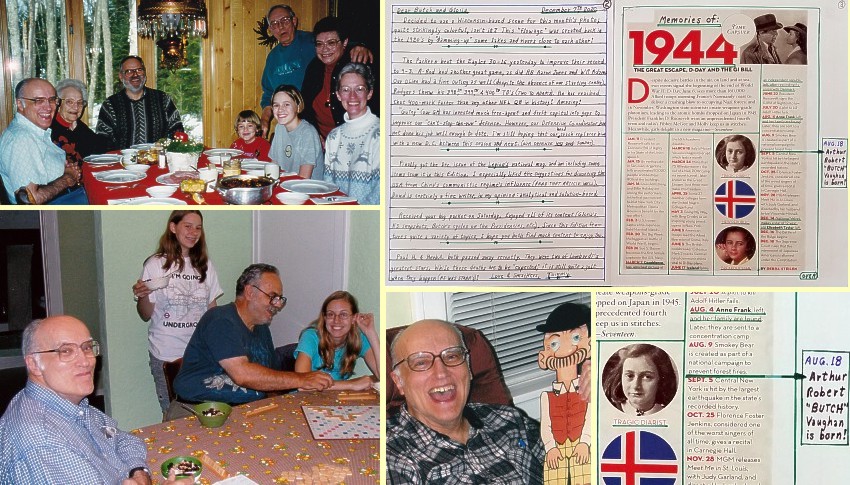 Top-left: 1999 Christmas gathering at Art's cousin Claudia's home in Three Lakes, Wisconsin. (l-r) Tommy, Donna, Art, Katie, Karl (Claudia's husband), Mariya, Claudia and Gloria. Bottom-left: Tommy, with mouth full of dessert, Katie, Art and Mariya in the middle of a Scrabble game at Donna's home in 2006. bottom-middle: Tommy with Barney Google gag Christmas gift. Top-right: a page from Tommy's December 2020 newsletter. Bottom-right: an example of an annotation in that newsletter. In the chronology, Tommy added Art's birthday. Art is called Butch in the family.