Kansas Snapshots by Gloria Freeland - January 14, 2022
"Find Your North"
Several years ago, husband Art and I passed through Ironwood, Michigan on the way to see some nearby waterfalls. But we vowed to go back someday for a longer visit and this past fall, we returned.

Upon entering the town, we immediately noticed a mural covering the lower half of the entire wall of a building. We parked across the street and walked over to inspect it more closely.

It was a tribute to local men who had worked in the areaís iron-ore mines. Below their images were blocks inscribed with their names, the mines they worked in, and other details.

I was born and raised in Kansas, and visions of our growing 19th-century country included open prairies populated by Native Americans and buffalo, settlers arriving to establish farms and ranches, and railroads pushing west. I doubt I thought of Michigan at all. If I had, it probably would have been to wonder how such an oddly-shaped state came to be.

It was the result of a disagreement. When Michigan petitioned to enter the Union, it and Ohio laid claim to a piece of land between them called the Toledo Strip. The dispute was resolved when Michigan conceded the strip to Ohio and accepted as compensation what came to be called the Upper Peninsula.

A few years after Michiganís 1837 statehood, iron ore was discovered in the U.P. Between 1844 and 1890, Michigan produced more iron ore than any other state. Many immigrants took jobs as miners. They came from Sweden, Italy, Czechoslovakia, Ireland and other countries. Some went to the coal fields of southeastern Kansas or Iowa, others to the gold mines of Colorado, and still others to the iron mines of the U.P. The names on the mural give clues as to the minersí origins:

- Fiore "Two Bits" Colassacco worked in the Montreal Mine from 1946 until it closed.
- One inscription honored three generations of miners from the Balduc family - Octave F., Louis F. and Robert L.
- Gunnard H. Isaacson died in 1961 at the age of 53 in the Montreal Mine. He fell 75 feet after a cable snapped while he worked with a repair crew.

A bronze plaque on a boulder in a nearby park said, "... This site is dedicated to those who developed the Ironwood area: the immigrants, farmers, loggers, railroaders and iron ore miners. ..."

Wisconsin and Michigan share a 200-mile-long border. Ironwood is at the western edge. Near the middle are Iron River and Crystal Falls, the latter being the seat of Iron County. Iron Mountain is at the eastern edge. All owe their existence to the once-flourishing iron mining industry.

One room in Crystal Falls' Harbour House Museum honors the miners, loggers and railroad men who helped build the city and surrounding area. Among its artifacts are miners' hats, pickaxes and shovels, as well as iron, quartz, lead and copper samples.

Mark Bromley, managing director of the Iron County Economic Chamber Alliance, said:
... We are very proud of our mining heritage, but working hard to attract new industries and businesses. ... This is a big push for us and we are making progress, but it never seems to be fast enough. We are also seeing an uptick in small boutique style retail shops lately. This is great as it creates new and exciting places for locals and tourist to shop and it helps to beautify our downtowns. Tourism is also a big part of our local economy and the new shopping helps attract more tourists ...
Like its neighbors to the west, Iron Mountain promotes its iron-ore heritage to draw in people. It has the Cornish Pump and Mining Museum; the Maria Santissima Immacolata di Lourdes church, built by Italian miners in the early 1900s; and other attractions, such as a world-class ski jump and veterans memorial.

The stories of these villages are similar. The mines opened, bringing people who established bustling towns. In the 1920s, Ironwood had 20,000 inhabitants. However, as the ore was depleted or better veins were located elsewhere, the population shrank. Ironwood today has 5,000 citizens. In all the U.P., only the Tilden mine in Ishpeming is still operating.

But Ironwood, Iron River and Iron Mountain - named for the industry that built them - as well as other towns in the region, are capitalizing on their history, art and natural resources to draw in visitors and provide employment.

As our Ironwood visit drew to a close, Art and I ordered take-out Chinese and took it to a small plaza nearby. Children were enjoying the splash pad fountains, teenagers were throwing Frisbees and adults were serving pizzas at some sort of party. The plaque on the corner of the plaza said:
Established in 2020, the Downtown City Square was designed as a year-round community gathering space and redevelopment project to help revitalize a key intersection in Downtown Ironwood. ... Ironwood is the gateway to many outdoor recreational activities in one of the most remote regions of our country. Discover wild and secluded places to recharge your soul. Discover the stories that make this place so special, and take interest in the arts that are breathing new life into Ironwood today. Explore our place, discover your passion, find yourself. Find Your North.
Michael Meyer, director of the Ironwood Chamber of Commerce, said the city has started to renew itself, "due to better political leadership, and an influx of both retired folks (who have lived elsewhere and have a positive attitude) and young folks."

The city embraces its performing arts history of dance, music and visual arts, and also promotes fishing, skiing, biking, snowmobiling and hiking. The natural landscape includes nearby Lake Superior, Ottawa National Forest, and white-water streams and waterfalls.

In short, towns in Michigan's Upper Peninsula are re-inventing themselves by appealing to history buffs, art aficionados and outdoor enthusiasts. Their efforts definitely worked for us. We thoroughly enjoyed learning about the area's heritage and exploring its unique beauty.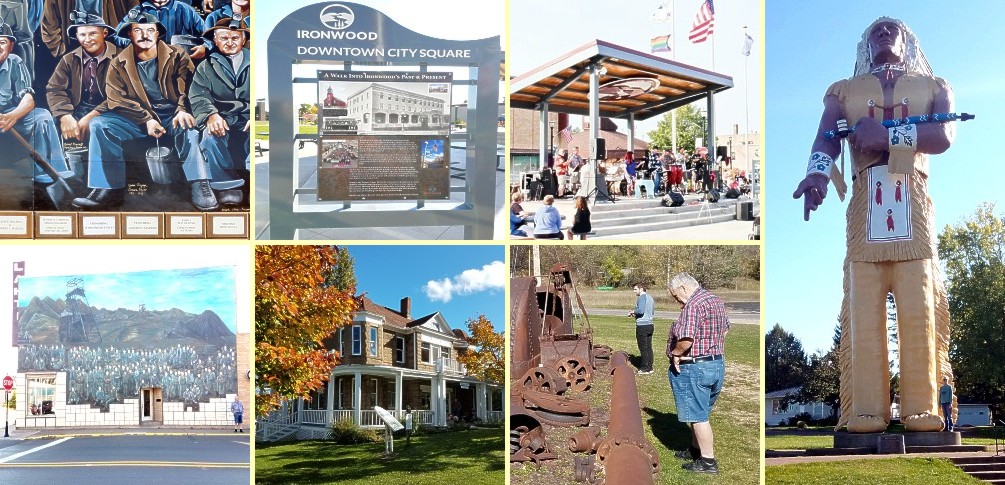 Top-left: close-up of a portion of the mural that caught our attention in central Ironwood; Top-middle-left: Ironwood downtown square rejuvenation marker; top-middle-right: a band attracts an audience in the downtown square; bottom-left: Art, far right, stands next to a second miners' mural in Ironwood's city center; bottom-middle-left: Harbour House Museum in Crystal Falls; bottom-middle-right: Art and grandson Josh inspecting old mining machinery in Iron Mountain; right: billed as the world's tallest Native American statue, Longfellow's Hiawatha looks over his homeland from a hill on the southeast side of Ironwood. Gloria is standing near his left leg. (Band photo from Ironwood's Daily Globe newspaper.)