Kansas Snapshots by Gloria Freeland - June 26, 2020
Swinging can change your life
Grandpa and Grandma Freeland had a wooden swing on their east-side screened-in porch. I loved sitting in it, swinging to and fro while listening to the creaking of the narrow wooden slats and the chains clanging against each other. That old swing was a lovely spot on late warm summer afternoons and, on occasion, I'd curl up and fall asleep on it.

I hadn't thought much about my grandparents' old wooden farm swing or the one we had later until I recently read a piece by Ron Wachs. Husband Art and I connected with him a few years back when he read a column I had written about one of his relatives. Wachs was a college history professor and United Methodist minister, but at 63, he changed course and became a full-time psychotherapist and a sometimes-blogger. It was his June 13 "Backyard Swing" that caught my eye.

He included a black-and-white photo his daughter had taken for a college photography class of the old swing in the backyard of his parents' home. It hadn't begun as a swing. His younger brother had put up the frame as a chinning bar for his high school football fitness regimen and, after it was no longer needed for that purpose, their father hung the swing from the frame.
... How much he and mom actually used it, I do not know. What does seem important now these years later . . . it was a place of respite . . . to slow down, to relax, to reflect and to plan amid the "got-to's" and the vicissitudes of life. And, at least as I project meaning onto the scene, a place for restoring mental and emotional tranquility and equilibrium in an often destabilized world ...
After my Freeland grandparents died, our family moved to their farm. The porch was closed in and converted to a bedroom. Our old swing was relegated to the barn. But much as with Ron's father, after years passed, Dad rehung it on the frame of what had been our childhood play-set.

On summer evenings, he and Mom would occasionally talk and swing while taking in the end of the day on the farm Dad's grandparents had bought. When people stopped by, they'd sometimes pull the picnic table close, perhaps adding lawn chairs when the numbers warranted it. It was a relaxing gathering place for quiet conversation, enjoying the sunsets, and watching younger family members run off their energy just as we had years earlier.

Sister Gaila remembers sitting on the swing on summer nights listening to the cicadas. Like the rest of us, she and husband Humberto spent many evenings there visiting with the folks and retelling family stories from days long past. Often, Mom would bring out lemonade or iced tea accompanied by cookies or watermelon slices. Ice cream was a special treat, particularly when neighbor Tom was in the mood to make the homemade variety.

When a gentle Kansas breeze kept the mosquitoes away, it was a good place to spend an evening with friends and neighbors or visiting with California kin.

Friend Deb recalls the porch swing at her country home near Chapman:
... Being so far out in the country, I could listen to the pheasants and turkeys talking to others of their species. Some would be so close we could see them. Others were acres away. When they were quiet, the silence was also wonderful. Watching the sun rise and set was always a joy. I always thought "God had his paint brush out."

... In town, it is totally different. The scenery is not as grand as the open countryside ... I find I use the swing here to rest when I am out working in the yard. It is a place to catch my breath, make a phone call and cool down. Those few minutes of relaxing on the swing give me enough energy to finish the yard work I started.
A rocker is a near-cousin to the swing. I rocked the girls every night when they were babies and into their toddler years. I'm not sure if the back-and-forth motion was more comforting to them or to me.

Research shows that rocking motions have benefits for both physical and mental health. An online article on bodyandsoul.com stated, "the action engages the thigh and abdominal muscles to provide a mild form of exercise, increases circulation and improves knee strength and flexibility. But it's the effects of the rhythmic motion that offer the most interesting benefits ... Sitting in a rocking chair is relaxing, rejuvenating and calming all at once ... "

The article cited a two-year study from the University of Rochester that demonstrated using a rocking chair helped ease anxiety and depression, improved balance and reduced the need for pain medication. A University of Texas MD Anderson Cancer Center study revealed surgery patients recovered more quickly if they rocked.

The rejuvenating aspect was certainly appreciated when late husband Jerome and I bought an old home with a front porch. One of the first things we did was to hang a swing. After hours of painting, shingling or doing yard work, the swing was a welcoming resting spot. After Jerome's death, I'd often pick up daughter Mariya and we'd sit on the porch and swing. The gentle motion helped put her to sleep and assured me that everything was going to be fine.

And perhaps that old swing had a greater effect than might be imagined. My neighbor Dorothy was a friend of Art's. Some time after Jerome's passing, she suggested he should ask me out, but he hadn't taken her seriously. Then one day he was passing by when Mariya and I were swinging. He told me years later that there was something about seeing a woman enjoying quiet time with her young child that he found inviting. Who knows? Maybe swinging can indeed change your life.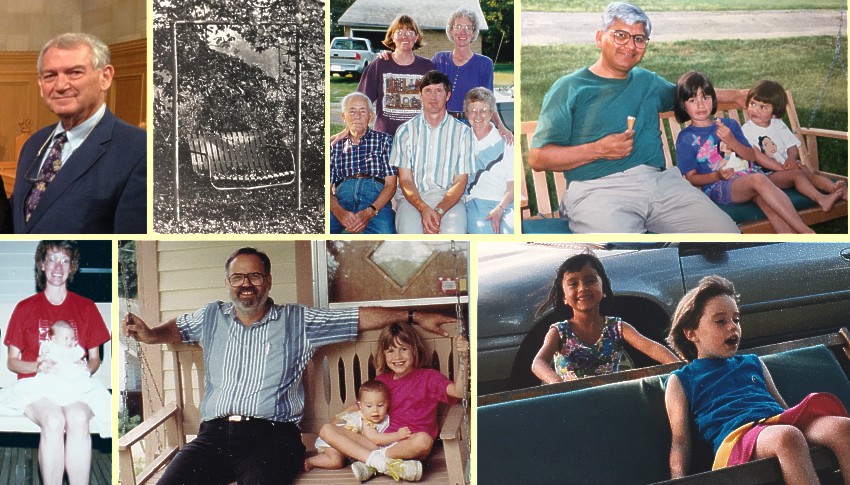 Clockwise from upper left: Ron Wachs and the swing that inspired both his musings and mine; a swing can be a gathering place for a family photo - (l-r) standing, sisters Gaila and Gloria, and sitting, Dad Edgar, brother Dave and Mom Edla; a swing can also be a place to share a quiet moment and ice cream - Gaila's husband Humberto and daughters Gabriela and Larisa; it can also be a place of activity - Larisa pushing her cousin Katie; Art with daughters Katie and Mariya on the swing of the old house Jerome and I bought; Mariya and I on the old house swing. Art says we are exactly in the position shown when he drove by.