Kansas Snapshots by Gloria Freeland - January 24, 2020
Veterans live on through stories
In 2008, a Memorial-Day column focused on a class assignment where my students researched, interviewed and wrote stories about several local peopleís World War II experiences. Many were published in the Manhattan Mercury, the local newspaper.

I thought of that assignment a few days ago when William "Bill" Stamey, one of the people interviewed, died on New Year's Day. He was the former dean of Kansas State University's College of Arts and Sciences, and husband Art and I frequently saw him and his wife Rae at K-State events.

I recently sent student Tad Remyís article about him to his daughter-in-law Mary.
Wow, Gloria! I'm sure I read the article in the Mercury, but I sure don't remember all the details Bill shared! ... he joined a writing group and we have a lot of snippets and stories of all kinds from various times of his life. This article is the most complete one Iíve read.
Remy told about Bill being called into duty in 1943 in the U.S. Army Air Force. Bill wanted to be a pilot, but failed the eye exam.
... The Army Air Force needed meteorologists to make forecasts for bombing missions. Stamey jumped at the opportunity because he wanted to do something that was more exciting than just being an ordinary infantryman. He also noted that this was a much safer alternative than being a regular soldier.

Upon being accepted into the meteorology program, Stamey was assigned to Brown University in Providence, R.I. to complete courses in calculus, physics, geography and pre-meteorology. Pre-meteorology included intense training in weather forecasting and analyzing weather maps...
Bill was stationed in the U.S. until after the atomic bombs were dropped on Japan. He was sent to the Pacific and, by May 1946, held the position of Weather Communicator for the entire region.

Five days after Billís passing, Eunice (Severns) Bradley, another interviewee, died. Student Emily Kennedy wrote about her.
Eunice enlisted in the WAVES - Women Accepted for Voluntary Emergency Services - in August 1945. She left Kansas State Teachers College in Emporia for Kansas City and then went to Hunter College in the Bronx, New York for boot camp.

... Bradley said as soon as they arrived in New York, they were taken to a building where they could sign up for various positions. She signed up at the nurse's aide station in the WAVES...

During training, Bradley and the others learned basic biology, chemistry, and some physics. Bradley said she always enjoyed those subjects so the training was not very difficult for her.

After her training had ended in December 1945, she was sent to Idaho to work as a nurse's aide. She worked in what was called a clean surgery ward. Some of her job duties included giving baths and medications and changing beds ...

... "Your world is so small when you live in a small town, and this experience just expands your world so much," she said.
Four days after Eunice's death, John Lindholm died. John was Art's boss when both were at K-State. Coincidentally, John and Art's uncle Pete were both pilots in the 457th Bomb Group. We attended the group's England reunion in spring 2006 and also went to the fall 2007 Florida reunion, which John and his wife Mildred attended. John was in demand as a dance partner that night as many of the women had lost their spouses.

Student Joel Jellison wrote John's story.
... When Lindholm enlisted in 1942 for the Army Air Force at Fort Riley, his brother Alfred, also enlisting at the time, made sure to measure him at a certain height so he would be able to fly.

"There was a whole bunch of us in the fort so it was a jam packed place," he said. "There were too many guys enlisting compared to the personnel doing the physicals so they had us weigh and measure each other and things like that. We both met the height limit when we measured each other."

"I was 6'5" and the limit is 6'4" so I just crouched down a little bit."...

... After finishing crew training in Dyersburg, Tenn., Lindholm and his group left for England on a boat from the Newark Harbor. Once in England, his crew was assigned to the 457th Bomb Group...

... As a B-17 pilot, Lindholm's job was to fly missions in Europe, bombing rail yards, factories, airfields and submarine bases...

... His time in the war did not come without close calls. Flak was a constant threat to the B-17 and its crew. Flug Abwehr Kannons - air defense cannons - fired shells from the ground at the aircraft. When the shell exploded, pieces of shrapnel were sent in all directions. During one mission, a piece struck Lindholm in the helmet, rendering him unconscious. On another mission, an exploding Flak shell killed his waist gunner...
Student articles such as these provide interesting tidbits about the veterans' experiences, but many die without telling any part of their stories. Children often don't think to ask until it is too late.

John helped form a Veterans Oral History group in June 2003 in association with the Riley County Historical Museum. It culminated in 192 recorded interviews. He was instrumental in the campaign to construct the World War II memorial on the K-State campus, and his dog tags - a soldier's ID tag worn about the neck - were used as the model for the memorial's central sculpture.

Memorial Day is still a long way off and the final sentence of that earlier column was directed at the students. Still, I think it applies just as well to anyone today:
And I hope that ... when flags are raised to memorialize the contributions of those who served the country during times such as World War II - that they'll pause to appreciate the sacrifices that previous generations have made.


More student stories of World War II.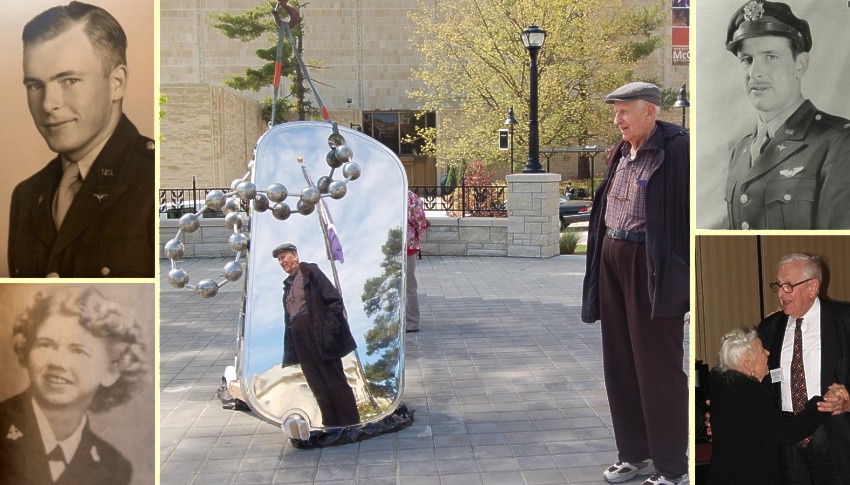 Upper-left: William Stamey in his weather-predicting days; lower-left: Eunice Bradley in her WAVES uniform; upper-right: John Lindholm in his pilot's uniform; lower-right: John Lindholm dancing at the 457th Bomb Group reunion in Pensacola, Florida in 2007; center: John Lindholm reflected in the K-State WWII memorial centerpiece. Lindholm's dog tags were used as a model for the sculpture. Photos in same order: youtube.com, mercury.com, 457thbombgroupassoc.org,Gloria Freeland, Gloria Freeland