Kansas Snapshots by Gloria Freeland - October 18, 2019
Scents and sensibility
I love autumn weather with its crisp days and beautiful colors. So it is no surprise that the magazine ad, "3 Ways to Transform Your Home for a Cozy Fall," caught my attention.
1. Create a Playful Pumpkin Centerpiece.
For some reason, it always makes me feel smart when a list of suggestions contains something I already do. I love arranging small pumpkins, gourds, acorns, pine cones and leaves into table centerpieces.
2. Sip Warm Cider and Welcome Guests.
Husband Art and I both love apple cider, although he is more into egg nog when it comes to welcoming the fall and winter holidays.
3. Swap the Pillows and Then Snuggle Up. Spend a cozy night in with warm, flannel blankets and seasonal throw pillows.
Ah, that sounds so comfy!

Then I read on.
... go for the glow with a ... Toasty Pumpkin Spice 3-Wick Candle. Notes of heirloom pumpkin, caramel and spice will fill the room ...
Hmm. How does heirloom pumpkin differ from regular pumpkin?
... enhance the feeling that fills your home with a ... Cozy Cider Sipping Plugins scented oil warmer. Notes of apple, cinnamon and nutmeg blend in a masterfully crafted fragrance to give you continuous scent for up to 50 days ... Make the peaceful feeling last with the time-released scent of fresh fern, sandalwood and cardamom with a ... Warm Flannel Embrace Automatic Spray ...
Double Hmm! Do I really want to combine those scents anyway? And what the heck is a "Warm Flannel Embrace Spray?" The answer, for me, on this one is a resounding "no!"

This is not to say that scented candles and air fresheners arenít popular. Itís understandable that people want to eliminate or mask odors, such as wet-dog smell on carpets, onions and fish in kitchens, mustiness in closets, mystery smells in trash cans, and well, you-know-what in bathrooms. So I understand why Iíve seen advertisements for scents such as tea tree, peppermint, lemon, orange, eucalyptus, lavender, cherry blossom, vanilla latte, roses, black currant and pumpkin spice.

A Pumpkin Chai scent appeared in an ad for an odor-blocker fragrance from Poo-Pourri. It is intended for the "little room." To quote from the review in Good Housekeeping, "Cancel out stinky toilet smells with this before-you-go spray. ..." The headline on the accompanying ad said, "Now you can poop fall, too."

When I told friend Dave, he said, "Well, pumpkin spice and everything nice!"

I laughed. It amuses me people actually buy such a product. Still, by May 2019, the company had sold over 60 million bottles of Poo-Pourri. I had no idea!

According to sciencedirect.com, the global air freshener market exceeds $10 billion and is increasing every year. The fresheners come in several forms: plug-ins, gels, waxes, purifying bags and oils. Offices, schools, hospitals, churches, theaters, stores and restaurants, as well as airplanes, cars, taxis, buses, terminals and boats, not to mention individual homes and apartments, are among the places air fresheners are used. It is estimated that about 73 percent of the U.S. population uses air fresheners and deodorizers at least once a week, and nearly 58 percent of those surveyed are exposed to them from others' use at least once a week.

But some people - myself included - can have allergic reactions to them. Frequently when I go into a room that has a plug-in air freshener or a scented candle, I get a headache and it feels as if my throat is closing up. The same thing often happens when I'm around people wearing perfume or cologne.

Stanley Fineman, a doctor with American College of Allergy, Asthma and Immunology, said in a medicalnewstoday.com article:
... This is a much bigger problem than people realize. About 20 percent of the population and 34 percent of people with asthma report health problems from air fresheners. We know air freshener fragrances can trigger allergy symptoms, aggravate existing allergies and worsen asthma ...

There has been a shift among home fragrance consumers that pleasant smelling homes are not just for the holidays. We also are seeing a trend by manufacturers to market these products as aromatherapy which implies health and mood-boosting benefits although there are no scientific studies to support these claims ...
As an event planner, I routinely ask attendees if they have special dietary needs because I donít want a vegetarian facing a main course featuring a breast of chicken. Accommodations for such people are today routine. But while "Vegetarian Times" indicates only three percent of Americans are vegetarian, if the allergy people are correct, seven times that number have problems with air fresheners. The vegetarian also has the option to just eat the salad, but opting not to breathe isnít much of an option.

Fineman suggests that consumers who want a fresh scent without the potential health risks associated with artificial fresheners should open their windows "to let in Mother Nature ..."

For those of us who are sensitive, that sure sounds "scents-ible."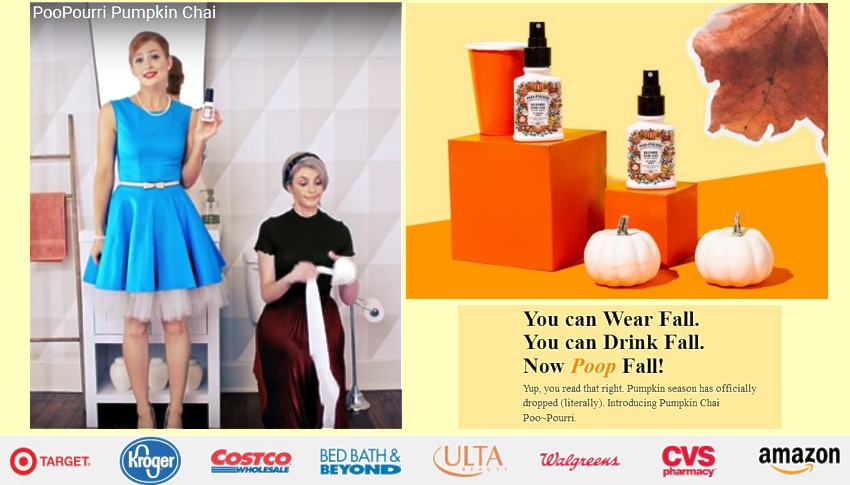 Top-left: screen capture from a YouTube video produced by the Poo-Pourri company; top-right and right-center: graphics from the Poopourri.com website; bottom: in case there is any doubt this is a mainstream product, these are some of the retailers listed on the company's website where you can make a purchase.