Kansas Snapshots by Gloria Freeland - May 3, 2019
Harold's wings fly home
In 1942, young men all across America were entering the military to do their part in World War II. One of those was Harold Leonard Hardwick. He registered for the draft in June, two months past his 20th birthday. His parents, Montie and Helen, had a farm near Fort Scott, Kansas.

In November, Harold enlisted. Sometime during his basic training, probably as a result of tests, he was selected to become a gunner on a bomber. But there were few bombers available for training, so most of the men were sent to campuses which were almost empty of civilian males because of the war.

Harold was one of those. In the spring of 1943, he was sent to Emporia State Teacher's College.

The previous fall, my mother Edla had enrolled at Emporia State.
... After graduating from high school ..., I enrolled in Emporia State Teacher's College. I left for Emporia on the Katy Railroad from White City since I did not own a car. I enrolled in studies to obtain a three-year certificate, which allowed me, with only one year of college, to teach three years...

... The enrollment was smaller than any year since 1917 (another war year.) ... It looked like an all-woman's college until a contingent of 500 cadets arrived on Feb. 27, 1943. They undertook a comprehensive academic program of five months duration with physical training courses. Their sleeping quarters were at Morse Hall and food service was in the Student Union. This is also where I worked behind the steam tables to serve them their meals. As I walked from class to class, I would hear the cadets marching and singing "Anchors Away," "Alouette," "Caissons Go Rolling Along," "It's a Long Way to Tipperary," "Over There" and many more service songs. I learned to dance as they had dances for the regular students and cadets.

... From time to time, these handsome young cadets would slip me a note suggesting a date for the movies. Harold Hardwick from Scott City, Kansas, dated me several times!
The couple parted ways sometime during the spring. Edla had completed her teacher's program and set out to locate a position.

For Harold, more training followed. There was armament school, plane identification so "friendly" planes would not be shot down, skeet shooting to learn to lead the target and actual aerial target practice. These latter courses would have been in Texas or New Mexico or other southern states where winter weather did not much interfere.

Once they had successfully completed the program, they could wear "wings" on their uniform. Many purchased additional pairs and sent them to family members or to special girls.

We don't know if Mom and Harold remained in touch or just what the relationship was between them. But there is little doubt that Edla was a bit uncomfortable when she received a set of "sweetheart" wings from Harold in the spring of 1944. After all, she was dating Edgar Freeland!

Did she say nothing, embarrassed that perhaps Harold was more serious than she had been? If she had written him, I presume she would have returned the wings in the letter.

For some reason, I never asked about the details.

Mom kept the wings in a drawer, along with her other jewelry, and she would occasionally bring them out and wonder, out loud, what might have happened to Harold. Several times, she said she'd like to find out where Harold might be living so she could return them to him or his family. That never happened.

After she died, I found the wings, along with a label she had written to identify them: "Air Force Wings mailed to me spring of 1944 by Harold Hardwick, Fort Scott, KS."

Husband Art began investigating. Harold had been assigned to the 728th Bomb Squad of the 452nd Bomb Group based in Deopham Green near Norwich, England. He flew 29 missions and returned home. Like Mom, he had devoted much of his life to being an educator. He finished his days in Marksville, Louisiana, having served as a councilman for eight years, as mayor pro-tem and police commissioner. Also like Mom, he liked the fine arts, for after his death in 2008, his obituary described him as an accomplished musician. Before his death, he celebrated 63 years of marriage with wife Mildred (Guillot) Hardwick, with whom he had a son and two daughters - just as Mom and Dad had.

In Mom's memoirs, there is a photo of her as a young woman wearing a two-piece suit and smiling broadly. She is standing next to a man in uniform, but he has been cut from the picture.

Was it Harold?

Art contacted Harold's granddaughter Robin, who lives in Arizona. Mildred is still alive and said she would love to have the wings, so we sent them to Robin. Some days later, she sent me an email during her visit.
Hello Gloria! I just arrived in Louisiana and gave the wings to my Mema Mildred Hardwick (Harold's wife). She is so thankful to have the wings.

... Thank you again for reuniting us with the wings.
In his email to Robin, Art included the torn photo. Oddly, Mildred, too, has a photo. Hers is of a handsome Harold standing next to someone - a young woman. But the young woman had been cut out of her picture!

Was it Mom?

While we wondered if the photos were the same, it appears they are not. Mom's was a vertical one and Mildred's was a horizontal one. But it is doubtful we will ever know for certain who the removed from the pictures were.

But of one thing I am certain. Mom would have loved to know that Harold had a good life as she had, and that his wings finally flew home to his family.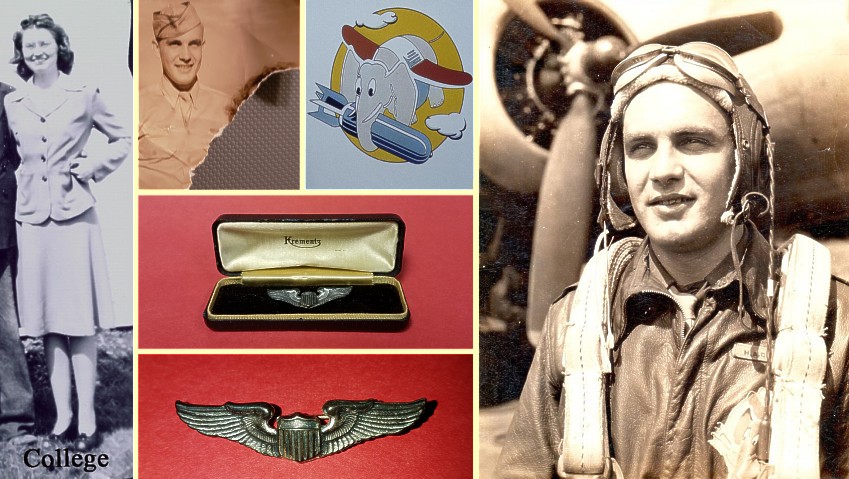 Left: Photo of Edla during her college year with a man in uniform who has been cropped from the image. Center-top-left: Harold Hardwick in uniform with a young woman who has been torn from the photo. Center and center-bottom: the wings sent to Edla. Right: Hardwick ready for flight. Close inspection reveals an emblem on the left breast of his flight jacket. This figure can be seen more clearly in the center-top-right panel. Each squad had a unique symbol and the 728's was a flying elephant holding a bomb. The Disney animated movie "Dumbo" was released in 1941. Disney allowed its artists to create squad symbols for the service and the similarity with the 728's and Disney's Dumbo is easily seen.