Kansas Snapshots by Gloria Freeland - December 21, 2018
Stuffed with memories
Hauling out the Christmas decorations, I paused when I came to our stockings. They always elicit memories of Christmases past. Growing up on the farm, we didn't have a fireplace. So one year Mom made one, covering some of our built-in drawers with brick-patterned paper. But most years, our Christmas stockings were hung without a fireplace in sight. Still, we kids didn't care. Mine and brother Dave's were made of red felt, had white fur at the top and were sprinkled with sequins. Sister Gaila said hers had a snowman on it.

My stocking encounter prompted me to read a December 2012 smithsonian.com article - "The Legend of the Christmas Stocking: what's behind the holiday tradition of hanging hosiery on the fireplace."

Apparently Christmas stockings became popular after "A Visit from Saint Nicholas" (more popularly known as "The Night Before Christmas") was published anonymously in 1823. The line, "The stockings were hung by the chimney with care, in hopes that St. Nicholas soon would be there," has been credited with starting the tradition.

The Smithsonian article said the most popular and widely-referenced legend for this line in the poem is that a poor widowed man with three beautiful daughters fretted that they wouldn't be able to marry because of their lowly financial status. St. Nicholas heard about the family's predicament and wanted to help, but knew the father would refuse. So, St. Nick slid down the family's chimney and filled the girls' stockings, which were drying by the fire, with gold coins. In the morning, the family was ecstatic. The girls would be able to marry.

Mom told me she and her family didn't have Christmas stockings when she was a girl. As a pure Swede whose kin arrived in America after 1870, her family may not have heard of the poem. Husband Art's upbringing was mainly influenced by his mother's family, who arrived in the country after 1850. He said there were no stockings in his background either.

Why my mother decided to include stockings in our family Christmas is a mystery. But whatever the reason, we were thrilled to find apples, oranges, hard candy and candy canes in ours.

My college friend Deb made the ones we have now. She fashioned them from red and green holiday fabrics that she quilted together. She made similar stockings for her own family to have a new tradition and then began making them for others.
... My parents never were into holiday decorating, so I tended to be the opposite and over decorate ... I have made many for others thru my crafts business over the years. And it continues to snowball because when I originally make just a few for a family - they grow to more kids and grandkids over the years and I keep getting requests to continue to make them ...
I've been one of those! Deb originally made two - one for my late husband Jerome and one for me. Then, when I married Art, she added one for him. And then two more - for daughters Mariya and Katie. And then two more - for their spouses Miriam and Matt. All have our names stitched at the top.

Deb said her daughters Stacey and Amy still expect to see theirs from their childhood.
... I suggested replacing them with a more modern design stocking and they all balked at that. That wouldn't be what they have such fond childhood memories of. So my original purpose of making these stockings really worked - I created a tradition that would bring fond memories to the girls even when they outgrew the mythical Santa years.
When our German "kids" Nadja and Tim were with us at Christmas, we got them stockings as well. Mary, a friend, recently hung her stocking on her front door.
I rediscovered this plastic stocking when emptying my mom's home ... I recall it being a decoration more than a stocking ... We used actual socks for stockings that hung for Santa to fill, and he always filled them with oranges first ... Since I rediscovered the stocking, it has brought back memories of our days in Garrison prior to Tuttle Creek [ dam ] being built, days when my dad's side of the family drove over from Manhattan, [ Kansas ] to spend Christmas day at our house.

... The current decorative flower at the top of the stocking is likely a replacement part for the original ... I'm going to guess the current flower is from the '60s. It's a gaudy plastic too! I've used the stocking as a backdoor decoration, or hung it on our piano ... I'm going to guess mother kept the stocking for sentimental reasons ... It also could have been kept because it was still useful! You know, the sentiment of not throwing anything away as long as there is a use for it.
When our girls were small, I bought some heavy-duty holders to perch on our fireplace mantel to hold the stockings. On Christmas Eve, I'd fill them with apples, oranges, candy canes, Hershey's Kisses and a few small gifts.

One year, Art found a small tin with coal in it and, as a joke, he slipped it into Mariya's stocking. She was not pleased, but got her revenge. For the next few years, she made sure it was in the toe of his stocking!

Katie recently told me she liked how well-made and Christmasy our stockings looked, but she was worried she'd get the coal from Art. "I liked the fruit and candy we got in them so we could eat a little something while opening gifts," she added.

Art is the only family member with a truly unusual stocking. It was given to him years ago and it has a felt slide rule on it in recognition of his career as an engineer. Slide rules disappeared when handheld calculators arrived in the 1970s, but it still makes him smile to know he is among the shrinking number of people who knows how to use it.

What is pretty clear is that whether plastic, felt, quilted, plain or unusual, Christmas stockings hold a lot more than candy and fruit. They're stuffed with memories.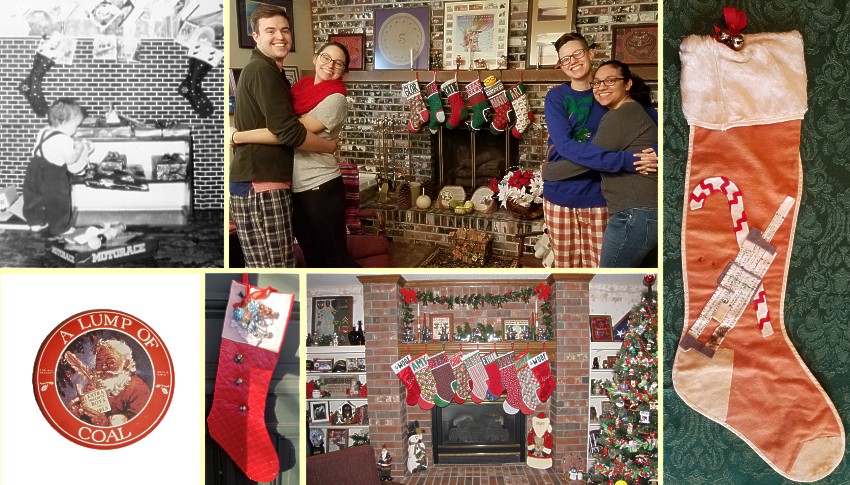 Top-left: Gaila in front of the "fireplace" mom created in our farm home; top-center: Matt and Katie, left, and Mariya and Miriam in front of our fireplace on Christmas Day 2017; right: Art's somewhat-stained stocking with the slide rule decoration; bottom-left: the "Lump of Coal" tin Art placed in Mariya's stocking when she was small; bottom-left-center: Mary's plastic stocking; bottom-right-center: Deb's fireplace trimmed for Christmas.