Kansas Snapshots by Gloria Freeland - May 4, 2018
William's bench
The university's Open House was in early April and I volunteered to help at our departmental table. By chance, it was across from the display for the Air Force Reserve Officers' Training Corps. During a lull in people coming by, I asked Maj. Brad Caywood, the recruiting flight commander, if there was any news on William Grimm's memorial.

It's been nearly five years since I wrote "William and his oak tree". Capt. Grimm died Jan. 31, 1991 during Operation Desert Storm. Most days on my way between my car and my Kansas State University office, I pause at the tree that was planted that same year in his honor.

Three years ago, I noticed someone had chalked "William Grimm Memorial" on the sidewalk in front of the tree. I snapped and emailed a photo to William's father. Jim responded immediately:
Hi Gloria, thanks so much for the picture and your thoughtfulness ... How fitting it was to receive the picture for the Memorial Day weekend. I shared it with our family and friends, especially William's two daughters. Thanks from all of us!
Then a year ago in February, , Jim wrote:
... I'm writing to give you an update as to a project that the AFROTC Detachment at K-State has undertaken to upgrade the William Grimm Memorial on campus. I thought you would be interested after your so appreciated article about the site. Please check out wildcatwarrior5k.webs.com ... Again, thank you so much for honoring our son's memory.
The website said there would be a 5K run on April 22 to raise funds for a bench in Grimm's honor. Husband Art and I drove through campus that day to see the runners and noticed several people gathered near the tree. Curious, we stopped and discovered William's two sisters, a brother and a nephew there. We chatted a bit and took some photos.

I later asked what their impressions of the run were. Grimm's brother James, who had traveled from Las Vegas to participate, said:
... The visit to Manhattan was an emotional one for me. I graduated from K-State almost 30 years ago and it has been over 20 years since my last visit to Manhattan. Not only did we participate in the 5K run, but we also visited Williams' grave site at the Fort Riley cemetery...

... I'm sure there were some runners there simply to participate in a 5K run, but I know there were those there to support the fundraiser. ... I was grateful to those who took time out before and after the race to introduce themselves and talk with us. It has been over 30 years since William graduated from K-State, so to know people were willing to support this memorial for someone they didn't know was very heartwarming to me.
Grimm's tree has a plaque and I had assumed the bench would also be placed nearby. So I was surprised when Caywood said the bench had been installed March 5 in front of Richard Myers Hall, the campus military science building. He said 127 people had participated in the run, adding:
Last year's 5K was great because some members of the Grimm family were able to participate and others were able to see the opening ceremony and start via FaceTime. Both Air Force ROTC Detachment 270 and Arnold Air Society are committed to honoring the memory and legacy of our fallen alumni and passing that on to our current generation of cadets.
The "Arnold Air Society" recognizes outstanding Air Force members. Created in 1947, it honors Gen. Henry "Hap" Arnold, the head of the air wing during World War II and the only five-star general of the Air Force.

I visited Grimm's bench a few days later and was pleased to see it had a plaque and picture of William. While I was initially a bit disappointed it was not near the tree, it will be seen daily by ROTC members in its prominent spot on the west side of Myers Hall.

I sent photos to Grimm's family members. His sister Marcia, who had also traveled from Las Vegas to participate in last year's 5K, answered first:
Thank you so much for sending the photos! I was in KS a few months ago and looked for the bench near the tree. After not seeing it, I had asked my Dad if he's heard anything about the bench. He had not. So, it's very nice to hear and "see" that it has in fact been installed.

I love the bench along with the plaque. Having the picture of William on the plaque is extra special. ... I remember William being very proud to be in the military. It brings me peace knowing that he died doing something he loved....
... I'm so glad that the Kansas State AFROTC saw the need to update the memorial especially as memories fade. The Wildcat Warrior 5K event last year was also well chosen not only for its fund raising aspect but it gave our family a chance to participate as a group with their own special memories of their brother. The bench and its placement in front of the ROTC building is perfect to honor William's memory ... as a reminder of the cost so we can enjoy our everyday freedoms."
I didn't know Grimm, yet through my chance encounter with his tree and later by the stories his family members shared, I feel connected to him - as if I've adopted him and his tree. In the fall, when dry leaves cover the plaque, I brush them aside. In the spring, when splashing rain causes dirt droplets to form, I wipe them off. It's hard to imagine him at 55, the age he would be now had he lived. In his family's memories - and mine as well - he will remain forever 28. And the tree, and now the bench? They will help keep those memories green.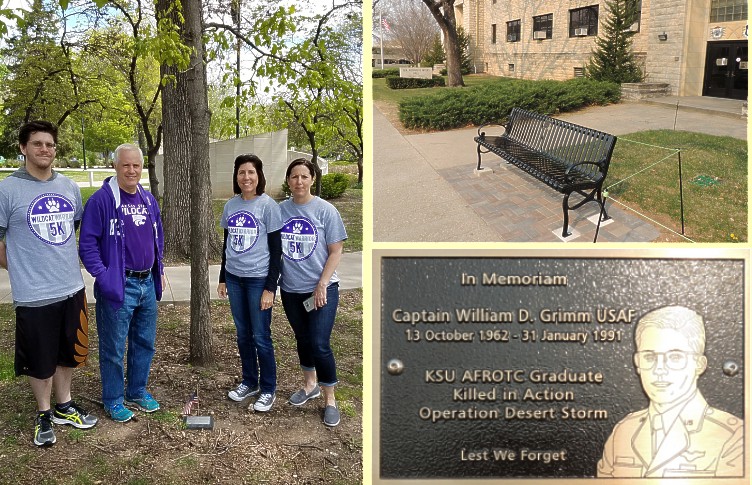 Left: Capt. Grimm's nephew William, brother James, and sisters Marcia and Agnes in 2017 at his memorial tree; top-right: Grimm's bench in front of Myer's Hall; bottom-right: plaque on the bench.