Kansas Snapshots by Gloria Freeland - February 16, 2018
Thrifty to nifty
Mom and her sister Edith have been gone nearly two years, but I still find myself thinking of them and wanting to ask them questions about this or that. One such occasion was when friend Deb and I saw the exhibition "Thrift Style" a couple of months ago at Kansas State University's Mariana Kistler Beach Museum. The exhibit featured dresses, aprons, doll patterns, quilts and other household items made from feed or flour sacks that came from the collection of K-State's Historic Costume and Textile Museum.

Mom and Edith often talked about their growing-up years during the Great Depression of the 1930s, and both wrote "memoirs" that described some of the hard times their families experienced. In her 2006 "Chapters of my Life" booklet, Edith talked about the feed sack clothing their mother Hulda made.
Now that I am older, I have often thought about how creative my mother was to keep us clothed and fed. I always knew we had pretty decent clothes, but never gave mom the credit. Her old treadle machine made our clothes from feed sacks and often made the bloomers to match the dresses. As we got older, our cousin Viola sent us her outgrown clothes. I am reminded of this when I look at my high school graduation picture where I am wearing one of her red brocade dresses - had a high neckline and short sleeves. The one thing I hated was the long underwear we had to wear. Many a tear was shed as I tried to fold them neatly so they wouldn't bunch up under my long stockings ...
My late mother-in-law Rita, also wrote about her homemade clothing.
The Christmas I remember the most, my sister Ida brought me a new coat. It was wine in color and had a plaid lining ... the first new garment I ever had, that I can remember, that wasn't made by my mother.
Dad's brother Stan recalled that his classmate Amy came to school in dresses made of feed sacks. He said he didn't remember his mother Ethel making anything out of feed sacks for him, Dad, his brother Bob or their father, but she did other sewing.
She was always busy darning socks or sewing patches on our overalls and she sat in the rocker we now have.
According to the website of the Smithsonian's National Museum of American History,
Life on America's farms in the 1920s and 1930s meant hard work and frugal habits. Farm families were used to "making do" with what they had, wasting nothing that could be recycled or reused. With feed sacks and flour bags, farm women took thriftiness to new heights of creativity, transforming the humble bags into dresses, underwear, towels, curtains, quilts, and other household necessities.

By the 1940s the bag manufacturers were turning out bags in bright colors and printed designs. It was felt that these designs and colors would boost sales, because the woman of the house would always select the brand with the most attractive fabric. During World War II, there was a shortage of cotton fabric for the civilian population, and the recycling of bags became a necessity, encouraged by the government ...
The items in K-State's "Thrift Style" exhibit were donated by Richard Rees, whose family owned Rees' Westside Farm Supply in Coffeyville, Kansas. He gave the items in honor of his wife Janet and parents, Leonard and Beatrice Rees. The largest item was a four-patch quilt, sewn by Janet Rees's paternal grandmother, Seviella Smith Frischer, great aunt Eva Norfleet, and maternal grandmother, Katherine Geyer Bowen. The description for the quilt, made about 1930, read:
Quilt-making involves numerous aesthetic decisions and mathematical calculations. Incorporating flour sacks into quilt designs required planning because of the fixed size of the bags and visibility of printed logos. This quilt's face features four-patch blocks, some incorporating feed sacks, alternating with single blocks of fabric in solids, stripes, checks, and floral patterns. Diagonal rows of quilting stitches flow one inch across from upper right to lower left. The quilt's backing comprises four printed feed sacks.
Although I've never made a quilt myself, I've always been amazed at the artistic skill it takes to design one and put it together.

And I now have a new appreciation for other items my ancestors made from feed sacks and flour bags. It seems others do, too, as I've seen any number of websites offering vintage feed sack items for sale. The Etsy website (www.etsy.com) recently listed a dress for $90:
Add a burst of color to your wardrobe with this shabby chic vintage flour sack dress. Custom handmade from vintage flour sacks, the upper portion of the dress features a whimsical print fabric that adds just the right amount of color. You'll love how easy this dress is to slip on and off. It is the perfect clothing item to tuck into your suitcase as you head off to your summer holiday destination. Pair it with sandals or a pair of white tennis shoes for a care-free look that is sure to impress ...
I think Mom, Edith, Rita and their mothers would certainly be impressed. Their thrifty clothes now fall in the nifty category!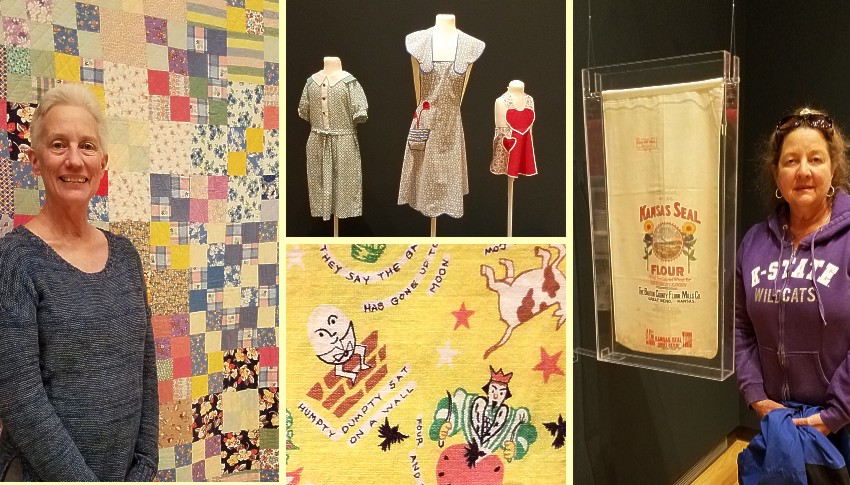 Left: Gloria next to a quilt made from bag scraps; top-center: three "sack" dresses; bottom-center: decorative pattern printed on sack material; right: Deb next to a typical flour sack.