Kansas Snapshots by Gloria Freeland - October 20, 2017
The way it "waus"
Every time husband Art and I travel from Kansas through Nebraska and Iowa to or from his home state of Wisconsin, I marvel at the number of town, county and river names that have Native American origins. Curiosity - or lack of much to do on an 800-mile trip we have made before - prompted me to look up some of them on my smartphone to see if I could find their origins.
All four states have First Nation meanings, according to statesymbolsusa.org:
Kansas - from the Kansa or Kaw people, meaning "people of the south wind."
Nebraska - based on an Otoe word, meaning "flat water" (referring to the Platte River).
Iowa - from the Ioway people.
Wisconsin - Native American, but the precise origin is unclear
According to the Wisconsin Historical Society, Wisconsin may mean "river running through a red place" - referring to the red sandstone bluffs of the Wisconsin Dells. It could also be the English spelling of a French version of a Miami Indian name for the Wisconsin River.
Art said that growing up, he had always heard that the river name meant "gathering of the waters." A state historical marker a few miles north of our place in Northern Wisconsin supports that idea, suggesting it is a corruption of the Algonquin "Wees-konsan." It also mentions "Wees-koos-erah" from the Winnebago language, meaning "river with flowery banks."
When daughters Mariya and Katie were little, Art and I would try to get them to say Wapsipinicon, Nishnabotna and Maquoketa - all names of rivers that run through Iowa. I can barely pronounce them myself, but it was always fun to hear 2-year-olds trying to get through those multiple-syllable words.
Wapsinicon means "river abundant in swan-potatoes" because of the large number of wild artichokes - "swan-potatoes" - once found near its banks. Nishnabotna comes from an Otoe word meaning "canoe-making river." Maquoketa was derived from the Sauk and Fox word "Makwok-eteg" meaning "there are bears." Records show that the name was spelled many different ways before officially becoming Maquoketa - pronounced Muh-KO-ke-ta, with the accent on the second syllable.
While I was aware of these Native-American-based names for years, what prompted me to do some research happened on our most recent trip. I noticed many Wisconsin town names began with "Wau." I mentioned it to Art and soon we had a list of all those we could think of.
When our memory wells ran dry, Art said it was too bad we didn't have one of those old paper Wisconsin maps. I looked in the pocket of my passenger door and there was a a well-worn one. It didn't have a date, but Tommy Thompson's picture was on it and he hasn't been the governor since 2001.
It listed the following "Wau" towns:
Waukau
Waukesha
Waunakee
Waupaca
Waupun
Wausau
Wausaukee
Waushara
Wautoma
Wauwautosa
Wauzeeka
Then there were towns that have "wau" in other parts of their names: Milwaukee, Kewaunee, Pewaukee and Ashwaubenon.
I went town by town, "Googling" them, hoping for a common thread that would enlighten us as to the meaning of "wau." Some had multiple possible explanations, while others only listed demographic information. The website: bobber.discoverwisconsin.com had an article by Ken Virden entitled "25 Native American City Names in Wisconsin." Art was extremely interested and asked that I read them all. But I was focused on just the "wau" names.
Waunakee - fair and pleasant valley
Waukesha - local Potawatomi (Pottawatomie in our neighboring Kansas county) leader from Potawatomi words "waagoshag" or "wau-tsha."
Waupun - Ojibwe for "early light of the day."
Wauwatosa - Potawatomi for "firefly" or Menominee for "the lost brave."
Waupaca - name of Chief Wapuka.
Wautoma - "land of Tomah," from Chief Tomah, his name being from the English name Thomas.
Wausau - Ojibwe for "far away" or "noise like thunder."
Milwaukee - Potawatomi for "rich and beautiful land." Originally Man-a-waukee, per the August 22, 1881 Milwaukee Sentinel.
Kewaunee - Ho-Chunk for "greater prairie chicken."
Ashwaubenon - name of Menominee chief. His name was given to the Green Bay suburb.
If there was a common denominator in these "wau" words, it wasn't clear to me.
Then, just when I thought I had gone as far as I could, Virden finished his article with the following: "A History Lesson of 'Wau'":
"Wau" doesn't have a single meaning, but instead has different meanings based off different context and syllables used with it. The result of so many Wisconsin towns having "wau" in their names is a result of earlier European settlers who did not know how to translate the subtleties of Algonquin oral languages. "Wau" was simply the most accessible way to write down these vocal-only Native words.
So now we know ... that we really don't know. I guess that is just the way it "waus."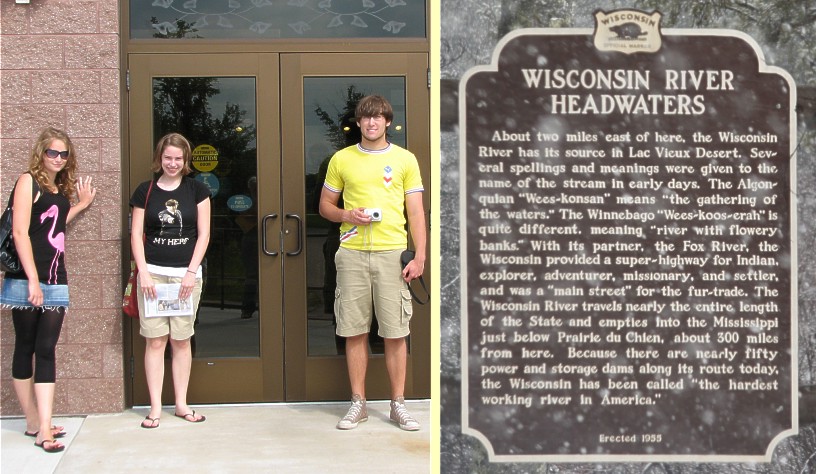 Left: our "adopted" German "kids" Nadja, left, and Tim, right, with Katie in front of the Forest County, Wisconsin Potawatomi Cultural Center Library and Museum in 2008 near Crandon; right: a Wisconsin historical marker on Highway 45 near the Wisconsin-Michigan border. It has two versions of the river and state's name. With area temperatures already below freezing some nights, this snow-filled image from wisconsinhistoricalmarkers.com seemed appropriate.