Kansas Snapshots by Gloria Freeland - August 25, 2017
Jack Kirby and Horseshoe Woods
As we walked along the path near the Moselle River in northeast France, it struck me how serene the scene was. The red-roofed homes in the village of Dornot across the dark river contrasted with the blue sky, the green woods nearby and meadow where we walked.
But it was once close to being Hell on earth. In the fall of 1944, U.S. Gen. George Patton's Third Army was poised outside the German fortress town of Metz, France a few miles down the river from where we were. Part of the effort to surround Metz would involve men of the 11th Infantry Regiment, 5th Infantry Division. On Sept. 8, they were ordered to cross the Moselle at Dornot in small assault boats made of plywood.
Today, plaques maintained by the "Thanks GIs" group of Moselle citizens line the path at the river's edge. They contain descriptions of the battle, photos, maps, sketches, and quotes from survivors. One plaque read:
Boats are sunk with their crew, men are drowned, swept away by the swift current, or for lack of practice. Cries and calls for help can be heard, which suddenly disappear as their sources are swallowed up by the river. Some reach the other bank practically naked and shivering...
Another describes what happened to those who made it ashore:
The survivors joined up in the little wood, and dug a horseshoe-like defensive line, hence its nickname. Thus began for them the tragedy of the Dornot bridgehead. These men indeed spent about 60 consecutive hours in the wood, crouching in their foxholes while enemy shells continuously rained on them. They tried to break up savage assault waves of determined Germans...
Private Jack Kirby of the 11th's Company F was one of those men.
... We crossed the river in these long flat boats, and we went on from there. We're trying to follow the lieutenant, we're marching in line and the massacre took place. Everyone's yelling and screaming. The Germans began to chase us back to the river...

... I remember they were firing right into the foxholes where the guys were sleeping. We were stuck in one of those spots where the enemy was just plastering us. It was a holy mess. You could hear the shells fly past your head like a high-speed mosquito. But not just the sound. You could feel the pressure. They were ripping up the north with heavy machine gun fire, tearing us up with 88s [88 mm artillery]. It was the end of the world. Sooner or later, you get so you just don't care about the danger or you just get stupid ... That's the way it was ...
For Kirby, it was not his first fight with Nazis. Even before the U.S. became involved in World War II, he and his long-time partner Joe Simon created comic-book super hero Captain America. Their famous 1940 comic book cover showed Captain America punching Hitler in the jaw.
Born Jacob Kurtzberg on Aug. 28, 1917, in Manhattan New York's Lower East Side, Kirby was also co-creator of other major Marvel super heroes: X-Men, Avengers, the Hulk and the Fantastic Four, among others.
In June 1943, Kirby was drafted to fight in the real war. He was initially assigned to several units destined for the Pacific, but in mid-1944, he was re-assigned to the 11th Infantry Regiment and sent to France as a replacement. Because of his artistic talents, he was made a scout, sketching what he saw behind enemy lines.
The 60-hour battle in the Horseshoe Woods was a costly failure. What American intelligence didn't know was the two forts directly above the woods were impenetrable to infantry. Of the 1,200 who took part in the assault, less than 300 were able to retreat across the Moselle. Kirby was one of those.
Owing to the support of artillery and the use of fog-making machines, a later crossing farther south on the Moselle was successful.
When Metz was captured in November 1944, Kirby was there. But as the cold of winter set in, he suffered from trench foot and frostbite. Doctors considered amputation, but he recuperated, returned to the U.S. in January 1945 and was honorably discharged.
He immediately returned to working in comics. Writer Mark Peters, in a Feb. 16, 2017 pastemagazine.com article, described how Kirby's war-time experiences influenced his work.
Many of Kirby's works involve the fight against fascism, embodied in characters such as Doctor Doom and the Red Skull. This wasn't just an imaginary battle for Kirby, who killed Nazis in World War II and was ready to throw down with any fascists he encountered stateside.
The Kirby Museum in New York is commemorating the 100th anniversary of his birth with special events Aug. 27-30. According to the kirbymuseum.org website:
... Kirby is to comics what Hitchcock or Spielberg are to movies, Babe Ruth is to baseball, or The Beatles are to rock 'n' roll. Not only was Kirby incredibly prolific and influential, but he was an innovator whose work has come to define fantastic storytelling in comics and beyond...
For Kirby, his wartime experiences served as material for his later work. His growing success led in 1978 to the TV show, "The Incredible Hulk." A movie version was made in 2008, well after the creator's 1994 death. Captain America continues to fight for good in several recent movie releases. Other Kirby-created characters are flourishing.
In contrast, Horseshow Woods is now little remembered. Had the small sign next to another for a local campground not caught our attention, we would have driven past, unaware both of what had happened nearby or its connection with a man whose work is known to much of the world and whose 100th birthday is next Monday.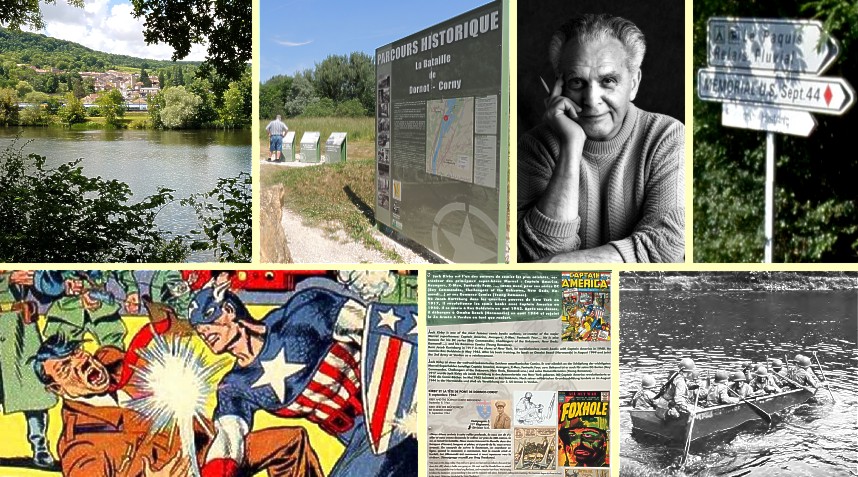 Top-left: Dornot across the Moselle River; top-left-center: husband Art reading information at one of the stations; top-right-center: Kirby; top-right: memorial sign below that for campground at top: bottom-left: Captain America striking Hitler on 1940 Kirby comic cover; bottom-center: portion of Kirby memorial in Horseshoe Woods. The "Hitler" cover is at upper right; bottom-right: men of the 11th Regiment crossing the Moselle at Dornot before fighting erupted. (Kirby photo from Wikipedia, sign photo from Google, crossing photo from Lorraine Campaign, Hugh Cole, U.S. Army publisher)