Kansas Snapshots by Gloria Freeland - February 24, 2017
Tomatoes, pins and memories
Certain events, like weddings and graduations, seem to naturally lead to a stroll down memory lane. But at other times, we are sent in that direction by an unexpected event. Recently, a college-days friend made a Facebook post that led to one of these latter journeys. Ann's picture of a tomato pincushion caught my eye and drew me to the accompanying "Vintage" video that explained a bit about the history of the fruit-shaped sewing item:
The pincushion tomato (with a strawberry attached) was most likely introduced during the late Victorian era. According to folklore, placing a tomato on the mantel of a new house guaranteed prosperity and repelled evil spirits. If tomatoes were out of season, families improvised by using a round ball of red fabric filled with sand or sawdust. The good-luck symbol also served a practical purpose - a place to store pins!
I have a tomato pincushion that I rescued from a basement shelf in Mom's home. I'm not sure if it was hers or one I used in 4-H, but it provides a nice "pop" of color on my old treadle sewing machine.
It also makes me smile when I see it.
Ann told me her mother had one of the red pincushions with an attached strawberry. She and her sister liked it so much that their mother bought one for each of them.
Other friends also have their mothers' tomato pincushions. College roommate Deb, who has sewn professionally for years, said:
My Mom had one attached to a plastic wristband so she had it close by at all times. It amazed me how she could push pins into it without even looking - and never missed! I find them awkward to use - I prefer the magnetic trays now. But I keep some of my mother's sewing tools in a memory box. The tomato pincushion still has some of her pins in it.
Hometown friend Carol has two of them, including one that was her mother's.
I remember mom telling me what the strawberry was for and thought that was so neat. She said the strawberry was used to sharpen needles.
According to several websites, typically the tomato part was filled with cotton, wool, horsehair or sawdust and the strawberry with emery powder - an abrasive that cleaned and sharpened the pins and needles.
Although most people have one or, at most, two or three tomato pincushions, friend Jo is not one of those. She has spent more than 20 years collecting the cheery red objects.
I most assuredly have at least 300 - the most precious, loaded with pins (rusted and shining) and [paired] with a strawberry emery. The most I paid - probably $12, for a big one with an embarrassingly-large assortment of pins, needles, and safety pins. The least I paid - nada, from friends who recognized a crazed personality and fed the tiger!
I asked if it began with a pincushion from her mother or grandmother.
My mom and Gram both had one. What I wouldn't give to have them in my collection! But that wasn't what started my quest ... One ridiculously-populated with pins and needles spoke to me from the shelf of a junk store. "How sad," I thought, "to be abandoned after many obvious years of servitude. And who used it? And for what? Seamstress - commercial or private?"

This was back in the early nineties, when I was regularly trolling antique stores, rummage sales and throw-aways for stuff. Just stuff. But those pincushions each had a story to tell, and the wear and fading piqued my imagination to conjure quilting bees, prom dresses, cloth dolls, beanbags, mended overalls and eyeglasses sliding down noses. Little girls, learning to stitch and do samplers; young girls agonizing over the required sewing class projects; young women, swooning with romantic thoughts, executing a wedding dress with help from mum and grandmum. Who did these treasures belong to once upon a time, and why were they let go? Conestoga wagons, tepees (after the trading began), horse and buggies, tenements, tailor shops - where did they give life and faithfully, silently hold their burdens?
I'm not sure why, but it seemed natural to assume that anyone so interested in this relic from sewing's yesterdays would have had that interest stoked by years of sewing. So I had to smile when Jo added:
I took sewing classes in junior high and was deemed "hopeless" by the teacher ... In all honesty, I was an abject failure at stitching, and never learned the proper use of thimble or pincushion ...
The email made me think about my own tomato pincushion and my sometimes-disastrous sewing projects for home economics classes and 4-H contests. Although I never considered myself to be very adept at sewing, I managed to win a few blue ribbons at 4-H fairs. I also made my dress for late husband Jerome's and my wedding, and I fashioned a few simple Barbie outfits when daughters Mariya and Katie were small.
And these little red pincushions? Well, they were once just utilitarian objects to aid tailors and so were given no more thought than the pins and needles they held.
But now they have a new role. They quietly bring forth sweet memories. They prompt us modern women to think about those who went before us - about the women who spent hours stitching and hemming and mending for the ones they loved.
Finally, they nudge me to think of Jo and the fun times we've had rummaging through antique and collectible shops looking for "just one more" tomato pincushion for her collection.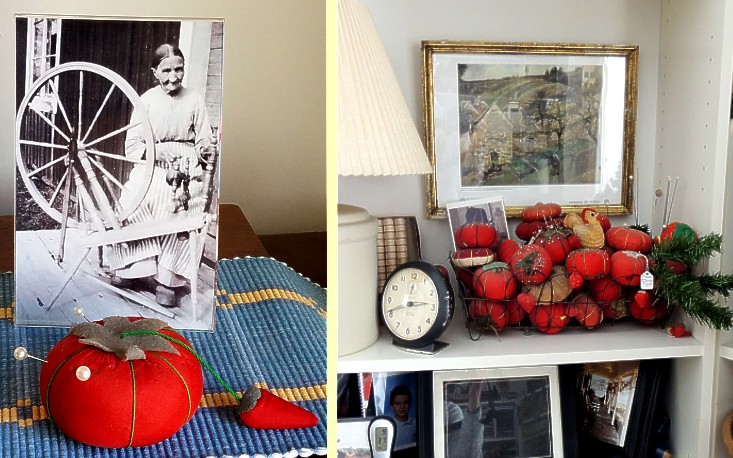 Left: My tomato pincushion and strawberry pin sharpener has found a home on my old treadle sewing machine. Behind it is a photo taken in Sweden of my great-grandmother Maria Helena Olafsdotter at her spinning wheel; right: One of Jo's collection of pincushions. The price tag is still attached to one of them.