Kansas Snapshots by Gloria Freeland - December 2, 2016
An important date
Frank Jake Stevenson was born and grew up on a farm on the edge of Waterville, Kansas. Jake, parents Myrtle and James, older siblings Frances, James and Mary, and younger brother Charley, all did their part raising crops such as potatoes and kafir corn - a predecessor of today's milo. In high school, Jake lettered on the Waterville Yellowjackets football team.
While the 1930s were difficult for most Kansans due to the onset of the Depression and the emergence of the Dust Bowl, the Stevenson family was hit particularly hard. In 1937, Jake's father died. Myrtle and Jake moved to Manhattan, renting a home a few blocks south of the agricultural college. He went to work for a magazine company.
While Charley finished high school, he stayed on the farm and helped his older brother James. Charley then moved to Manhattan as well and enrolled at the college.
But in October of 1940, Jake opted to join the Marines. In a letter to his mother from Nov. 24 of the following year, he wrote:
Tomorrow, we are going out to the rifle range and fire our rifles ... it looks like we will be using them before long. This seems to be about all. Thanks for the lighter. Love, Jake.
His comment about "using them before long" was no doubt a reference to the fact that war was on the horizon. Less than two weeks later, as he stood watch on the battleship that had taken him to Hawaii, other ships were patrolling the harbor entrance, watching for submarines.
But no one on board knew war was as close as it was. Early that Sunday morning as Jake stood watch on the USS Arizona, planes appeared from the west. A few minutes later, the bombs from one of those planes detonated a magazine aboard his ship and Jake's Marine service was over. He was one of the 1,177 sailors and Marines killed that day on board the USS Arizona. His mother Myrtle, who continued to live in Manhattan for many years, was one of the nation's first World War II "Gold Star" mothers - a designation for mothers who lost children in our country's military services. Jake's body was recovered and buried in Hawaii.
Charley left college and joined the Marines after his brother's death. He served from 1943-1946.
After the war, Jake came home. He was laid to rest in Waterville's Riverside Cemetery. Charley returned to school, graduating from Kansas State Agricultural College (now Kansas State University) in 1949.
On a visit to the USS Arizona Memorial in Hawaii, Charley purchased a U.S. flag, which he flew not only on Pearl Harbor Remembrance Day, but also on his brother's birthday.
In December 2003, Charley attended a ceremony in Arizona marking the 62nd anniversary of the Pearl Harbor attack. The activities that day included the unveiling of a model of the ship. Charley was quoted in the Dec. 10 issue of the Green Valley (Arizona) News:
I was 17 and in college studying for an exam when we heard word that something tragic had happened at Pearl Harbor. In those days, you didn't get the news like you get now, but when we finally did get the facts and learned of my brother's death, my mother was just devastated. We all were. It was great to see this model in Green Valley as a tribute, but it's sad, too. As it gets further and further away in years, people forget, but I know I never will.
A group of performers from Manhattan are helping to ensure that the "boys" - like Jake and Charley who served in World War II - won't be forgotten. On Wednesday, Dec. 7, the Stevensons and others will be honored in a National Pearl Harbor Day concert, billed as a "Bob Hope-Style U.S.O. Show Extravaganza." Charley's son Jay plans to attend. He is a member of Bugles across America and frequently plays "Taps" at area ceremonies honoring our veterans.
The free 7 p.m. concert will be in Peace Memorial Auditorium. The PMA, at 1101 Poyntz Avenue, was built by the citizens of Riley County to honor the men who served, including the more than 100, like Jake, who lost their lives in World War II.
The show will feature the Jammin' Northstars Elementary Choir of Manhattan's Northview Elementary School, directed by Laurie Davis; Manhattan's Thundering Cats Big Band; the male a cappella group Cadence; a trio from Kansas State University's K-State Singers; and others.
Davis, whose father was a medic in a Mobile Army Surgical Unit in Europe during part of the war, is the elementary music teacher at Northview. She said it is important that the auditorium is used for its intended purpose - as a remembrance of those who served in World War II. The 32-member choir's program includes 1941 hits, "Jingle Bells" and "You Are My Sunshine."
Davis wanted her students to participate in these activities to help them appreciate the importance of community service and the contributions made by veterans. Her students also wrote thank-you letters to area World War II veterans who have been invited to the event.
After the attack on Pearl Harbor, President Franklin D. Roosevelt addressed Congress and referred to Dec. 7, 1941 as "a date that will live in infamy." With the passage of 75 years, the emotions stirred by the events of that day are muted. But the sacrifices are undiminished, and we owe much to our veterans, not just on this important day, but every day.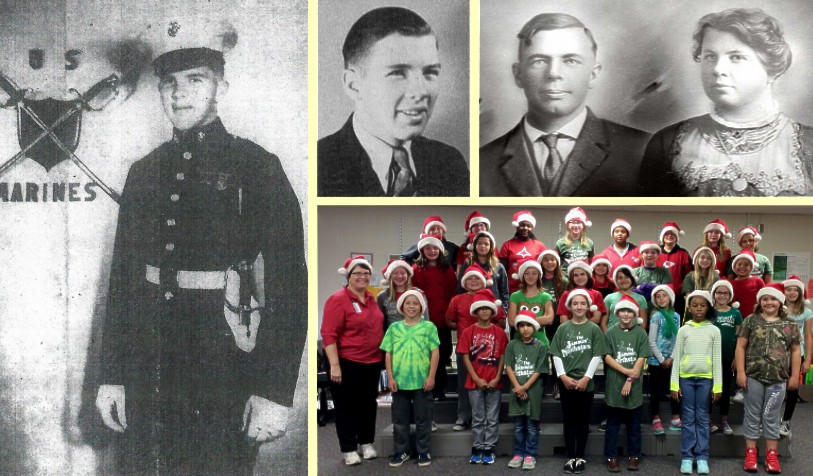 Left: Stevenson in his Marine uniform from the front page of the Christmas Day, 1941 issue of the Waterville Telegraph (courtesy Marshall County Historical Society); top-center: Stevenson's high school yearbook photo; top-right: Stevenson's parents James and Myrtle; bottom-right: the Jammin' Northstars (courtesy Laurie Davis).