Kansas Snapshots by Gloria Freeland - January 22, 2016
Devoted to "Downton" and hopping with "Hoppy"
Husband Art and I hurried home Sunday night to watch "Downton Abbey" on PBS's "Masterpiece Theatre." We've kept that 8 p.m. time slot open every Sunday evening in January and early February since 2011, when the show first aired. We want the latest news on Lord and Lady Grantham and their family, but we are equally interested in the lives of their servants. This past Sunday, the highlight was the simple, yet sentimental wedding of Mr. Carson and Mrs. Hughes. I was thrilled.
We've also become addicted to several other PBS shows, such as "Doc Martin" and "Call the Midwife."
I've been somewhat amazed how we can get so attached to the lives of fictional characters, yet the phenomenon certainly isn't new. When Art was a boy, he and his cousin Jeff watched "Hopalong Cassidy" movies and TV shows. "Hoppy" was the first network Western television series and became so popular that it was featured on national magazine covers. According to Wikipedia, in 1950, more than 100 companies manufactured $700 million in today's currency of Hopalong Cassidy products, including children's dinnerware, pillows, roller skates, soap, lunchboxes and costumes.
For Christmas 1950, Art's Aunt Ione gave him and his cousins Jeff, Judy and Betsy Hopalong outfits. Each was given a shirt and cap gun while the boys received chaps and cowboy hats and the girls received skirts and cowboy boots.
Art said he wasn't particularly excited about his get-up, recalling that it was stiff and scratchy and didn't fit well. Jeff, on the other hand, liked his. I asked him if he had a picture he could share and he commented:
I did like the outfit since "Hoppy" (William Boyd) was my favorite and only cowboy. I got a few years of use out of the outfit, especially the guns and hat!
Brother Dave loved "The Mickey Mouse Club" and he has often told me he had a crush on Annette Funicello, one of the show's stars.
When sister Gaila and I were young, we watched the Wichita-based TV show "Major Astro" after school. Every day, Major Astro, an "astronaut" dressed in a silver space suit, wished us: "Happy Orbits, boys and girls ... Everything will be A-Okay and all systems will be go." We were card-carrying members of the Major Astro Club, which entitled us to receive news and various promotional items in the mail.
My late husband Jerome and his brother Kenny often watched "Star Trek" episodes with friends, all of them full-fledged "Trekkies."
Our daughters Mariya and Katie list a number of TV shows and movies as favorites, including the recent "Star Trek" and "Star Wars" movies, "Harry Potter," "Lord of the Rings," "The Simpsons," and others.
When Mariya was little, she was such a "Teenage Mutant Ninja Turtles" fan that she often dressed up like one of the characters and performed Ninja stunts. Katie adored Hermione Granger, one of the main characters in "Harry Potter," and one Halloween, she wore a robe and curled her hair to look like Hermione's.
But the question remains as to why we get so wrapped up in these fictional figures. Mariya, who received a master's degree in English with an emphasis in cultural studies, answered my question:
Stories give us the chance to explore the past, see the possibilities of the future, and wonder at the nature of humanity.
Pop culture offers stories for the masses, and not in any sort of derogatory way, but in their accessibility to many. It reflects and magnifies our experiences, and we long to see some version of who we are. Simultaneously, it creates and influences our understanding of ourselves, what we are capable of, and of the society around us.
We fall in love with these characters. They are us, our friends, our family. We adventure with them and connect with their joys and pains. Other fans who feel that same connection join with us to become a community where we can share that love and be inspired to expand on those worlds together.
When Art heard her answer, he commented that we see the same thing in sports. He and his family are devoted to the Green Bay Packers football team, yet on a practical level, it's hard to see why. Of the team's principal people, General Manager Ted Thompson is from Texas, Coach Mike McCarthy is from Pennsylvania and star quarterback Aaron Rodgers is from California. While Art's Aunt Ione knew a number of the players personally, there has been no such connection for better than 60 years. Still, many in the family watch the games as if the team members were part of that family. As Mariya suggested, the team's victories become the family's victories that buoy them through the week and the defeats are felt as acutely as if the family had somehow suffered the loss.
There are three more episodes in the Downton Abbey saga. And just as in real life, I am wondering if writer Julian Fellowes will have it end with everyone finding happiness as we hope for ourselves, or will it be a mixed outcome more in line with how life usually unfolds. Whatever the answer, Art and I will be watching.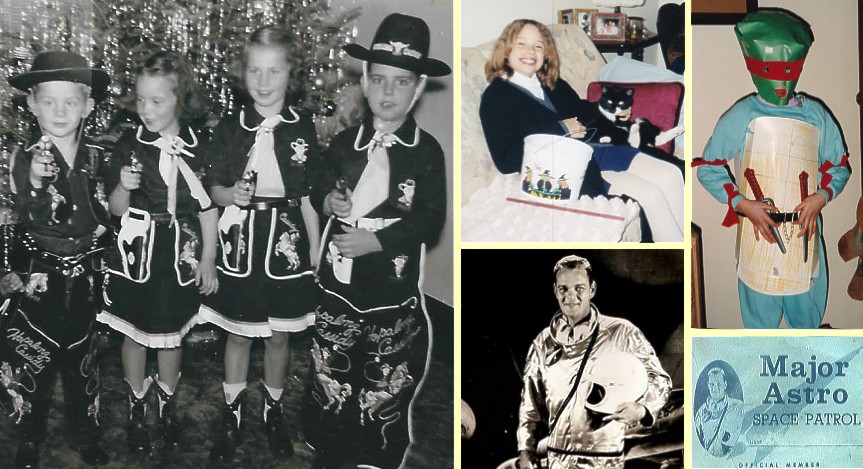 Left: (l-r) Jeff, Betsy, Judy and Art in their Hopalong Cassidy outfits; top-middle: Katie as Hermione; top-right: Mariya as a Ninja Turtle; bottom-middle: Major Astro; bottom-right: Major Astro membership card. Major Astro image from www.examiner.com and membership card from Ron Owens on www.kingoftheroad.net site.