Kansas Snapshots by Gloria Freeland - September 25, 2015
"If I don't tell it, who will?"
The situation was appalling. There were 10 men to a tent with one cot and mud floors. And the men were vomiting. They hadn't bathed in months. The blue bottle flies were thick and once they laid their eggs, there were maggots on everything. And the head lice were terrible.
Our speaker, Mary Ann Bickerdyke, wore a plain floor-length black dress and a black bonnet over her silver hair. She paced, pointing at those listening.
Let me tell you, there was nothing civil about the Civil War ... President Lincoln thought it would be over in 90 days, but 1861-1865 is a lot longer than 90 days.

I was a homeopathic nurse during the war. There were no nursing schools in those days, but I knew that washing hands, eating properly and fresh air were important.
The food was mostly bacon, black beans and coffee - not exactly what a sick person wanted. Some soldiers made "coosh" - a fried mixture of corn meal, bacon grease and water. Others took hardtack - a cracker of flour and water - crushed it, added bacon grease, whiskey and water, and stuffed the mixture into a sock, which was then boiled in water.
I asked the men, "Where did you find clean socks?" Well, they had used their dirty socks and they asked me, "Where do you think the flavor comes from?"
Mary Ann Ball was born in Ohio in 1817, She attended Oberlin College and later married Robert Bickerdyke. They had sons James and Hiram and a daughter Martha. The family moved to Galesburg, Illinois in 1856. By 1859, Robert and Martha had died. Bickerdyke supported her family as a nurse.
During the war, a report to her Congregational Church describing battlefield sanitary conditions motivated her to help. Growing up in the homes of various relatives due to the death of her mother, it apparently didn't bother Bickerdyke to leave her 11- and 7-year-old boys with church members for 15 months.
Many soldiers were sick from measles, mumps, chicken pox and dysentery. And they were young! Most she encountered were under 20. About 300,000 were under 16 and 100,000 were under 15. Boys as young as 10 were among the soldiers, having followed fathers, brothers or uncles onto the battlefields.
The soldiers nicknamed Bickerdyke "mother" because she cared for them as their own mothers would.
I went in and I said, "We've got to clean this up!" I took the authority, and I told the ones who were well that I'd fix fried chicken dinner in exchange for them mucking out the tents, helping give baths and shaves, lining the tents with fresh straw and putting lime in barrels for toilets.
Corn stalks, gunny sacks and whatever else they could find to staunch the blood from wounds were used as dressings. A doctor had two instruments for amputations - a saw and a knife - which he wiped on his bloody apron before moving on to the next man. Finger amputations claimed 29,000 after infections set in.
Bickerdyke described the Battle of Shiloh where, by the end of the first day, more than 6,000 were wounded.
The first row would go forward to be shot down, then they'd go row after row. For two miles in any direction, we never stepped on the ground because it was covered with dead and wounded men, horses, guns and knapsacks. We were able to put 700 on a hospital ship in the Mississippi River, but the rest had to find shelter in barns or under trees. Some were there four days before anyone was able to help.
She also helped raise money for supplies. She met with the Milwaukee, Wisconsin Chamber of Commerce.
They had no battles in the state of Wisconsin, but many men served in the Union Army. Well, the men agreed to give $1,000 a month to help buy dressings, carbolic acid, clothing and other supplies. Then I looked at the women, many of whom had five or six petticoats under their dresses. Why, those petticoats had yards and yards of muslin! So I told them, "Drop them!" And they did! I packed them in trunks and took them to the field, where we tore them to make bandages.
She told about confiscating chimney bricks to build outdoor ovens for baking bread. They took Southerners' slaves as contraband, using them to haul water, chop wood and feed the injured. In return, they gave the slaves rations and tobacco.
Although some men didn't like the idea of a woman taking charge, they eventually accepted her, saying, "Don't mess with Mother Bickerdyke!" Gen. Grant told others she answered to a higher power than his. On Gen. Sherman's "march to the sea," to those who complained, Sherman said, "She ranks me. I can't do a thing in the world."
After the war, Bickerdyke, at Grant's and Sherman's request, led some of the troops in the Grand Review in Washington, D.C. She then moved to Kansas at the urging of her son James, who had gone there to live. She ran a boarding house and induced 300 soldiers and their families to move to the state, convincing the railroad to give them free passage. She also helped veterans as well as 300 army nurses receive pensions.
Mary Ann Bickerdyke died at her son James' home in 1901 and was buried in Galesburg next to her husband. "Our" Mother Bickerdyke was Lu Adams of Ellsworth, Kansas and she spoke to about 35 people at the Manhattan Public Library this past Sunday.
Adams has "channeled" Bickerdyke more than 100 times since she first began in 1997. She has no written script, depending on the in-depth research she has done. She has read more than 100 books and articles about Bickerdyke and has a real passion for the story.
"There is so much history and so many bits and pieces," she said. "If I don't tell it, who will?"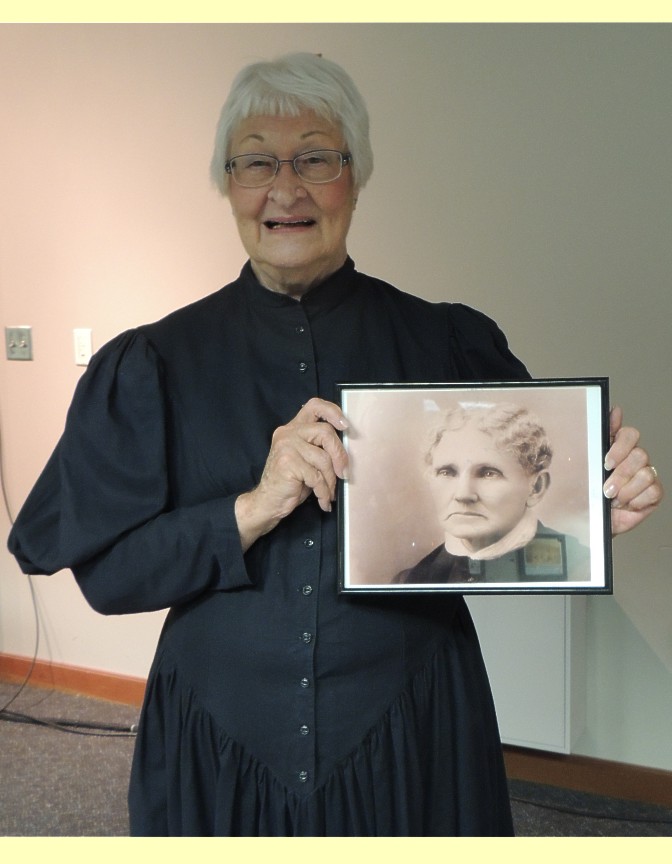 Adams holding Bickerdyke's photo