Kansas Snapshots by Gloria Freeland - May 28, 2010
Bittersweet time
For those of us in teaching, this is a bittersweet time of year.
As with all occupations, there are times when a break is needed. So when May appears on the calendar, teachers begin to breathe a sigh of relief because the finish line is in sight.
But unlike most jobs, when we return after vacation, much has changed. Oh, the buildings and procedures and rhythm of what lies ahead are all familiar. But some friendly faces will be gone and new ones will have taken their place.
This year is shaping up to be a particularly difficult one for me. While the seniors have left, several of my friends and co-workers are leaving as well. Linda, one of my gal pals who joined the faculty 21 years ago, is retiring. She has always been such a whirlwind and her assignments frequently took her all over the country. Still, she has one of those personalities that when she's talking with you, you know she is completely there with you. I've also worried about her a little because she has invested so much of every waking hour into her work that I hope she won't feel adrift.
Then there is friend Lorena from Costa Rica. Since I worked in Costa Rica, it was natural that I was drawn to her when she came to K-State from San José almost 10 years ago. She wanted to obtain her Ph.D., but along the way she raised her two children, put food on the table and adapted to a new culture. She spent several Thanksgivings at our home over the past few years and, last fall, I was a guest on a television show she hosted. But now she has reached her goal and has accepted a teaching position in Washington.
This means the time to say "adiós" to her has come as well.
This past semester was the last one at K-State for friends Susan and Kay as they have retired. As far as I know, they don't have any immediate plans to leave the area, but they have both worked in Hawaii and have expressed how they would like to return.
Of course, it isn't just teachers who look forward to some time off. Students need a change as well. But for those who are graduating, the familiar cocoon of school, even though it may have chafed at times, has now thrust them outward into the bigger and less certain world. For some, it will be yet more schooling, while for others, it may be work or perhaps the armed forces or even marriage. But whatever route is chosen, the uncertainties ahead will be both enticing and scary.
Niece Gabriela is just completing her junior year of college in St. Paul, but her boyfriend graduated and will soon be heading off to a job in New York. Her situation made me think of my first husband Jerome and me. One summer, the plan was for me to work on my master's degree at K-State, while he worked in Wichita to help support us. But I spent so much money driving back and forth to Wichita, that it soon became clear our plan wasn't saving much. We decided we'd never do that again.
So what will happen with Gabriela and her boyfriend? Only time will tell.
Even daughter Katie has been having an unusually bittersweet ending to her year. Over the past two years, she has developed several close relationships with students in the class ahead of hers. But now they have graduated. Her friends have all sworn to stay close and to write, but in Katie's words, "You know how that will go."
As I look back over the years, I have had my share of friends, but with many, our on-going connection was fostered by circumstance. And when those circumstances changed, most of those close connections faded as well. I would like to tell Katie that she is wrong and she and her friends will remain close, but she knows that wouldn't be the truth.
And, in the end, that's OK. Like Katie, I'd like to hold people close, but we both know to do so would also be to keep them from who they need to be and where they need to go. And who knows, just as with my college friend Deb, perhaps one or two will remain friends, even though separated by distance and time.
So it is time to say "goodbye" to those of you who are leaving. I hope you stay in touch. But if you don't, know that I appreciate the enjoyment you brought into my life while you were a part of it.
And for those who are staying around, well, don't be a stranger!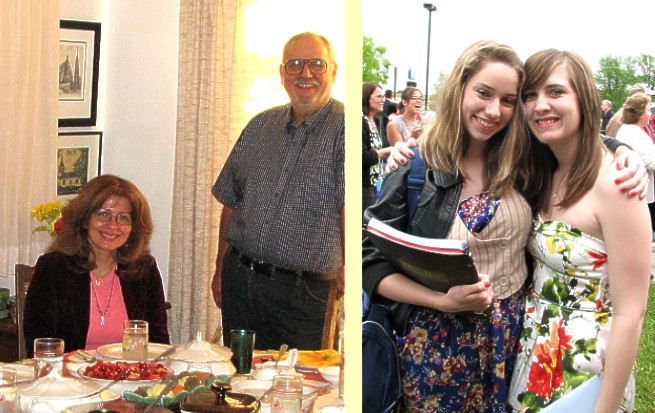 Left, Lorena next to husband Art at our home on Thanksgiving Day 2009.
Right, Katie and her close friend Stacey Hauck after Stacey's graduation.