Kansas Snapshots by Gloria Freeland - May 21, 2010
Not milestones, but moments
Aunt Edith recently celebrated her 90th birthday. She said she didn't want a big wing-ding - just a nice get-together with family and a few friends. So she and her daughter Linda planned a warm, intimate "come-and-go coffee."
Mom, daughters Mariya and Katie, Mariya's partner Lacey and I started for Council Grove on a May Day that was as perfect as any I've ever seen. The sun was shining and the lilacs, spirea and tulips were in full bloom. The Flint Hills were a brilliant green. Brother Dave and wife Linda drove over from Salina and they, too, remarked what a beautiful day it was.
Edith's daughter Linda and son Ron, along with their spouses Ames and Val were there. It was good to see my cousins, as well as other relatives and friends, again. As small as my extended family is, we don't see each other often and so we really enjoyed catching up on family news. Linda and Ames are planning a trip to Sweden and wanted advice on what to see in Stockholm. I perused pictures of their grandson and Ron and Val's seven grandchildren. Mariya and Katie were quite young when they saw Ron last so they were wondering who that "distinguished-looking dude" in the corner was. I had to smile, the question taking me back to when I was a youngster and had wondered who some of the people were when my folks and their cousins had reunions.
Linda and Ames have a knack for adding details here and there to make occasions special. Edie is pure-blood Swedish and since the flag is a yellow cross on a field of blue, each table had a vase of ocean-blue glass "rocks" holding bright yellow sunflower bouquets. Mugs with Swedish symbols, blue and white napkins, tiny little cupcakes and a 1920 calendar plate filled with Swedish pepparkakor - ginger snaps - completed the decorations.
For entertainment, they provided "The Edith Puzzle" - a crossword tailored to include bits and pieces of Edith's personal history, such as the names of her sister, daughter, son, mother and father, a Swedish hot drink and the Kansas flower. It was easy for me to fill out, but I was surprised the girls didn't know my grandparents' names were Hulda and Nels. Linda had decorated the crossword puzzle with a Swedish flag, a Dala horse, a cup of coffee, a sunflower and the words "grattis på födelsedagen" - "Happy Birthday" in Swedish.
A 1920s Trivia Quiz was on the back side of the puzzle. It included questions such as who was the president at the beginning of the Roaring Twenties, what was the name of the first talkie and what nickname was given to the day the 1929 stock market crash began.
Before the event, Linda had asked each of us to send cards, letters, photos or other items for a surprise "memory book." She made those mementoes into a stunning scrapbook filled with a lifetime of remembrances about Edith.
Brother Dave remembers riding a raft with Ron down Big John Creek, "stomping around looking for critters of all kinds," and eating fried chicken and sweet corn when Edith and husband Bud lived on their farm. He also recalls how much fun Edith and Mom had visiting and how the littlest things seem to make them laugh.
I remember playing dolls and carving out secret "rooms" among the trees surrounding the farm with sister Gaila and cousin Linda. The meals with home-grown tomatoes and sweet corn combined with constant cheerful conversation and laughter also come to mind. Gaila recalls Mom and Edith talking in the kitchen at the farm house and all of us looking at photos, old and new.
As the day drew to a close and we reluctantly got up to leave, Linda pointed out the party favors she had made - bags of pepparkakor tied with a ribbon to a couple of cards.
One card had a recipe for ginger snaps on one side and the related Swedish tradition on the other. A pepparkakor is placed in the palm of one hand, a wish is made and then the index finger of the other hand is used to tap the cookie in the middle. If the "wish cookie" breaks into three pieces, tradition says it will come true.
The other card had a recipe for Swedish Egg Coffee on one side and "Life is not a matter of milestones, but of moments," a quote from Rose Kennedy, on the other.
As we headed home, I thought how Linda had once again added a small thing that set the day in proper perspective. When we look at the broad sweep of life, we tend to see the milestones - the births, graduations, new jobs, marriages, anniversaries and deaths. But in reality, it's the little moments we savor - moments like being with family on a beautiful day in May.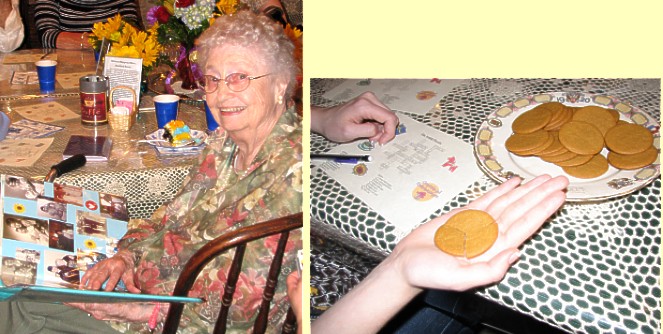 Left, Aunt Edith checking out her memory book.
Right, Katie gets the wish-fulfilling 3-way split!