Kansas Snapshots by Gloria Freeland - April 16, 2010
That one was for you!
They sang "Bugle Call Rag," "Ac-cen-tchu-ate the Positive," "Sentimental Journey," "Don't Fence Me In," "I'll Be With You in Apple Blossom Time," and other World War II-era hits.
But they didn't just sing. The young women of "Swingtime Canteen" pranced, galloped, swirled, tap-danced and sashayed their way across the Riley County High School stage last week as they portrayed a USO group entertaining members of the U.S. Eighth Air Force in London during the war.
Youngest daughter Katie played the part of mostly calm, collected Marian. Sarah Wirtz was bombshell Lilly, Bekah Bailey was wisecracking Jo, Megan Bowen was sweet Katie, Jessica Huey was tough-as-nails Topeka and Janelle Bailey was stage-frightened Connie. The three "British" canteen girls Dulcie, Essie and Audrey were played by Courtney Hall, Emily Collins and Abbey Marcotte. Eric Zeak rounded out the cast, portraying Captain Lewis Taylor. A seven-member lively jazz combo provided the on-stage music.
As I watched, I could almost imagine it was 1944. I almost boogied along when Marian, Lilly and Jo did the fast-paced Andrews Sisters medley that included "Boogie Woogie Bugle Boy," "Rum and Coca-Cola," "Pennsylvania Polka" and others. I laughed when Marian, dressed in a Statue of Liberty costume and holding a torch filled with sparklers, joined the entire company in a rousing rendition of "Thank Your Lucky Stars and Stripes." I got misty-eyed when Marian sang "A Nightingale Sang in Berkeley Square," Katie sang "How High the Moon," Topeka sang "My Shining Hour" and Jo sang "I'll be Seeing You." And I was moved when, after the performance, the cast recognized World War II and other veterans in the audience by presenting them with red, white and blue carnations.
It took a lot of hard work and team effort to make "Swingtime Canteen" successful. Talented RCHS vocal instructor Janie Brokenicky had the vision to see what could be done and brought together a cast that was believable and entertaining. Stage manager Stacey Hauck kept things moving along. Others helped with lighting, sound, stage construction, costumes, make-up, hairstyling, choreography and publicity. Husband Art was hardly home last week, making modifications to the sound and lighting system, hooking up the "on the air" and "applause" signs, rigging the 48-star flag - loaned by the Riley County Historical Museum - above the stage so it could be dropped at just the right moment. Parents and other teachers and students pitched in with a "canteen," where donated pies, brownies and cookies were served before the show and during intermission.
In a way, I suppose it was much like during the war, where everyone chipped in to do his or her part. Soldiers, sailors, airmen and Marines fought far-away battles. Merchant Marines helped guard our coasts. Farmers grew flax used to make parachutes. Factory workers made planes and other equipment. People grew victory gardens and saved scrap metal. And USO groups braved dangers to bring joy to our troops in all parts of the world.
In a way, even Art's Mom Donna, who died last summer at the age of 99, was part of the effort. She loved those songs and could belt them out with the best of them. Many times when we were together, Katie heard Donna singing those numbers. It was one of the reasons Katie was so excited about being in the show - one of the reasons she wanted it to be just right.
After the first performance," Katie put a note on her Facebook page, which I understood immediately. It just said, "That one was for you!" Donna would have been pleased.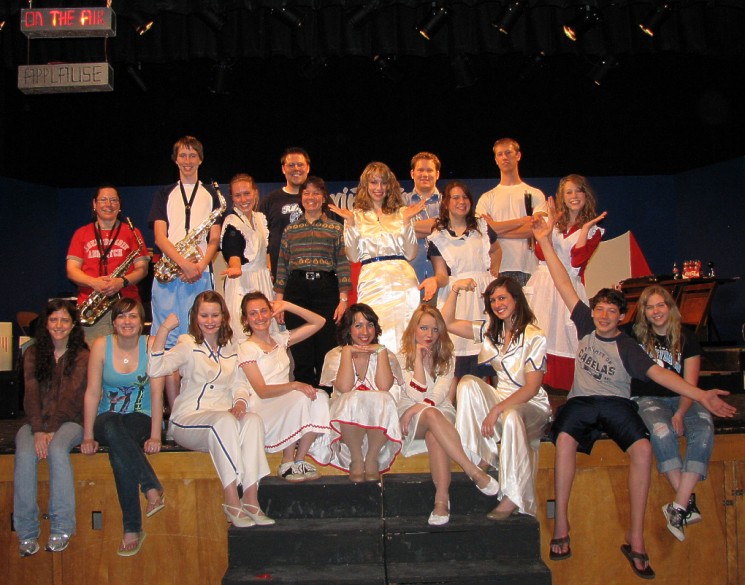 Cast and crew of Swingtime Canteen. The show features a fictional USO troop sentto London, England to entertain
the men of the 8th Air Force during World War II. Left to right, standing: Betsy Blazer, saxophone and clarinet,
Jon Strom, saxophone, Abbey Marcotte, canteen girl, Adam Keller, bass, Deb Huyett, accompanist,
Katherine Vaughan, as Marian Ames, Brian Stuckenschmidt, trumpet, Courtney Hall, canteen girl,
Dean Linton, drums, Emily Collins, canteen girl; seated: Sarah Inskeep, sound, Stacey Hauck, stage,
Jessica Huey as Topeka Abotelli, Janelle Bailey as Connie Mae Blaugh, Megan Bowen as
Katie Gammersflugel,Sarah Wirtz as Lilly McBain, Bekah Bailey as Jo Sterling, Brian Ingalsbe, spotlight,
Amie Sommers, lights. Not pictured: Eric Zeak, as Lewis Taylor and Laurel Burton, clarinet.