Kansas Snapshots by Gloria Freeland - March 19, 2010
A season of reflection
As a youngster, I was inclined to see myself and my friends as modern and unlike any earlier generation. But I was recently reminded of the familiar words of King Solomon - "to every thing there is a season."
Three weeks ago, husband Art and I drove to Wichita to see younger daughter Katie perform in the Kansas Music Educators Association choir in Wichita. We decided to go early to visit with friends.
We had dinner with married high school classmates Joyce and Bruce. Bruce and I grew up in Burns, Kan. Our mothers were young single teacher pals, and both married local boys. Bruce and I attended school and Sunday school together and celebrated birthdays at each other's homes.
I met Joyce our junior year of high school. We became fast friends and shared a dorm room our freshman year at Kansas State University. We also shared an interest in boys, classes and what to serve at fondue parties - a fad of the day.
But those topics never arose this trip. We reminisced a bit about our younger days, but mainly caught up on news about our children, our aging parents and our own health issues. The Barker house - a Burns landmark destroyed by fire a few weeks ago - was also a topic of discussion.
The next day, we had breakfast with Joyce, and then she and Art took me to the home of my good friend and college roommate for two and a half years. Art took a picture of the three of us and then he and Joyce left, leaving Deb and me to do some catching up of our own.
We talked nonstop. She shared her latest scrapbook project - two beautiful albums of photos, holiday card fronts and Christmas letters illustrating her family's Christmases over the past few decades - beginning with 1972, the year she and husband Chuck started dating, all the way through 2009.
I told her I was envious - I would love to do "theme" scrapbooks of holidays, summer vacations in Wisconsin and trips we've taken, but I can't seem to carve out enough time.
She told me various ideas she has for redoing her kitchen floor and changing curtains and drapes throughout the house.
Before we knew it, four hours had flown and Art and Joyce returned to pick me up.
In the car, the conversation returned to the Barker house and I thought about an e-mail Joyce sent before our visit.
"I don't remember much about this house except for the stories that have been told about it," Joyce commented. "I DO remember it as a landmark there and know it will certainly be odd driving through Burns now and not seeing it.
"It's interesting to read what you and Bruce wrote back and forth. My word, I thought it was only our parents who talked about 'the house that so and so lived in' and never knowing who they meant. We've advanced to another generation where we refer to so and so's house and sound like our parents!"
Indeed! As youngsters, we laughed about how, when our parents got together with friends, all they did was sit and talk - about family, about who had died and who wasn't doing well and a host of other topics we thought were boring. In contrast, we young people talked about who was dating whom, what movies we had seen or wanted to see, what songs we liked and many other "more important" things.
One thing we youngsters shared was a certainty we would never be like our parents.
But like generations before, our season of laughing at our parents' ways has passed. We now go places not so much for great adventures, but to visit family and friends. Much of our time together involves reflecting on where we are in life and what has gone before. In effect, we have become our parents.
Our trip concluded with the choir's performance Saturday afternoon at Century II. Brother-in-law Dave, his wife Jo and their granddaughter Sarah joined us. The 200-plus voices chosen from across Kansas was a delight to hear.
On our way home, we passed fields, still brown, but at least without the deep snow that had covered them just a few weeks before. It was a sure sign the beautiful days of spring are just around the corner, much as the spring of life has arrived for an exhausted Katie asleep in the back seat. Yet I was also conscious that I am now in the fall of my life. And unlike what I imagined when I was young, it, too, is a beautiful season.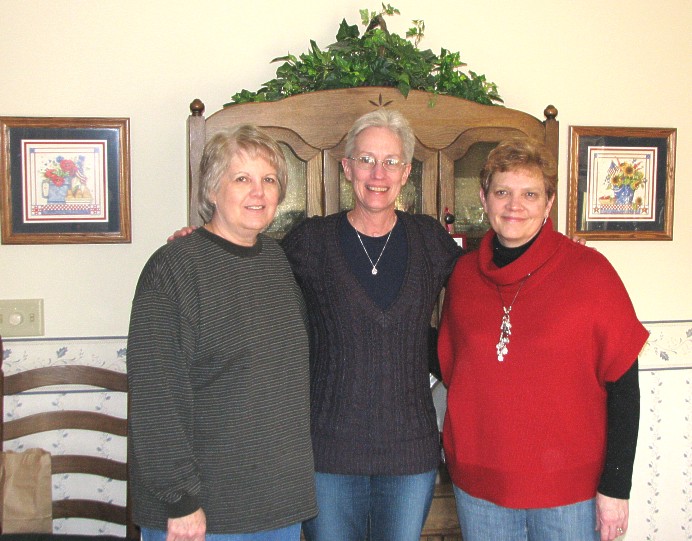 Friends Deb, Gloria and Joyce