Snapshots by Gloria Freeland - Dec. 2, 2005
Abundance: it isn't just about food
When Art read aloud columnist Ellen Goodman's "Items hold memories of those we so loved," it reminded me of me. She told about bringing out her grandmother's china for the family Thanksgiving meal in her home. "I am not a china kind of hostess, but I was awarded temporary custody of these dishes when I inherited Thanksgiving," she said.
I'm not a china kind of hostess either. I prefer simple, no-fuss meals. But I, too, inherited white china with gold trim when Mom and Dad moved to Manhattan from the farm. I'm not about to let the dishes sit, un-touched, in the walnut hutch they're stored in so I take them out every Thanksgiving and Christmas.
My china comes from not just one, but both my grandmothers. The set that belonged to Grandma Ethel Freeland has scalloped edges with a simple gold design. The set that belonged to Grandma Hulda Mostrom is more elaborate with gold wreaths and garlands decorating the edges. Mom told me her mother got the dishes one piece at a time from boxes of oatmeal the family bought. No one knows for sure where Grandma Freeland got hers.
Neither set is complete, so I mix and match to come up with enough place settings for our holiday guests.
But that's not the only thing mixed and matched. The rectangular tablecloth, which barely covers our oval oak table, reminds me of the farm with its autumn colors, barn, pumpkins
and bushel baskets of apples sprinkled around the edges. A turkey-shaped cookie cutter from Mom's old set nestles among new silk flowers in the cornucopia centerpiece. The silverware I use is part of our set of everyday dishes. The forks, spoons and knives are made of stainless steel with a fruit-and-leaves design on the handles. The glasses match the "Abundance" handle pattern.
The Thanksgiving decorations are eclectic, too. They include tissue-paper leaves, a toilet-paper-roll pumpkin, a paper-plate turkey and hand-print turkeys the girls made when they were small, a framed Thanksgiving verse I cross-stitched in 1995, and two turkey Beanie Babies.
Even the guests at our table have varied from year to year. An old neighbor from Manhattan made it to a couple of celebrations. My parents and my first husband's parents were regulars for several years as were my brother and his family. My sister from Bolivia joined the crew the year Dad died. Another year we had the daughter of a friend from South America with us.
This year was one of our smaller groups. My husband, two daughters and I, along with Mom, our German daughter Nadja and a friend from Costa Rica, enjoyed this year's feast. A friend from graduate school days stopped by later with a pumpkin pie.
But some things are constant. Every year, Art cooks a turkey, stuffing, mashed potatoes and green bean casserole. I fill in with cranberry sauce and bread and others contribute pies and various desserts.
It all began in 1992, when daughter Katie was born two days before Thanksgiving. Art brought us home on Thanksgiving Day and, when I opened the front door, we were greeted with the wonderful aroma of a 23-pound turkey roasting in the oven. There was way more food than Art, Mariya and I could eat, but over the next few days, family members and friends, who came to see the new baby, helped us eat the leftovers. This year, Katie celebrated her 13th birthday on Thanksgiving Day.
In the end, I think our Thanksgiving is pretty much like Ellen Goodman's and many other people's as well. While some in attendance come and go, others remain constant. Parts of the meal change while other foods are staples. Some of the decorations and dishes are new while others are generations old.
But the most important part is unchanging. The feeling of abundance - in food, memories, blessings and love - remains constant.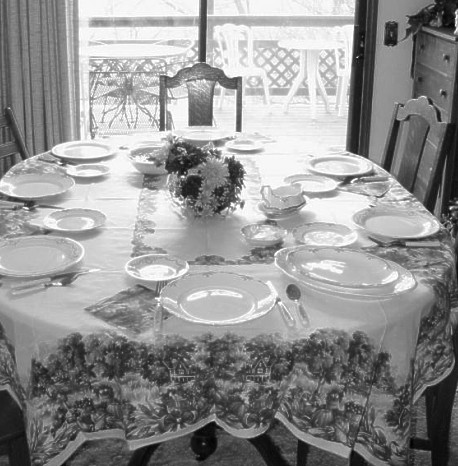 The Thanksgiving table set with white, gold-trimmed dishes
from Gloria's grandmothers Ethel and Hulda.