Snapshots by Gloria Freeland - Nov. 25, 2005
King for a day
Outside the restaurant where family members and friends had come to help him celebrate his 90th birthday, Uncle Bob marched steadily toward the entrance. He loves getting together with family, but like most of us Freelands, he hates to be the center of attention. That meant the next few hours would be a mixed blessing for him.
My husband, mother, brother and I had traveled to Los Angeles a few days before to join in the fun. We hadn't seen Bob since December 2001.
About 30 of us celebrated his birthday. He agreed to wear the king's crown his family bought for the occasion and to pose for the many photographs that are a requirement of any Freeland gathering.
My first memories of Bob and his family revolve around their summer visits to our farm and our trips to southern California. I remember riding in Bob's 1959 station wagon, watching the palm trees as we sped along the busy Los Angeles streets and freeways. My sister, our cousin and I begged to ride in the rear-facing bench seat in the back. We waved at passing cars and giggled when the passengers waved back. When Uncle Bob told us to point at the back window, it magically opened! He smiled at our unfamiliarity with electric windows.
Owing to his thrifty nature, he had very few vehicles through the years. He often joked that he would like to be buried in his car. His frugality was evident in other ways. Once when he ran over his favorite pipe, he just glued it back together and continued smoking it.
In the 1950s, Uncle Bob and Aunt Hazel built a home on the Palos Verdes Peninsula overlooking Los Angeles. The night view of the city lights from the back yard is as mesmerizing today as it was when I first visited as a little girl.
But almost everything else has changed. Bob's place was about the only one up there then, but now he's surrounded by multi-million dollar homes. I recall sitting at the farm one evening when Bob took a pull on his pipe and then his face slowly formed into his familiar gentle smile. He said, "I think I'm the only one up there who took a lunch box to work."
With the celebration over, we returned to Bob and Iris's home. In the den, Bob showed me a cabinet that held mementos of his parents - Grandpa's shaving mug and old box camera, a tin that held udder liniment, an old iron, the decoupaged cover of a piano magazine that Grandma subscribed to. From a desk drawer, he brought out his papers from his Merchant Marine service from World War II. For the next hour, Art pored over them, reading aloud Bob's entire diary of his service on the Cefalu, a troop ship turned goods-transport.
Whenever they got together, Bob, his brother Stan and my Dad were as quick to laugh at themselves as at anyone else. Laugh isn't quite the right word. It was more like a chuckle. They were never loud and they often sat or stood side by side with arms crossed.
During my hospital stay in 1997 when I was unable to walk and doctors weren't sure about my prognosis, Bob made the comment that he didn't think I'd walk again. I took that comment as a challenge. In the videotape the rehabilitation hospital took of me walking for the first time during my recovery, I said, "Uncle Bob, this step's for you!"
Bob later apologized and said he felt like "eating crow." He even went so far as to perch a dead crow on a stick to illustrate that he'd really meant it! He showed us the crow's place of honor in the den.
Finally the day drew to a close and it was time to leave. Bob came outside to watch as we began to climb back in our vehicles to head back to our homes or motels. He just watched, puffing on his new pipe, one of his several birthday gifts.
Then, as I had seen so many times before, a slow smile began to form.
"Are you sure you don't need a few more pictures? I'm available now," he said.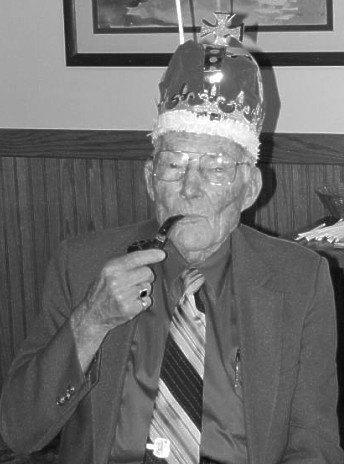 "Are you sure you don't need a few more pictures? I'm available now."