Snapshots by Gloria Freeland - Nov. 18, 2005
A village makes a quilt
We just finished a quilt. It had been 19 years in the making and it was high time to get it done.
The project really started back when Mariya was a baby, although I didn't realize it at the time. I had saved many of Mariya's T-shirts over the years. I wasn't sure what to do with them, but I wasn't willing to throw them away either. They ranged in size from the tiny pink newborn top she received from my obstetrician to the Riley County Falcon shirt she wore in high school.
Some were decorated with cartoon characters such as Mickey Mouse or the Lion King. Others represented places - Riley County, Kansas State University, the North Woods of Wisconsin and La Paz, Bolivia, where my sister and family live.
Along with saving the shirts, I also cut out T-shirt quilt patterns and instructions from magazines. But I wasn't overly excited about the ideas I saw.
As Mariya's graduation grew near, I turned to my college roommate
to help me out. Deb has created applique designs for her own line of T-shirts and sweatshirts for years.
But when I asked if she'd create a quilt for me, she told me she was afraid it wouldn't be what I wanted. I told her that with her skills, I knew she'd come up with something I liked.
I didn't have enough tops to make the size quilt I wanted, so I asked Deb what she thought about my including photos of Mariya at different ages between those symbolized by the shirt squares.
"Better yet, have photos of Mariya wearing the shirts," Deb said.
"What a great idea!," I thought.
I spent several days flipping through my albums to find pictures of Mariya in the different shirts I had selected. I wanted her at different stages and with some of the important people in her life - one with me holding her when she was just a few days old, one on the front steps with little sister Katie on Katie's first day of kindergarten, a couple with her grandparents, another with Art and Katie in Llansilin, Wales and one with her Bolivian cousins.
"This IS good," I said smugly to myself.
But then I realized the enormity of the task I had set out for Deb. Not only would she have to cut out the fronts of the T-shirts and put some sort of backing under them so they'd hold their shape, she also would have to take the photos I'd sent, enlarge them and transfer them to
material.
"She's going to kill me," I thought.
Instead, she called and told me how she was going to frame the shirts and pictures with chambray material and add chambray strips between them. She wondered if that was OK.
Again I told her I trusted her judgment.
Within just a few days, Deb sent me a digital photo of her masterpiece via e-mail. I nearly cried when I saw it.
"It's perfect," I told her.
Soon the quilt top was ready for Mariya's high school graduation in May 2004.
But a quilt needs more than just a top. It would need backing material and batting between the top and back. Although I took sewing when I was in 4-H, I hadn't done any major project for years. I was afraid I would totally mess up Deb's work, so I turned to someone else again - this time, the grandmother of one of Mariya's friends. Within days, that part of the project was done. I was thrilled with the results.
I knew I could take it from here. Surely I'd have time to tie the quilt to keep the layers from sliding around.
Alas, that wasn't the case. The quilt lay in a box for a year until my sister came to Kansas last summer. Gaila and I tied four or five knots, but it was too hot to have a blanket over our laps. I said we didn't have to finish it then. I'd have time later.
Riiiight! Like before, later never came.
So when Aunt Edith came to visit Mom last month and offered to finish the T-shirt quilt, I didn't hesitate to accept her offer.
"Your Mom and I will tie it," she said.
I'm not sure whether Mom was excited about the idea, but she agreed.
She and Mom had it done within a day.
"The worst part was threading the needle," Edith said.
"I even tried wetting the yarn," Mom added.
I smiled. If it takes a village to raise a child, it almost took one to make that child's quilt.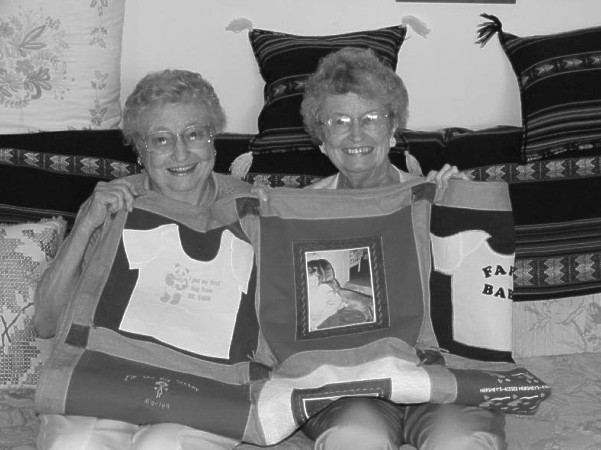 Edith and Edla hold Mariya's finished T-shirt quilt.