Snapshots by Gloria Freeland - Oct. 21, 2005
Nadja
I don't know how it was for other students in my high school class, but I had enough trouble learning algebra, chemistry and American history with them being taught in my native English. I can't imagine struggling with those subjects in a foreign language!
But that's just what our "adopted" daughter Nadja has had to do.
A native of Germany, she came from Berlin, with its several million inhabitants, to Manhattan, population 47,000. But because we live outside Manhattan, the contrast is even greater than those numbers might imply.
Yet she has adjusted remarkably well. Just 16, she has had to adapt to a new family, school, culture and language - all in three months. I don't think I would have had the nerve at that age to leave everything familiar for an adventure into the unknown.
Our family wasn't completely unfamiliar to her as we've known her sister Arlette and brother-in-law Matthias for several years from our trips to Germany. Matthias spent six weeks in our home in 1998 and Matthias' mother was with us for two weeks one Christmas. Still, the thought of moving in with a family she'd never met must have been a bit daunting.
We met Nadja at the Rhinelander, airport at the end of July, just in time to have her join our family and Art's mother Donna at our small cottage in Wisconsin's North Woods. She had to fit right in - literally. We squeezed a single bed next to the double bed in the small bedroom our girls have shared the past 13 years. All six of us crowded into our minivan when we went exploring. Having only one bathroom with three young women and three adults presented its own challenges. But, we got along.
At the end of our two-week stay, we attended a family reunion at Art's cousin's home near Waupaca. Again, Nadja, although quiet, seemed to fit in well with the boisterous Herrmann bunch, swimming and playing Frisbee with the older kids, admiring the painted turtles the younger members of the clan caught and answering the questions of curious older family members.
But I know Nadja was relieved when we arrived at our home so she could finally have her own room and quit living out of her large suitcases.
On our first day back from Wisconsin, while freshmen were going through orientation, she went through one of her own. First she met with the high school counselor and together they decided which classes she should take. Mariya, who graduated in 2004, showed Nadja where her locker was, gave her some "insider tips" that only a former student might know and introduced her to some of her teachers.
But Nadja's relief was short-lived. Suddenly she had to cope not just with casual conversations in English, but with learning unfamiliar subjects. Despite having had years of English in Germany, those courses don't teach specialized terms like "exponent" and "rationalizing the denominator." And, as with any transfer between schools, not all of the materials taught in our lower grades were taught in her courses, so she had some catching up to do.
And if those problems aren't enough, she has the same concerns every teenage girl has - wondering how she looks, whether people like her, whether she's doing well enough in school, etc.
But now she's settled into a routine. In the morning and after school she rides the bus - another new experience - to and from school. After school, she does homework, sometimes alone and sometimes with other students. She hangs out with Mariya and Katie or with school chums on weekends and joins us at my mother's for weekend meals. She has even negotiated chores with Katie; Nadja prefers doing dishes while Katie prefers cleaning the bathroom.
So, it appears our adopted daughter has adjusted remarkably well in her first few months in the United States. But perhaps the single-most obvious sign she's been accepted into our family comes from our cat Cookie. Whereas Cookie once spent all of her sleeping time in Mariya's room, then Katie's after Mariya left home, she now splits it, spending half in Katie's room and half in Nadja's.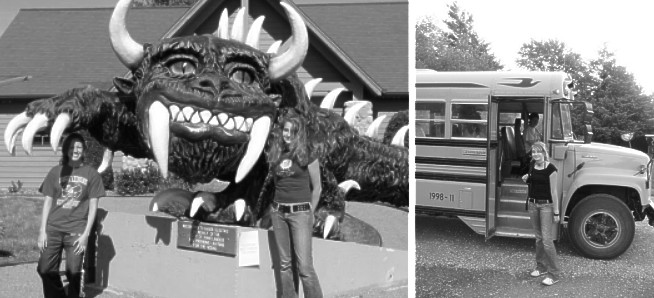 Mariya and Nadja stand beside Rhinelander's Hodag, left, just minutes after Nadja's arrival
at the local airport. Nadja boards the school bus, right, for her first day of classes.