Snapshots by Gloria Freeland - Oct. 14, 2005
Back in time
I met Tone, Amos, Anna, Ageriffa and Izri earlier this month.
Well, I didn't really meet them since they died a long time ago, but I felt a bit like I had met them.
Art and I were on one of our family-information-gathering adventures, this time in Shelby County, Iowa. We went to the courthouse in Harlan, where the birth, marriage, death and land records are kept. As in most counties across the country, these records are bound in large heavy books. The vault where the books are stored is about 12 feet square and 12 feet high and the books line the small room from floor to ceiling. Each book is about 16 by 20 inches by 4 inches thick and so heavy the shelves have rollers to aid in sliding them in and out. Together, they tell a bare-bones factual story about what transpired in the county since it was organized - presuming a person can figure out the system used to access the records.
We worked on a corner of a table in the middle of the room. There were several such surfaces, but each had barely enough clear space for a single open volume. The rolling ladder needed to reach the books on the higher shelves partially blocked the ones behind it. Occasionally I had to get on my hands and knees and crawl between the ladder's four legs to pull out books stored near the floor. It was hot and stuffy, but we worked quickly since we had arrived only two hours before the courthouse closed.
Before I met Art, I hadn't done courthouse research. I was lucky to have come from a long line of pack rats - previous generations who kept scraps of paper, newspaper clippings, letters and photos. But Art had to start from scratch to research his family. By the time I met him 18 years ago, he was already skilled in tracing relatives through courthouse records. He should have been a detective because, once on the trail of some long-lost relative, he won't give up.
Along with learning how to follow a paper trail, I've also learned from him that it pays to get information about even distant relatives. For instance, we had read that the Hillyers had lived in Ohio, but had no solid evidence. But when we located the marriage record of Anthony - Tone - Hillyer, my great-great grandfather's nephew, it listed his birth in Columbiana County, Ohio. Not only did we finally have a tie to the Buckeye state, it told us where and when the family was there.
We also discovered Hillyers and Hellyers (the name was spelled both ways) we hadn't known existed, such as Amos, his wife Anna and their daughter Ageriffa. We don't know how they fit into the family tree, but it's almost certain that they do.
Our primary purpose for the trip was to find out where Tone lived and when he lived there. We discovered he bought land in Shelby County in 1876 and sold it in 1902. So with the mystery solved, we set out to check out the acreage he once owned and to see if we could find any of the family graves.
We knew from the death index that several Hillyers were buried in the county, but where? Most of the cemeteries near where they lived were for Catholics and the Hillyers were Protestants. We spoke to the man who owns Tone's land today and he directed us to a small cemetery outside the little town of Panama. No Hillyers there.
We saw one in Portsmouth, but it was a Catholic cemetery. Art asked the secretary as she was coming out of the Catholic church rectory if she knew where they buried the heathens in Cass Township. She grinned and gave us directions to a country graveyard, where we hit the jackpot. There was even a tombstone for Izri Hellyer, Amos' Dad.
Darkness was falling on the quiet little cemetery when we got back in the car and pointed it toward the Interstate. We still had four hours of travel before we'd be home. But looking at the old record books with the old-fashioned script and being in the 19th Century courthouse with a Civil War soldier in front standing crisply at attention, it felt like we were separated from home by much more than a century.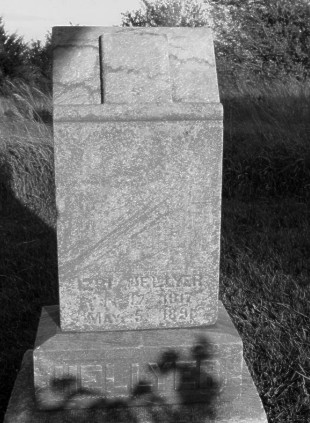 Izri Hellyer's tombstone in Shelby County, Iowa.