Snapshots by Gloria Freeland - Aug. 26, 2005
Wedding cake in western Kansas
As the Swinging Seniors unpacked their instruments - including a washtub bass - I wondered how hard on the ears their music would be. But to my surprise, they weren't hard to listen to at all.
It was Saturday and we were at the VFW in Goodland, Kansas, helping celebrate the 65th wedding anniversary of a couple we'd never met.
But that didn't matter. We had a good time and they were family - as long as you count double second cousins once removed!
Although the family ties are a bit tenuous, I've always felt close to Willard and Joan because of the nice letters Joan has written to me. Then, a few years ago, I met two of their four daughters - my third cousins - quite by accident through my journalism work at Kansas State University. We seemed to "click" right away, discovering only later that we were related.
The connection is on Willard's mother's side. His grandmother Anna Belle and my great-grandmother Mary were sisters. His grandfather James and my great-grandfather William were brothers. The two couples homesteaded in northeast Sherman County in the late 1800s. My great grandparents sold their land as soon as the government claim was granted. Maybe they didn't like the wide open spaces or maybe it was a bit too dry or maybe they wanted to be closer to other family. Whatever the reason, they moved to Marion County where we still own one of the farms they purchased.
Anna Belle and James stayed in western Kansas. But there isn't much left to show they were there - mainly the Freeland Cemetery located on the land they once owned and where they and some of their neighbors are buried.
On our way to Goodland, I wondered aloud to Art what kind of shape Willard and Joan would be in. After all, they couldn't be spring chickens if they'd been married 65 years. But soon after we arrived, we concluded we had known many younger chickens who weren't nearly as springy as the honored pair.
It was hard to get a picture of the two of them because they kept popping up from their chairs to greet guests or wandering off with one of the grandchildren or great grandchildren. By the time we left, they had danced to several tunes of the Swinging Seniors - not bad for a man of 91 and a woman of 88.
Among the 100 or so guests were Willard and Joan's four daughters, some of their 12 grandchildren and 17 great-grandchildren and numerous nieces and nephews. Name tags identified those in attendance as #1 daughter, favorite grandchild, favorite niece or nephew, favorite son-in-law, etc.
Art and I noticed that no one was videotaping the celebration, so he grabbed our camera to document the occasion. Still photos weren't a problem as many of those in attendance snapped picture after picture. Willard and Joan's eyesight may not return to normal until sometime next week!
Just as the final lunch preparations were being completed, one of their daughters near the multi-tiered cake declared, "Here's your wedding cake!" Willard and Joan positioned themselves behind the table for the ceremonial cutting as camera flashes lit the room.
They could have been almost any young couple cutting the cake. They seemed eager to get to it and when it was time to give each other a bite, they played as if they were going to smear the other's face with the frosting. Willard obviously approved of the baker's efforts as he quickly reached for another piece.
Art and I both greeted the "Here's your wedding cake" announcement with the thought, "No, that's your anniversary cake, not your wedding cake." We discovered later, however, that when Willard and Joan married, they had neither a wedding cake nor a photo. This really was their wedding cake.
But I guess not having one 65 years ago wasn't really important. Nothing is certain, but it looks like their marriage might work out.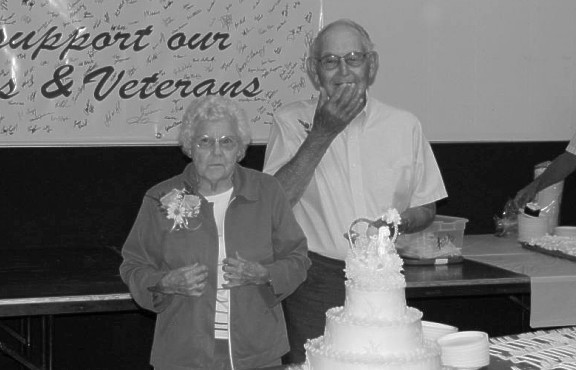 Joan and Willard enjoy their "wedding cake."