Snapshots by Gloria Freeland - Aug. 19, 2005
Little Grandmother
It was difficult walking up the hill, but we hadn't come this far to stop now. We climbed past stinging nettle and through Queen Anne's lace, finally making it to the door. Framed by birch trees, the little red cottage with white-trimmed windows and door was overgrown with grass, weeds and untrimmed bushes.
I felt goose bumps on my arms. This wasn't just any cottage. Grandpa Nels Moström built this house for his parents, Jacob and Maria, before he left Sweden in October 1909. I wondered what he would have thought about his daughter, two granddaughters and two great-granddaughters standing near this home almost 100 years later.
My sister had seen the cottage on her first trip to Sweden in 1981. She remembered that it was still in pretty good shape and that it was visible from a distance. Now, with the roof beginning to fall in, it won't be long before nature takes over.
I walked through the door into a small entryway. What was left of a 1910 Swedish newspaper was lying on the floor. To the right was a small set of steps leading into an attic. To the left was the main room.
The ceiling was collapsing and strips of insulation were hanging down. The brick fireplace leaned precariously into the room. Some of the bricks had fallen onto the floor.
The wallpaper, although worn and moldy in spots, had a pattern of bright blue and light orange flowers with green leaves. Cotton curtains with delicately embroidered blue and pink flowers hung limply at the windows. An old leather sofa - minus the cushions - was pushed up against one wall.
Wooden boxes were piled in the middle of the room. One of the boxes, which had chicken wire stretched across the bottom, apparently had been used to dry fish. Wood-handled tools were stacked in a smaller box.
As I surveyed the room, I tried to imagine my grandfather using some of those tools to fashion the cottage for his parents. His father Jacob died just a few months after Grandpa left Sweden. His mother Maria lived on in the cottage until her death in 1932. Of their eight children, the four younger ones moved to the United States. Grandpa was 24 when he left his homeland. He intended to return, but circumstances kept him away.
Although the cottage had been inhabited by at least two families after Maria's death, I couldn't help but wonder if the curtains and the sofa were hers. I tried to visualize what her life must have been like.
Until I went to Sweden, I knew only a few fragments about my great-grandmother Maria Helena Olofsdotter Moström. I knew that she could spin. Of the two photos of her I've seen, one shows her sitting behind a spinning wheel in front of the cottage.
But I was about to learn a little more. Elsa, a friend of my Moström second cousin Sigrid, had written a history of Nyliden, Grandpa's hometown. She escorted us to the cottage and brought along the history booklet, which she wrote 30 years ago. As Elsa read in Swedish, Sigrid's daughter Gunilla translated.
From what Elsa said, Maria lived alone in the cottage after Jacob's death. One of her daughters lived nearby and she sent her sons to spend the nights with their grandmother so she wouldn't be alone.
As Elsa talked about Maria, the things she said reminded me of the old woman in "The Cobweb Christmas," the book I have read to my daughters every year since they were young. The woman lived in a small cottage with just enough room for herself and her cat and dog. She didn't have much, but every year, she shared a bit of Christmas magic with the cat, dog, barnyard animals and forest creatures. She made cookies sprinkled with sugar for the village children, who affectionately called her aunt.
Elsa said my great-grandmother often gave village children sugar candy, which she made by melting sugar on a plate and letting it harden. When she said the children of Nyliden called her "Litten Mormor"- Little Grandmother - I smiled. Maybe my great-grandmother Maria spun a little magic of her own in that little red cottage in the northern part of Sweden.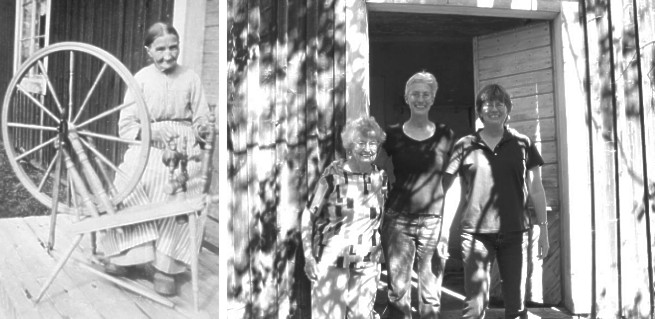 Maria Olofsdotter Moström (left) spinning on the porch of the cottage built in 1909 by son Nels before he left Sweden. At the same spot is granddaughter Edla Freeland, and her daughters Gloria and Gaila.