Snapshots by Gloria Freeland - Aug. 12, 2005
Art in the veins
As I videotaped Kersti and her mother Margareta playing Swedish folk music, it was all I could do to keep from crying. Partly it was because of the haunting tunes, such as "For My Father," they played so beautifully. But it was also because I was in the home of family members I had previously known only through once-a-year Christmas cards.
Margareta and Mom are second cousins, while Margareta's daughter Kersti is my third cousin. And there we were, Mom, my sister, my two nieces and I, the audience for a concert in Margareta's home in Falun, Sweden.
A diminutive woman, Margareta had to place a book on the bench so she could more easily reach the piano keys. Her late husband Gösta had been a violinist for Sweden's Royal Opera Symphony while Margareta was a music teacher. Their musical ability definitely rubbed off on their daughter Kersti, an accomplished violin, viola, alto violin and nyckelharpa (key fiddle) player for the Dalarna Symphony Orchestra. She can play the accordion as well.
After the brief concert, Kersti gave me a record album of her music and a cassette tape, the latter having pieces where she played either as a soloist or as part of the symphony. The front of the album has a photo of the cottage built by her great-grandfather Gustav Karlberg, the brother of my great-grandfather Johan Olaf. Gustav's son Mauritz was born in the cottage. According to Kersti, he loved music because it always filled his childhood home. That love for music obviously was passed down to daughter Margareta and granddaughter Kersti.
But it isn't just musical talent that seems to run in the family. Margareta and Kersti showed us elaborately-carved wooden cabinets, paintings and drawings Mauritz made and which are now displayed prominently in their homes.
The combination of music and artistic works made me think about something Mom's cousin Viola Carlberg often said about the family. (The spelling changed from Karlberg to Carlberg in the United States.) She claimed such artistic talent was evident in family members from one generation to the next.
Although we often joked that Viola would do anything to trace the Karlberg family back to a King of Sweden, she seemed to be right about the artistic ability.
Viola's father Sven Johan -John -didn't just play the violin. He made 12 of them and taught violin lessons to children. Mom was one of her Uncle John's students and she played in the orchestra he formed until she was out of high school. She still has one of the violins he made, and it was largely due to her encouragement that two of her grandchildren - our daughter Katie and niece Larisa - are taking violin lessons now.
John was also a painter and he was so interested in sharing his talent that he put together a detailed description of how to mix paints for certain effects.
Mom's mother Hulda Carlberg was also talented. She played the piano in her church and home. Grandma also dabbled in oil painting, producing pictures of puppies, birds, her church and Biblical scenes. I remember standing on tiptoe as a little girl to get a better view of those paintings, which lined one wall in her parlor.
Mom inherited Grandma's love of painting. She has done several landscapes and portraits of some of her grandchildren, and many of her Christmas cards have included her drawings.
Time will tell if Mom's grandchildren continue their interest in the arts, but all six have displayed some talent.
And me? I often joke that the Carlberg artistic talent skipped a generation. Although I like music, I can't carry a tune. As for drawing ability, well, do stick figures count?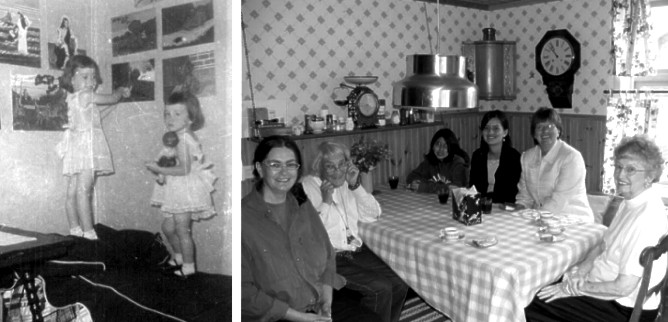 Gloria and Gaila (left) with Grandma Hulda Mostromís paintings in her home near
White City, Kansas. Kersti and Margareta Macklin, Larisa, Gabriela and Gaila Chambi
and Edla (Mostrom) Freeland visiting the Macklin home in Falun, Sweden.