Snapshots by Gloria Freeland - Aug. 5, 2005
50 years of magic
One of my enduring memories of childhood is of the summer my parents, brother, sister and I traveled by train to California to visit Dad's brothers and families. We visited Marineland, Knott's Berry Farm, the ocean and other fun places, but a favorite was Disneyland - "the happiest place on earth."
I was transported to many different worlds when I entered Disneyland. I soared on Dumbo the Flying Elephant, twirled around in the giant teacups of the Mad Tea Party, watched for charging hippos and other exotic animals on the Jungle Ride and traveled through the Dark Forest to the Seven Dwarfs' Diamond Mine.
I grew up with Mickey and Minnie Mouse, Dumbo, Pluto, Lady and the Tramp, Cinderella, Snow White and the many other characters that Walt Disney and his company brought to life, just as our daughters, nieces and nephews have grown up with Ariel, Belle, Mulan and many others.
I was six years old when I first saw Disneyland. Youngest daughter Katie was that same age when my sister Gaila and I took our four girls to the Magic Kingdom in June 1999 to share some of what we had experienced many years earlier. Gaila's husband joined our troupe of six girls.
We rode many of the same rides Gaila and I had as little girls, but we also took a fast bobsled down the Matterhorn, joined in as "children" of different countries sang "It's a Small World," watched the swashbuckling adventures of the Pirates of the Caribbean and ducked when it seemed a giant boulder would crush us on the Indiana Jones ride.
Katie's favorite ride was the Haunted Mansion. I thought she would be scared silly, but after the first trip, she insisted we go back two or three more times. She remembers the darkness and a room of mirrors in which it looked like a ghost was sitting next to us in our car.
All four girls remember having their pictures taken with Mickey and Minnie Mouse and Goofy, getting "autographs" from Disney characters and buying hats, sunglasses and lions and tigers in the shops.
My favorite part with the girls was watching them enjoy the same things that brought me pleasure when I was a girl - and feeling like a girl again myself. It was hot and the lines were long, but it didn't matter. The magic rubbed off on everyone in the park and a few inconveniences weren't going to spoil it.
A plaque dedicated at the opening of the theme park 50 years ago this month encapsulates what Disney hoped for when he created it:
"To all who come to this happy place: Welcome. Disneyland is your land. Here age relives fond memories of the past, and here youth may savor the challenge and promise of the future. Disneyland is dedicated to the ideals, the dreams and the hard facts that have created America - with the hope that it will be a source of joy and inspiration to all the world," Walt Disney, July 17, 1955.
Sure, the cynic in us can say the park is just a place to separate parents from their hard-earned cash and the movies are carefully crafted to cause kids to nag for the plastic figures fashioned to look like the characters in them. But it can't be denied that Walt Disney's creations, which began in a small studio not far from here in Kansas City, have brought pleasure to us and continue to enchant millions each year. Fifty years later, the Magic Kingdom is still magic!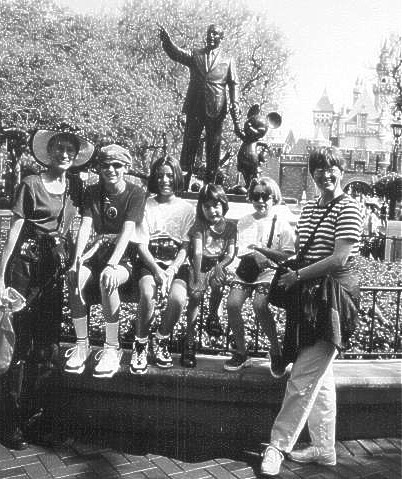 Gloria, Mariya, Gabriela, Larisa, Katie and Gaila in front of Walt Disney and Mickey Mouse.