Snapshots by Gloria Freeland - July 22, 2005
Girls' night out
Even though my sister and her two girls are in Manhattan every summer for several weeks, I never seem to get enough "girl time" with Gaila. Only 16 months apart in age, we've always been close emotionally. It's really tough to see her go back at the end of July to Bolivia, where she's made her home for 22 years.
We had a great time on our recent trip to Sweden, but it still didn't seem like enough. So when Gaila suggested a "slumber party" for the two of us last Friday night, it sounded like a neat idea.
But how would we work that? The sixth in J.K. Rowling's series of Harry Potter books was premiering that same night and we had promised the girls we'd take them. And what would Art think about my coming home and disturbing his sleep well past his bedtime?
But when I told him what I was thinking of doing, he said, "Have fun. Just don't come home after if you do that. I'd be cranky if you woke me up from my beauty sleep."
Wow, that was easy!
The adventure began by picking up the four girls and heading to a bookstore in the Manhattan mall. While I didn't know exactly what to expect, we weren't anticipating how hot and crowded the bookstore would be. There didn't seem to be any fun promotions going on either.
Although I prefer bookstores over discount chains to purchase books, we decided to head to Wal-Mart. As we walked in the front door, a clerk offered us free bags of popcorn. A shelf at the front of the store was piled high with copies of Harry Potter and the Half-Blood Prince. The girls selected their books, Gaila got two copies for her school library in La Paz and we checked out. It was comfortable inside and we had paid $7 less per book than we would have at the mall store. Plus, we were out in three minutes flat and had a bag of popcorn as a bonus!
To celebrate our purchases, we stopped to get milkshakes and ice cream cones. Then we left the girls at Mariya's apartment to have their own slumber party.
Things definitely were working out better than I had anticipated.
Gaila and I headed to the Westloop Hallmark store to check out the various Christmas ornaments - Santas, reindeer, angels, nativities and movie and cartoon characters. We were most enchanted by one that featured the 50th anniversary of Disneyland and another that was a reindeer-in-a-box, a miniature version of an old-fashioned jack-in-the-box.
After making a few purchases, we returned to Mom's at about 2 a.m. We weren't ready for bed yet, so we relived our trip to Sweden by looking at our photos. Then we made a list of things we wanted to do the next day. But at 3 a.m., we decided we really should go to sleep since our middle-aged bodies - middle aged if we live to 100 - weren't accustomed to such hours.
A few hours later, we were headed to the Farmers Market together. We bought tomatoes, acorn squash, plums and peaches and commented how glad we were that other people are willing to plant and harvest such luscious produce for those of us who wilt in the heat.
We stopped at Eastside Market, hoping to find lupines. We saw the purple, blue, yellow and red spiked flowers everywhere along the roadsides in Sweden and were taken by their beauty. We were in luck. I picked out three somewhat droopy plants that I hope I can revive, and she bought seed packets.
We did a couple of other errands and again returned to Mom's where we made a list of things we still wanted to do before she and her girls went back to Bolivia. A stop at Vista always tops the list and this year was no different.
Although there are always a few things we don't have time for, we do a pretty good job of bunching a year's worth of sisterly activities into a few summer weeks. So, while I'm sad to see my sister and nieces Gabriela and Larisa head home, I can reflect on the good times we had this year and anticipate what next year will bring.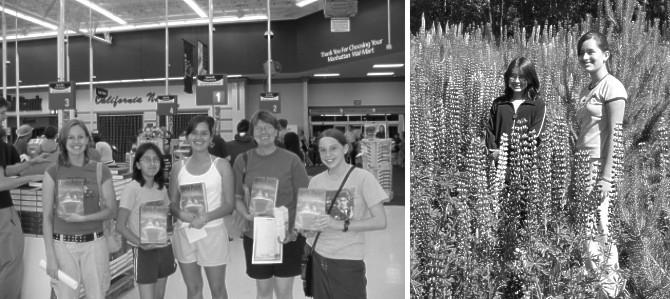 Mariya, Larisa, Gabriela, Gaila and Katie (left) with the latest Harry Potter book.
Larisa and Gabriela among the lupines in Sweden this past May.