Snapshots by Gloria Freeland - July 1, 2005
What will they remember?
It often amuses me what we remember of some event in the distant past. Before Katie was born, we attended a Freeland family reunion in Pennsylvania. We visited the battlefield at Gettysburg, took a steam-train ride, visited the Amish country by bus and chatted hour after hour. We also endured two-day car trips there and back, both of which involved breakdowns. But all that impressed 5-year-old Mariya was the large white house with the huge porch, my Dad's cousin playing the piano and the tour of the Hershey chocolate factory.
On our recent trip to Britain, I know we'll all recall our evening in London at Her Majesty's Theatre watching Phantom of the Opera. But something happened later that both Art and I hope the girls remember.
In a way, it began in 1998 when Art and I visited the south island of New Zealand. Both of us were taken with how many people had maintained a strong attachment to Scotland, the land many of their forefathers called home. It was there we first heard about John O'Groats, the small village considered the northernmost town on the mainland of Scotland. Both of us decided we'd visit it if we ever had the opportunity.
And this year we did. John O' Groats proved to be one of those places that was interesting to visit, but not a place I'd want to live. Apparently even the hardy Scots didn't find the rain and strong wind very attractive as there were only about 20 widely-separated buildings in the town.
We then drove west along the coast until we reached Tongue where we turned south into what proved to be a most desolate region. The wide shallow valley between the bordering mountains was filled with mile after mile of heather. The one-lane road was peppered with wide spots that served as passing points for vehicles coming from the other direction, but we rarely had to use one. In the 40 miles or so, we saw one homestead, its wind generator turning rapidly to produce the only electricity for miles.
It was a scene that while not depressing, made us quiet. It was a place that made us inclined to ruminate about things we often don't think about - such as how fast time slips by and how opportunities appear suddenly and vanish almost as quickly. Funny how a place that appears so unchanged and unchanging could make us so conscious of change.
Once back in Inverness, we ate at a nice Italian restaurant and then settled into our family room. But since the afternoon, Art had been particularly quiet. So when we finally turned the lights out, I asked what he was thinking about.
There was a long pause and then he said, "There's something I want to say to you girls."
He began by telling about a time when his Dad was talking with his Mom. They were making plans for the future when his Dad commented, in a most casual manner, that they didn't want to plan too carefully because they might not be around to take advantage of their schemes. Art explained that it was the first time he had really considered a life without them and he was startled by the unemotional, matter-of-fact way his Dad spoke about their passing.
Art told the girls he is now older than his Dad was when he overheard that conversation and, while he hopes he has some good years left, he's lost too many friends and relative his age and younger to foolishly believe it can't happen to him.
He mentioned how we usually fill our days with the most trivial things, forgetting to mention things that are important to those we care about. He commented that by 12 - Katie's age - a person is pretty well formed and all parents do the next few years is to provide a place where kids can practice stretching their wings, much as young birds do after abandoning the nest for the adjacent limb.
"So, in many ways, your mother's and my job as parents is pretty well complete," he said.
He then spoke about how he wanted them to understand certain things. For example, despite what they might think of him chastising them from time to time, he was very proud of their accomplishments and who they were as people.
He startled me when he said he wanted them to know that even though he and I argue at times, he couldn't imagine a wife or mother better than I.
And then, as suddenly as he had begun, he concluded by saying, "And that's what I've been thinking about. I hope everyone sleeps well."
And I hope the girls remember that night. I know I will.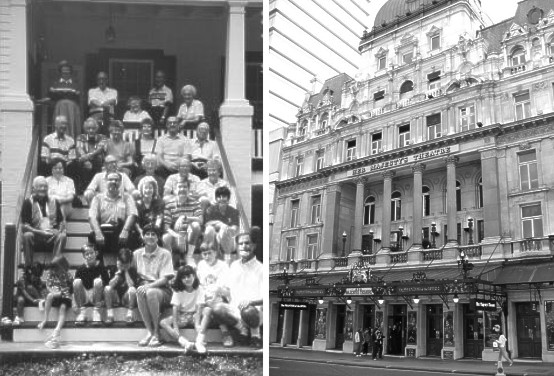 In the left photo taken at the 1991 Freeland family reunion in Pennsylvania, Mariya
is second from the left on the second-lowest porch step. The photo at the right is of
Her Majesty's Theater in London where we saw Phantom of the Opera this past May.