Snapshots by Gloria Freeland - June 10, 2005
Why the Brits don't comb their hair
It rained almost every day on our recent trip to Great Britain. While that was a downer at first, I couldn't help but notice how little effect it had on the Brits' activities. As we traveled in London and in small villages throughout England, Scotland and Wales, people continued about their business, casually walking in the parks or countryside, talking on their cell phones, riding their bicycles or shopping, without paying the least bit of attention to the fact they were getting wet.
I couldn't help but contrast that with our reactions to wet weather. We try to shelter ourselves from it whereas they seem to either embrace it or ignore it. When it rains here, we make a mad dash to get from one building to the next or from a building to a vehicle. There, they put on coats and Wellies (properly called Wellingtons that we call boots) to purposely take a walk in the rain.
Caroline, our host at a Scottish bed and breakfast where we stayed, told us about an extreme example of this willingness to be one with nature.
She said a serious mountain hiker who stays with her regularly never lets bad weather deter him. One day of his stay was particularly nasty. The rain was thrashing down and was accompanied by very gusty winds. She was worried about him, but he reassured her that he was experienced with all sorts of conditions. When he returned that night, he commented that he had seen some of the most fantastic scenery - and that although it would have been beautiful on a sunny day, the rain had provided sights he wouldn't have seen otherwise. One example was when a strong gust of wind stopped a waterfall in mid-plunge.
I remembered that story when we traveled to John O' Groats, the northernmost village on the mainland of Great Britain. Village isn't really the proper word as it consisted of just a few buildings - mostly shops for tourists to buy postcards and wool sweaters. The rain pelted us and the wind cut through our jackets. As we arrived, a boat that looked like some sort of rescue craft was coming to shore. Only later did we discover it was a tour boat. The passengers were dressed from head to foot in rain gear. When one couple came ashore, a friend waiting for them asked how it was. "Great," they both replied, looking as if they had just come from being out in a monsoon.
On another day, we had decided to take a drive through northern Scotland to see the heather-covered hills. It was so rainy in spots that we could barely make out that there were any hills at all. When I looked out the side window, I could see that the rain was blowing across the moors in sheets. I was disappointed. I love to take photos and I didn't think I'd get any unless I decided that the darkness outside was worthy of a shot. My mood matched the weather.
Then we came to a spot in the road where it was just misting and the sun was trying to break through. Art stopped the car and we got out. It was so quiet, with only the sound of a couple of little streams gurgling nearby. We took advantage of the let-up to take some video and still pictures. It was magical, almost mysterious. I understood then that the rain was an integral part of the experience of being in Britain.
But then Katie broke the spell.
"Look at Dad's hair," she said. "It's sticking up every which way."
I had to laugh. Art is always joking about how many British males seem to have unkempt hair. No wonder. With all that rain and wind, combing it just isn't worth the bother!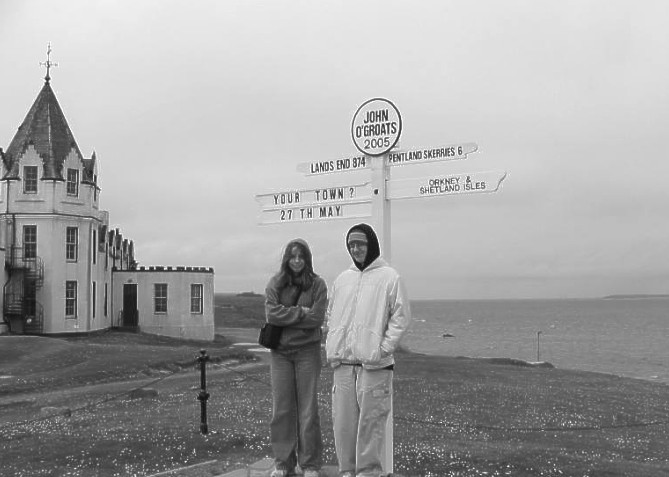 Katie and Mariya shiver under the John O'Groats sign. The "village" in Scotland is the northernmost point on Great Britain's mainland.