Snapshots by Gloria Freeland - May 20, 2005
Itchy feet, white water and snakes
Mariya finished her first year of college last week. She adjusted quite well to the pace of her classes, her campus and off-campus jobs and living independently. And unlike most parents who see their kids off to school, I've been lucky to see her often - in fact, more often than I did when she was in high school because she stops by my office between classes.
But she's already getting itchy feet just as I did. She said she wants to study abroad. That made me think of Donna Sullivan's recent "Homefires" column. When her daughter announced that she wanted to study abroad, Donna's response was, "I'm a broad. Study me." It's the kind of statement any mother might make when her child announces she's ready to spread her wings.
My college roommate's daughter Amy graduated from K-State a year ago and has been off on several foreign adventures - first to Japan and now to Australia. Since Mariya said she wants to study "down under," I've been absorbing Deb's e-mails from Amy, taking in every detail.
One excerpt from Amy follows:
"We thought it would be a grand idea to hike a mountain. Didn't think it seemed to be a big deal. He didn't tell us until we came down that only 2 backpackers he's taken to it have ever made it to the top. It's 7.5 km high. Michelle and I made it to about 7.3. Went with 7 people, 4 made it to the top and one dropped out around kilo 5. It was the worst and hardest thing I've ever done. I officially hate rain forests and I love Kansas. Flat is a beautiful thing. It wasn't a real path. You followed the orange dots on the trees. And it was pretty straight up and the last ˝ km was rock climbing. And there were so many creatures. I have 5 leech bites but I've been told that's good for you. The top was amazing, but didn't realize we were climbing the highest mountain in Queensland."
So how will I react when Mariya decides to pursue such activities? I know I can't say, "Don't do it." After all, I did some pretty adventurous things myself.
One day I went out on a fishing boat off the coast of Ecuador. I didn't think about the fact that we'd go out far enough that I wouldn't be able to see land. That was really something for a land-locked girl from Kansas!
I had the time of my life. But some of the other Peace Corps volunteers weren't so excited. The waves did a number on their stomachs and they spent their time hanging over the edge of the boat saying "adiós" to their lunch.
Then there was body surfing. For awhile I lived a block from the ocean so a daily walk along the beach and a dip or two weren't uncommon. Usually the surf was pretty gentle, but one day the waves were huge. Without hesitation, several of us walked out until we could just catch the waves. If we caught them right, they carried us to shore gently. If we didn't, they slammed us onto the beach. We met the waves time after time until we were so tired we could hardly move.
And there was white-water rafting while I was a reporter in Costa Rica. A man had started a guide business and, of course, I wanted to do a story about it. To make it authentic, I HAD to try it myself. My first clue should have been the name of the river - Río Reventazón. That's Spanish for "exploding river!"
The first part of the trip was non-eventful. "This is pretty easy," I thought.
Then we rounded a corner where the water began swirling around huge rocks. I spent the rest of the trip trying to protect myself and my camera every time the water washed over the raft. It was one of those times when I thought, "What the heck am I doing?"
But being young, when it was over I thought, "That was cool!"
And I suspect that's how it is with each generation. Parents keep trying to protect their children, but the youngsters have to spread their wings.
But because it was always thus, doesn't make it easy. Amy called Deb for Mother's Day to give her more details about their climb up the mountain. She nonchalantly told her that several people on the climb saw venomous snakes.
What mother needed to know that?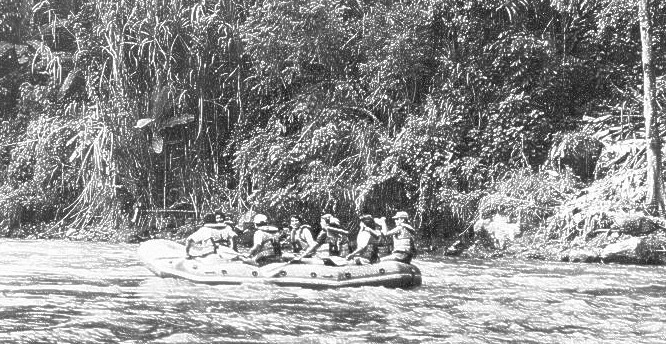 I did a story about river rafting when I was a reporter in Costa Rica. I should have
known the trip would be exciting. The river was the Reventazón, which means "exploding."