Snapshots by Gloria Freeland - May 6, 2005
Changing of the moms
I love weekly newspaper people. I love the way they report with care and compassion about the lives of their friends and neighbors. Day after day, week after week, month after month and year after year, they gather the news of their communities and put it out there for everyone to read.
I began reading the Countian when my oldest daughter started attending Riley County schools about 14 years ago. Romelle Van Sickle became editor more than eight years before that. I've collaborated with her on a couple of major projects through my work at K-State's School of Journalism and Mass Communications, I've contributed a few features and photos over the years, and I've written this column for about four years.
Last week's Countian was Romelle's last one.
And I'm going to miss her.
It struck me just how much when I delivered the nearly 3,000 copies of the special "Riley County Legacy" section to the Countian. I arrived Tuesday afternoon, usually the busiest day for her and her small staff. Romelle's husband Wayne was waiting to help unload the papers from my van. They were both dressed for a funeral they were going to attend that afternoon, but when they saw the stacks of papers, they didn't flinch. They just started helping me haul the bundles from my vehicle to theirs. June, another of the Countian's staff, pitched in, too. And they did it with good humor - with none of the "this-isn't-in-my-job-description" grumbling you might hear from someone working in a larger organization.
That's the way it is at small-town newspapers. Whatever job has to be done, someone just jumps in and does it. Their work is like that of farmers and small-business people who invest so much of themselves in their livelihoods. That attitude is also one of the things I love about weekly newspaper people.
In her last issue of the Countian, Romelle compared putting out the newspaper to giving birth each week. She figured that she had "given birth" about 1,165 times over the last two+ decades. And I'm sure she loved all the issues as if they were children, though there were probably a few unruly ones during that time span.
She mentioned how difficult it had been to go through so many years of stuff, trying to determine what to save that might help the new editor and what to discard because it might weigh her down. I've been teaching at K-State about the same length of time and I can't imagine sifting through all my accumulated files, books, papers and paraphernalia. When you invest that much time in something, it's hard to let go.
Change is often a mixture of happiness and sadness and I think this is such a case. I'm pretty certain Romelle is a bit melancholy about closing the door on such a large chapter in her life, but that will be tempered by being relieved of her week being unremittingly structured by the demands of the paper.
And it is also the start of a new chapter for new editor Donna Sullivan. I'm looking forward to working with Donna and her family as they take over the weekly "birthing" of the Countian. Donna will put her own "stamp" on it, just as all editors do, but I'm sure she'll lavish it with love and devotion just as Romelle and her family have done over the years.
I'm sure other citizens of the county will join me in giving a heartfelt thanks to Romelle while also welcoming Donna.
Perhaps it's appropriate that Donna's first issue is close to Mother's Day. May it be a labor of love and an easy delivery!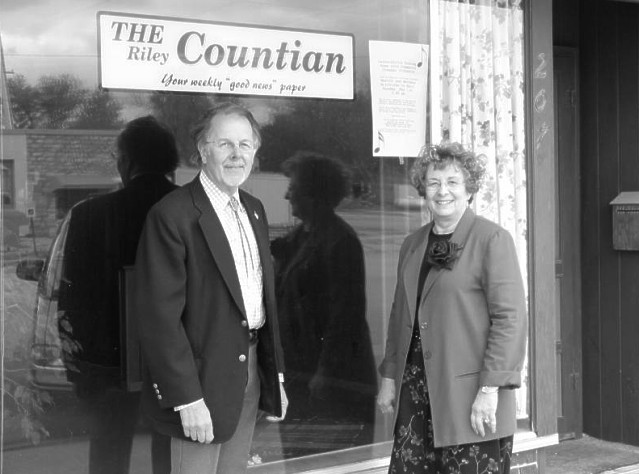 Wayne and Romelle Van Sickle outside The Riley Countian office on one of her last days as editor.