Snapshots by Gloria Freeland - April 28, 2005
Blest be the tie that binds
It was a glorious day for a "Sunday drive," even if it was Saturday.
A group of 45 of us -- most on a school bus with a couple of us following behind in our own vehicles -- traveled some of the dusty roads of Riley County to get a close-up view of our history.
We stopped at a volcano site, visited several churches, walked into Bala Park to see the stone arch bridge and ate lunch at the Walsburg Lutheran Church. The tour was the first of several planned for the county's sesquicentennial celebration this spring and summer.
"I think we have as much history inside the bus as we're seeing on the outside," said Cheryl Collins, director of the Riley County Historical Museum and one of the tour organizers. She asked us to introduce ourselves and we discovered we ranged in age from the 20-something bus driver to a 100-year-old woman who has lived in Riley County since 1928.
One woman's grandparents laid the cornerstone of the Sedalia Community Church in 1890. A man graduated from the last class of Kansas State College before it became Kansas State University in 1959. Another person was a sixth-generation Riley Countian. One woman had three daughters who were confirmed in the Walsburg Lutheran Church.
I was probably one of the latecomers, but even I've lived in the county for nearly 30 years, having first come here as a K-State student in the 1970s. But my daughters' roots are here since they were born in Manhattan and have attended Riley County schools.
Even though I've lived here for almost three decades, I saw things on the tour I hadn't seen before and learned tidbits of history. Kevin Larson, one of our guides, attended school at Walsburg and explained the community was named for its proximity to Walnut Creek.
Swedish was the only language used in the church until 1923, when services were delivered in English. World War I had caused many people to believe that speaking a foreign language was un-American.
He added that the church had "Swede School" in the summer. That was the time the children could learn Swedish -- "a heavenly language," according to their elders.
I don't have any direct connection with Walsburg, yet I felt an immediate affinity for the church. It reminded me of Marion Hill Lutheran Church in Morris County, where my Swedish grandparents and my mother and aunt attended services.
I had to smile when I heard that Walnut Creek was sometimes called "Coffee Creek" because of the Swedes' love for that beverage. My Mom and other Swedish relatives have always liked coffee and insist on serving it no matter the occasion or time of day.
Kevin said it saddened him when the Walsburg school closed. Better transportation meant farmers could more easily reach larger settlements like Riley and Leonardville and what they offered, reducing dependence on smaller rural communities. And that trend seems to continue as Riley and Leonardville make way for Clay Center and Manhattan.
"But the one thing that has survived in these communities is their churches," he said.
I thought about his words as we ate lunch at the church and later were treated to music from the organist. As she played "Blest be the tie that binds," I thought about my own history and the church gatherings for weddings, baptisms, funerals and potluck dinners. They did indeed seem to bind the threads of my family together.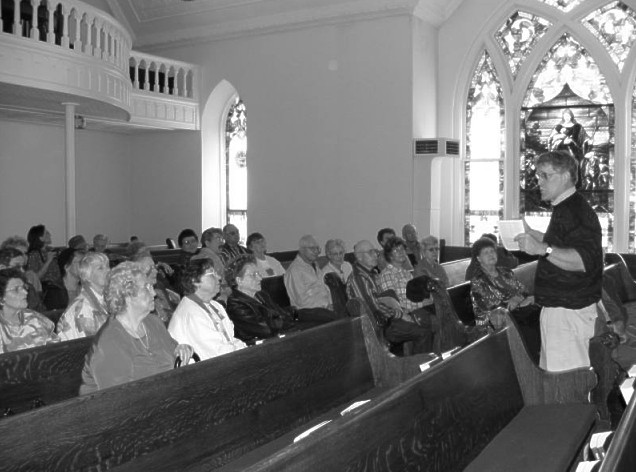 Kevin Larson, right, explains the history of the Swedish Walsburg Church during a 2005 tour.