Snapshots by Gloria Freeland - April 7, 2005
A trip to Country Gardens
I hadn't seen Merl since 1996, but the news of his recent death at 97 saddened me. Willis was his given first name, but he was always called by his middle name Merl. He was my Dad's oldest Freeland cousin and the fourth of that generation to die. Dad was also given the middle name Merl after his cousin. Dad often told me how much fun it was when Merl and his siblings visited him and his brothers when they were all children. That enjoyment continued through the years whenever the cousins got together.
I first met Merl at my Grandpa and Grandma Freeland's 50th wedding anniversary celebration in 1963. As a 10-year-old, I didn't really understand or care about all the family connections. But what I remember well was Merl's ability to play the piano. I didn't realize he had studied and taught piano and was a concert pianist. He played many songs when we were together, but the song that always stuck with me was one called "Country Gardens."
It was Merl's and Dad's generation of Freelands who organized the reunions over several decades. Although I wasn't able to attend all of them, I did go to many and my favorite part was listening to the stories of the older relatives.
I'm always curious to discover what others remember about family gatherings. Mariya was not quite 5 in 1991 when we traveled to Merl's home in Cornwall, Pennsylvania. When I asked her about her recollections, she quickly answered, "the big white house with the piano and the Hershey chocolate factory."
I thought she remembered the Hershey plant tour because she has always liked chocolate. Years later I discovered it had nothing to do with her love of the candy. We were pulled through the tour in small carts while pictures were shown on the walls of the candy-making process. In one of those, it showed almonds being covered with melted chocolate. The pictures were large and for some reason Mariya was afraid we were destined to experience the same fate as the almonds!
We also visited the battlefield at Gettysburg, took a steam train ride and did a number of other things, none of which she recalls.
But it pleases me she remembers Merl's big white house and the piano inside. The gathered family members spent hours visiting on the large wrap-around porch, looking out on the beautiful green lawn and the woods beyond. On the last day, we sat on the various levels of the wide porch steps and numerous family portraits were taken.
But one of the parts I'll remember best is when, after our repeated requests, Merl, then in his 83rd year, sat down to play the piano for us just as he had at so many other gatherings.
Children are prone to take things they encounter growing up as just being the way it is. So I never really thought about how Merl came to play the piano. But I learned more about Merl in 1994 when Art and I hosted a Freeland reunion in Manhattan.
We invited Charley Kempthorne, who encourages others to write their family histories, to speak to our group. Charley asked us to write down early memories. Merl, whose handwriting reminds me of Dad's, wrote, "Mother was determined that we children were going to get an education. Mine started musically, with piano lessons in Crescent (Oklahoma). When we ran out of piano teachers in Crescent and, being old enough to drive, I started going to Guthrie. After two different teachers in Guthrie, I started going to Oklahoma City where I studied with Fay Trumbull concurrently with going to Oklahoma City University."
Of the pieces Merl played at the reunion in his home in 1991, one by Rachmaninov was the one that Art recalls the best along with the fact he was never able to detect Merl missing a note.
But the selection I remember most clearly was "Country Gardens." The song is a happy one, but it brought tears to my eyes because it took me back to Grandpa and Grandma's anniversary of 28 years before and thoughts of all those who were now gone. And now Merl is gone as well.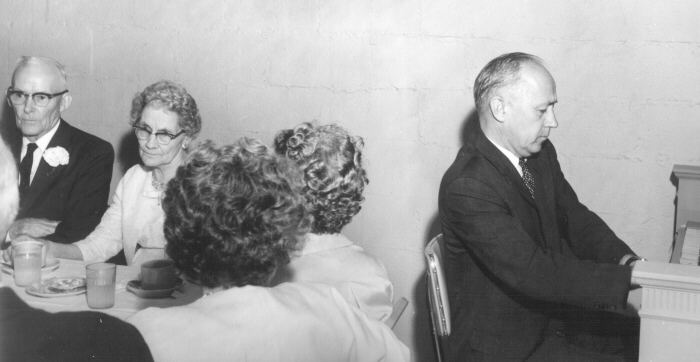 Merl playing the piano at grandparents Robert and Ethel Freeland's (left) 50th wedding anniversary.