Snapshots by Gloria Freeland - March 31, 2005
A 95-year-old "million dollar baby"
We concocted a special celebration for Art's Mom, who turns 95 this week. Luckily, Spring Break fell so the girls would be out of school and we could all escape for a few days.
Still fiercely independent and full of life, Donna lives in her home of 60 years in Appleton, Wis. We arrived at 10:30 Thursday night. Art turned off the van lights and slowly backed into her drive.
"Don't slam the doors when you get out," he warned us.
We then collected under her kitchen windows while Art called her on his cell phone. She picked up the kitchen phone, and started walking into the living room.
"Why are you going into the other room?" Art asked.
"What?" she responded. "Are you here?" When she strode over to look out the windows, we jumped up and down and started saying "Happy birthday!"
"What are you doing here?" she demanded.
Once inside, she mentioned she was just getting ready to go to bed. But her bedtime was delayed about an hour because she wanted details about our trip up and what we'd been doing the last few days.
On Friday, we spent the day chatting about this and that. She brought out a worn three-ring binder where she keeps information about house expenses, miscellaneous information and births and deaths of family members. The oldest in her family of five, she is the only one of her siblings still alive.
"I guess I'm the oldest liver," Donna declared.
"Yes, you have the oldest liver," Art quipped.
He got out his laptop and put in the "Lawrence of Arabia" DVD we had given her for Christmas. The gift was a joke because she's often told us she didn't like the movie much.
"All Lawrence ever did was get on his camel, ride out into the desert, get off for awhile and then get back on it and ride again," she said.
But she was fascinated by the fact that she could see the movie on the computer.
"Just imagine, that whole movie on that itty bitty thing," she said. "It used to be they had big reels of film that they had to change two or three times during the movie."
Then she was distracted.
"What's that blue light on the side there," she asked, pointing at the wireless network adapter.
"It's the blue light special," I told her.
That led to a conversation about K-Mart merging with Sears and how there just aren't any five-and-dime stores any more.
Then Donna broke into the song made famous by Mel Torme in the 1930s. "I met a million-dollar baby in the five-and-ten-cent store," she sang.
Time spent with Donna is like that. Quick and able to discuss almost anything, she jumps from one topic to another easily.
While she was surprised and pleased that we traveled 12 hours to help her celebrate her birthday, the biggest surprise was yet to come. We told her we would take her out to eat Saturday night at one of her favorite restaurants in Waupaca, a town about 40 minutes from Appleton. Little did she know that we had invited a few relatives and friends.
When we arrived, about a dozen had already gathered. It was the first time I've ever seen Donna speechless. That didn't last long, though.
"I can't believe this!" she exclaimed. "It's so good to see you. Thanks for coming."
The table set for 20 people proved to be inadequate as 33 gathered to honor the matriarch of the Herrmann family.
Before we ate, we watched a presentation Art had put together. It included maps showing where her grandparents' homes were in Germany, and photos of her grandparents, parents, siblings, husband, sons, grandchildren, great-grandchildren and other relatives. Art interspersed the history lessons with tidbits about Donna's quirks and favorite things - her tendency to give advice, solicited or not; her ability to be easily entertained by doing crossword puzzles; her love for ice cream and diet cream soda and her passion for the Green Bay Packers.
After the main course, we topped off our meals with poppy-seed cake made and decorated by Donna's niece Kris.
"Did you really bring 95 candles?" I asked her.
"Oh, sure," Kris said. "How many times do you get the chance to put 95 candles on a cake?"
A couple of the kids said we'd better call the fire department to have them stand by. It took four people to get them all lit before the first one had burned out.
We sang "Happy Birthday" and then Donna blew. She blew out about two-thirds of them on her first try and then she took a couple of more breaths to finish them off. I was glad she has a strong heart.
As we drove back to Appleton and several times the next morning before we left, Donna said, "I hope everyone else enjoyed my birthday party as much as I did."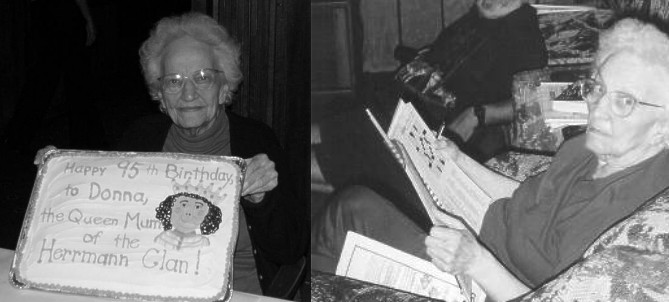 Million dollar baby Donna with her 95th birthday cake and engaging
in one of her favorite pasttimes, working a crossword puzzle.