Snapshots by Gloria Freeland - March 24, 2005
"Today tennis, tomorrow the world!"
In 1973, some college friends and I made a poster with a tennis racket shaped like the woman's symbol. We added the words, "Today tennis, tomorrow the world." Then, late at night, we hung it in the corridor leading to Haymaker Hall, a men's residence hall at K-State. We snapped a quick picture, then ran off, giggling all the way. It was right after Billie Jean King defeated Bobby Riggs in the tennis match dubbed the "Battle of the Sexes."
The next morning, the poster was gone. That didn't surprise us, for we knew what King had done had upset the status quo. Her victory and her fight for equality for women athletes had changed the course of history, even if only a little.
Today, the young Lady Falcons and Lady Cats have a devoted following, thanks to King and others who broke down barriers.
She and other women who have changed America are honored during March. This year is the 25th anniversary of the National Women's History Project (NWHP). The Web site lists 144 women honored for their contributions. Among them are King, Clara Barton, Harriet Tubman, Harriet Beecher Stowe, Susan B. Anthony, Sacajawea, Eleanor Roosevelt, Rosa Parks, Helen Keller, Sandra Day O'Connor and Amelia Earhart.
It's not just well-known women who have transformed our history, but it does take women doing unusual things - women who are unwilling to accept the mold of what is expected.
I count my mother among the strong women who were not willing to accept the limitations imposed by convention. She showed me that when life knocks you down, you just dust yourself off and keep moving. She went to one year of college and received her teaching certificate in 1943. She taught in Burns three years before she married Dad. The school board wouldn't employ married teachers, so the next year she traveled to Florence each school day where married teachers were accepted. But when she became pregnant, the Florence school board informed her they would no longer need her services.
Mom didn't let it phase her. For 12 years she stayed home to raise us three kids and help Dad on the farm, but all the while, she knew she'd return to teaching. So, she drove back and forth to Emporia State Teacher's College summer after summer and on weekends during the rest of the year, to get enough courses to complete her degree.
In May 1964, as she was getting close to finishing, she and we three kids were involved in a serious head-on collision, which put us in the hospital. Weeks of recuperation followed. But Mom kept working toward her dream. The following summer, she, my sister and I moved to Emporia so she could finally get her college degree, the same year my brother graduated from high school.
Other women in my life - aunts, mothers-in-law, teachers, friends - have been inspirational too. My sister left Kansas 22 years ago to live and work in Bolivia. My sister-in-law dreamed of owning her own pre-school and is now in her 30th year of having one.
Even oldest daughter Mariya is an inspiration. While doing some things women have done for some time, such as carrying a full load of college classes, she holds down two jobs. In one, she uses her artistic talents, while in the other it is her practical skills using tools that is important. She was a big help for her Dad while he was fixing up her apartment last summer and now she even changes the oil in her car - neither things most women of 50 years ago would have thought of getting involved in, presuming their parents had allowed them to try.
While yesterday it was tennis, women still have a few limitations placed on them by convention and expectations. But women - ordinary women and extraordinary women - who have a passion for what they do and the determination to push forward have made a difference and continue to make a difference in the world.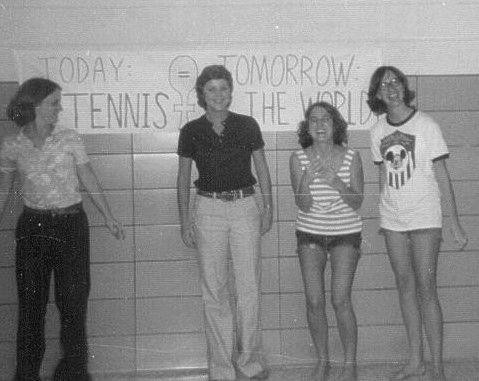 College friends and I (far right) put this poster near the entrance of the men's residence hall at K-State after the "Battle of the Sexes" in 1973.