Snapshots by Gloria Freeland - March 17, 2005
"Gloria Freeland, San José News"
That was all I could think of to say when Dan Rather extended his hand to me and said, "Dan Rather, CBS News."
It was fall 1978. He and two CBS crews - his from "60 Minutes" and the other from the regular news team - were covering the killing of a Costa Rican National Guardsman on the border with Nicaragua.
I had barely unpacked my bags to start my job on the San José News when I was asked to serve as the translator for the news crew. I was humbled and impressed. Here I was a cub reporter and they needed my Spanish skills to get their story.
I was also a little disturbed. Why would a company as large as CBS not have enough people fluent in the language of the country they were sent to cover?
Still, it was exciting to know that I was in a part of the world that was getting attention from the international media. Although the San José News was small, we were still a player in covering major events. I had always wanted to be a foreign correspondent and, although my job didn't exactly fit into that category, I was in a foreign country and using a foreign language to report and write news stories.
I had met Rather a few years before, when I was a journalism student at K-State. Two carloads of us headed to a Society of Professional Journalists convention in Phoenix. Rather was one of the keynote speakers, and we were excited to have the opportunity to meet him. He was, after all, one of the people covering the Watergate story that Bob Woodward and Carl Bernstein of the Washington Post first broke and that eventually caused President Richard Nixon to resign. I think we all wanted to be crusading journalists like them.
I left the San José news 25 years ago, eventually deciding to teach journalism with the hope of transferring some of my enthusiasm for the profession to another generation. During that same period, Rather rose to what some consider the top news position at CBS.
I had mixed feelings last week as I watched Rather's final newscast as anchorman of CBS News. Some people are glad to see him go, although he insists he isn't retiring - just returning to his first love of reporting.
Like others, I was dismayed that CBS News and Rather didn't check the authenticity of documents that added doubt about President Bush's National Guard service. Rather apologized, but his reputation and that of the network were tarnished.
It was a reputation he had built slowly over decades of reporting on many major events - sometimes at great personal risk. When he covered the Civil Rights movement in the early 1960s, racists spat on him and accused the network of being the "Colored Broadcasting System." He covered the 1963 assassination of John F. Kennedy, the Vietnam War and the tumultuous 1968 Democratic National Convention in Chicago, to name a few. Even after taking over the anchor chair from Walter Cronkite, Rather pursued meaty stories - the clash at Tiananmen Square, the fall of the Berlin Wall, the Gulf War, 9/11, and the Asian tsunami. Perhaps his most notable recent success was breaking the Abu Ghraib prison-abuse story.
Rather was sometimes criticized for becoming part of the story rather than just reporting it. In Afghanistan, soon after the Soviet invasion in 1980, he wore native garb to "blend in" while doing his reports. While covering hurricanes, he stood out in the rain and gale force winds to show us - as if we couldn't see from the video - that it really was nasty weather.
Rather would probably answer those critics that if he was a bit too involved, it was because of his love of reporting. In an hour-long TV show dedicated to his work, Rather said, "Too much passion leads to making mistakes, but I'd rather have too much than not enough."
Whether it was that passion, spreading himself too thin as some have suggested, or something else that led to the National Guard affair, ABC nightly news anchor Peter Jennings observed, "I think you measure a man by his whole career and not by one incident." So while Rather's mistake was a big one, who among us would want to be judged by our poorest day at work? But all of us would like to enjoy our work the way Rather obviously does.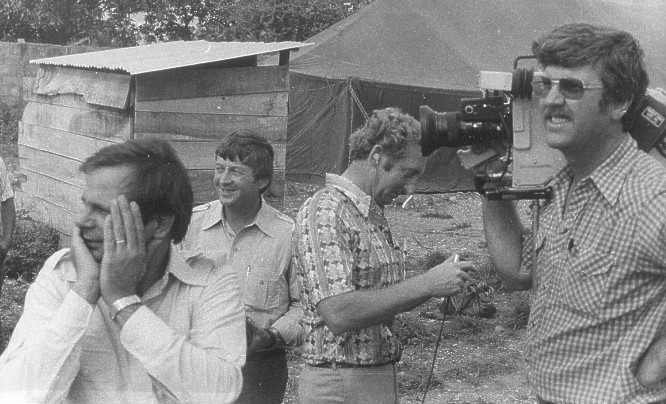 I served as translator for the "CBS News" crew, including Eric Engberg, left.