Snapshots by Gloria Freeland - March 10, 2005
A silver anniversary with a tropical touch
Silver balloons decorated the fellowship hall at the First Lutheran Church in Manhattan. Chocolate candy in silver wrappers was sprinkled down the center of the tables. Chocolate and white cake topped with ice cream were served on silver plates with silver forks and napkins to match.
"These are the good forks," commented Katie. "They're heavy and won't break."
Our friends' two children hosted the surprise 25th wedding anniversary celebration for their parents. Art asked Jeanie how the kids managed to get them there without their knowing.
"They told us we were just going out to eat," she answered. "But then they suggested I might want to wear something nicer than jeans. I asked them why I'd want to dress up more. Their excuse was that we were going to eat at the Country Club."
Family members and friends filled the hall. A slide show chronicled Rocky and Jeanie's life together - their wedding, their kids as babies, family gatherings through the years in Hawaii and Kansas, and their kids grown up.
"I had a heck of a time finding their wedding album," daughter Heidi commented.
"Where did you find it?" asked eavesdropping Jeanie.
"It was in the upstairs closet," Heidi answered.
Son Chad thanked everyone for coming to the reception.
Rocky thanked everyone for coming and then surprised the celebrants by singing a few bars of "Young and Foolish." Art couldn't resist quietly joining in.
I think most of us were impressed by Rocky's willingness to stand in front of a group of people and sing, but he shrugged it off with the comment, "When you reach a certain age, you have no shame."
In many ways, it was a typical 25th wedding anniversary celebration. But the flowers were no ordinary ones. Oh, there were roses of all colors to be sure. But Jeanie and Rocky wore leis made from fuchsia orchids, symbolic of Hawaii where they had met and married. One arrangement was filled with exotic purple, orange and yellow birds of paradise, red heart-shaped anthurium, ti leaves and tiny yellow orchids. Another was a pink protea, whose petals reminded me of a crown.
The Hawaiian flowers were brought by the friend who made Jeanie's wedding dress 25 years ago. She came just for the weekend to help them celebrate.
Jeanie and Rocky were our neighbors for a little more than half a dozen years. They moved to Manhattan a few years ago so we don't see them as often as we used to. I miss having them close by.
As Jeanie and I got to know each other, we discovered many parallels in our lives. We were born in 1953, graduated from high school in 1971 and joined Peace Corps after college. She was a volunteer in the South Pacific. I was in South America.
Neither of us were quite done with our adventures when our Peace Corps service came to an end. She moved to Hawaii where she met Rocky, and I moved to Costa Rica where I met Jerome - two Kansas girls in tropical paradises for a time.
While we both loved those exotic places and they remain dear to our hearts, we both returned to our native state. But we like to remember our adventures of long ago - adventures that happened only because we were young and foolish.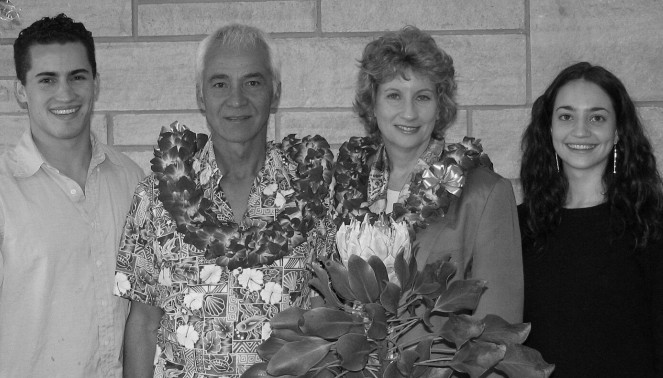 Rocky and Jeanie Racoma, our former neighbors, celebrated their 25th with tropical flair. Their children Chad and Heidi hosted the surprise celebration.