Snapshots by Gloria Freeland - Feb. 10, 2005
Thanks, Jane!
Eight years ago this month, a friend sent me a book that I still read every day. The book, Simple Abundance: A Daybook of Comfort and Joy, has entries for each date of the year. It is filled with quotes from poets and philosophers.
Inside the front cover, my friend wrote, "May each and every day bring a ray of sunshine, a smile and a gentle touch. With love, Jane."
There's nothing unusual about someone giving a friend such a book. What was unusual in February 1997 was that I wasn't able to hold the book, much less read it.
I was in a rehabilitation hospital recovering from an auto-immune disease that had left me paralyzed - unable to walk, talk or eat on my own.
I had only one arm and one eye that were functioning - but I had no real control of the movement of that arm and I was seeing double out of my eye!
Art's goofy sense of humor, excellent doctors, support from family and friends, and physical, occupational and speech therapists who pushed me to keep trying were all factors in my recovery, which took about nine months.
Today I can do most of the things I could before my illness, although I still have a few residual effects that remind me that I am one lucky woman. I had always considered myself a pretty grateful person, able to enjoy the simple things of life. That experience was a "smack on the side of the head" that brought home even more the idea that I should be grateful for each day.
And Jane's book, which brought a ray of sunshine in 1997, continues to bring me joy today.
The author of Simple Abundance introduces the month of February in the following way:
"February arrives cold, wet and gray, her gifts disguised for only the most discerning spirits to see. Gentle is our path. Gratitude is the thread we weave into the fabric of our daily lives this month, giving thanks for our simply abundant lives and asking for the gift of one thing more: grateful hearts."
Throughout the month, she suggests small things we can do for ourselves - meditating, taking long walks, watching a sunrise, buying a pastry to go with cappuccino - to make February days more enjoyable.
Along with entries for each day, the author suggests "joyful simplicities" for each month. On her list for February are the following ideas:
*Make hand-crafted Valentines with your kids.
*Write a letter to yourself. Compliment yourself for what you're doing now. Mail the letter and save it for when you're discouraged.
*Wear perfume every day.
*Force spring bulbs on a windowsill.
*Buy a long-stemmed rose for yourself.
The author's main theme for the month is to "just do something out of the ordinary that you normally wouldn't do that will lift your spirits."
She even quotes Lucille Ball, who said, "Love yourself first and everything else falls into line. You really have to love yourself to get anything done in this world."
In this month of love and Valentine's Day, it's easy to think of what we can do for others. But doing things for ourselves may be just what we need to make it through the cold gray days.
I think I'll go buy myself some tulips. I'll smile and think of Jane when I look at them.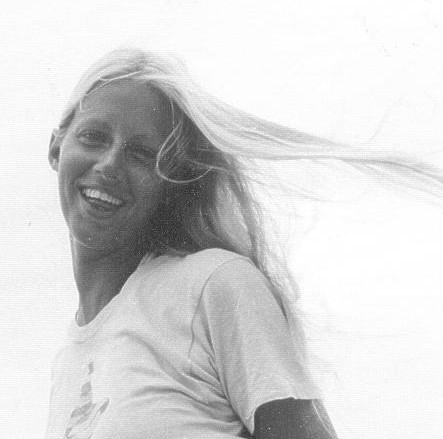 Peace Corps buddy Jane Fleck.