Snapshots by Gloria Freeland - Dec. 9, 2004
Rediscovering Christmas
Mariya came home on the weekend to decorate her room for Christmas, and Katie decided to follow suit. They both have their own little trees, which they adorn with lights and miniature ornaments. Once the girls get started, I know it's my cue to decorate the rest of the house.
Many people do all their decorating in one fell swoop the day after Thanksgiving. My college roommate is like that. She goes all out, literally decking every hall, bedroom, living area and bathroom with some sort of Christmas theme.
Some people are so organized that they have every ornament, angel and Santa indexed on their computers and carefully stored in their original boxes. I've heard of people who go so far as to take photos of each decorated room so they can do it the same way year after year.
That's not for me. I decorate as the mood moves me and when I have time to clear out the everyday clutter that seems to be strewn all over our house. This allows me to rediscover the various Christmas treasures we store away each year. This process of rediscovery is one of my favorite parts of decorating for the holidays.
I tackled our dining area first this year, mainly because it's the easiest. Shortly after Thanksgiving, I put away the cornucopia, took the harvest tablecloth from the table and replaced it with a green one. Red and green Christmas place mats and a small poinsettia centerpiece completed the decor. Voilà - one part of the house done!
Or so I thought. Katie pointed out that I hadn't hung the battery-operated Santa Claus that sings when you give him a pat on his bottom. I haven't rediscovered him yet.
Next, came the girls' holiday artwork. I put Katie's wreath made of plastic dry cleaner bags and a red bow on the front door. On the wall I hung the gingerbread man that was Mariya's first kindergarten homework assignment.
I'll bring out my collection of nativities, snowmen and holiday books next, and the stockings will follow shortly after.
In a week or so, we'll go out as a family and select a tree from a nearby tree farm. It will be the largest one we can conceivably haul up the deck steps and push through our patio doors, and it will probably extend from ceiling to floor - our version of the Griswold's Christmas. We're looking forward to having a tree this year. Last year, with the girls and me in Bolivia and Art in Wisconsin over the holidays, we didn't bother to put one up.
Even our tree will be decorated in stages. First, Art will string the lights on it, then the girls and I will hang the Christmas balls - the big ones toward the bottom and the smaller ones at the top. Then, we'll go through our boxes of ornaments and pick out our favorites - the hand-painted tin nutcracker from Germany, the black straw Santa from Ecuador, the hand-carved walnut nativity from a Kansas cousin.
But while it is true that decking our halls one room at a time keeps me from getting into a frenzy, there is something else I like about it as well. It's about family. We are all involved - even those who aren't with us. I enjoy stopping to look at the stained glass and bread dough ornaments my first husband and I made, the nativity Mom made for Mariya, the Santa village and train Art's Aunt Ione created for the girls and the ornaments his Aunt Arline designed for the tree in her family's home.
And when I rediscover these things, I rediscover the people who gave them to us. In some small way, they are also home for the holidays.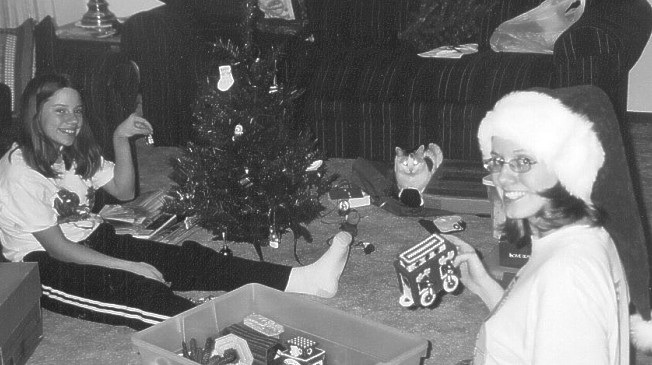 Katie, Cookie and Mariya rediscover ornaments, including miniature stockings
and angels and the yarn train set made by Art's Aunt Ione Herrmann.