Snapshots by Gloria Freeland - Dec. 2, 2004
My international country town
My hometown of Burns, Kansas made a splash on the national scene Thanksgiving Day. It was the 50th anniversary of the Betty Grimwood Thanksgiving Homestay Program, named for a family friend after her death in 1999.
An Associated Press reporter interviewed Betty's son Tom, and a photographer took a picture of his wife Nedy and their son Christopher sitting next to a map of the world. The map bristled with pins that represent the people from all over the world who have called the Grimwood house their home away from home.
The story appeared in the Manhattan Mercury, Kansas City Star, Wichita Eagle, Salina Journal and many other newspapers as well as on the CNN Web site.
The homestay program gives international students the opportunity to spend time in American homes over the Thanksgiving holiday. It was started by Betty in 1954, after she read an article about another town inviting foreign students into their homes to share turkey and to learn about each others' customs. She and her friend Bonnie Lohrentz thought it would be a good project for the Women's Society of Christian Service to sponsor 10 students that first year.
Now, 50 years later, hundreds of students from all over the world and dozens of families have participated. This year, Tom, Nedy and 2-year-old Christopher hosted a student from the United Arab Emirates in the home where his parents lived and he grew up.
"They (the reporters) were especially interested in Mom," Tom said. "She must have really been a pioneer in the homestay idea."
In 1959, Vice President Richard Nixon said Burns had "the biggest foreign diplomatic service in the world" at a recognition ceremony for Betty and her husband Ed.
"I think now how she and Dad went to Washington in 1959 for that Institute of International Education award and that the program was only 5 years old. Now it is 45 years after that and the program is still going!
"I remember her telling about the first year, that she and Bonnie had to check at the restaurants between here and Lawrence to make sure they would serve African students. I guess the restaurants back then wouldn't exactly refuse service, but they would sort of just not get around to waiting on the blacks," Tom said.
My own experiences with international friends began at an early age, thanks to the Grimwoods. Our family often visited their home, where I met people from many different lands.
I wasn't old enough when the homestay program began to say if Betty and Ed's efforts influenced the surrounding community to open their homes to international students or if it was something that was in our little community from the start. But whatever the origin, it had a big influence on me and the lives of many others.
Our sixth grade Sunday school class "adopted" a little Korean girl, whom we supported with our monthly donations. We sent her letters and photos and eagerly awaited her responses. In junior high, I had a pen pal from Kenya.
Ingrid Rojas, a Venezuelan, was our high school exchange student and friend. In college, I became acquainted with students from all over the world, including many from Latin America. My interest in their part of the world led me to Ecuador, where I was a Peace Corps volunteer, then to Costa Rica, where I worked on a newspaper.
Thirty years ago Bolivian friends Justo and Fabiola Zapata were married in Burns because of Justo's friendship with the Grimwoods and because Justo liked our town after visiting it many times with Tom.
Tom's frequent trips to Bolivia influenced my sister to visit that country, where she met Humberto. They have been married almost 20 years and live in La Paz with my two nieces. During Tom's visits, he met Nedy, who is Bolivian, and she and Tom were married almost four years ago.
Our early exposure to people from foreign lands gave us a better appreciation for them - and they for us. A letter from one Pakistani to his Burns host family many years ago illustrates this.
". . . The memory of our stay in Burns will live in me forever. We saw simple plain country folks, leading plain lives, without any artificialities and superficialities and we found that there is much in common that we can share and less difference to worry about. Burns is the center of the U.S. not only geographically, but in many other respects, and by knowing Burns, we know the whole country."
Ed Grimwood died this past September, but I'm certain he and Betty would be pleased to know that the program they started and nurtured for nearly half a century is still going strong and that warm hearts and open arms are still welcoming people from all over the world to Burns.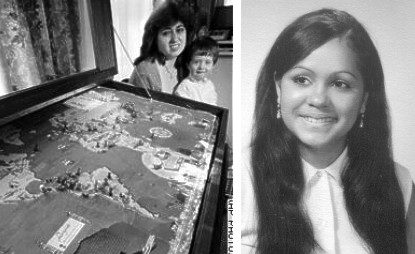 Nedy and Christopher Grimwood, left, next to the map of countries of students who have stayed with families in Burns through the homestay program. Betty and Ed Grimwood, Nedy's husband Tom's parents, began the program 50 years ago. The Grimwoods and other Burns families continue to host students during the Thanksgiving holiday. Ingrid Rojas, right, from Venezeula was an exchange student in my class at the Peabody-Burns High School.