Snapshots by Gloria Freeland - Sept. 9, 2004
September thoughts
Jerome and I would have celebrated our silver anniversary this week. His death at age 31 meant we only had six years together, but every September my mind goes back to our wedding day.
We met in Costa Rica when he was a Peace Corps volunteer and I was a reporter for a small English-language newspaper. We often marveled at the fact that circumstances brought us together so far from home after living most of our lives only 50 miles apart in our native Kansas.
A friend invited me on a bus trip to a volcano, adding I might enjoy meeting a Kansas journalist who had recently joined Peace Corps. She told me he had worked for the Wichita Eagle-Beacon and she told him I was a journalist from a small town in Kansas who was now working for the San José News. I imagined that he was a cocky big-city reporter. He imagined that I was a middle-aged spinster who wrote gossip columns for what he jokingly called The Burns Blabber.
We hit if off immediately. We talked about our Kansas roots and discussed some of the stories he had covered - and I had read - in the Eagle-Beacon.
When I wrote a feature story about the volcano for the San José News, my lead was "There is something about Volcano Poás which casts a spell on those who visit the site."
Little did I know!.
We began dating and traveled all over the country together. Mostly we talked - about family and international politics and our writing and Spanish grammar and love. Our favorite spot was a duck pond in the middle of busy San José.
We met in February and, by July, we were planning our wedding. When my parents and sister arrived in Costa Rica for a visit shortly before the 4th of July, I announced that Jerome and I would be getting married two months later and that we wanted the ceremony to be at my folks' farm. They took it in stride, even though my sister said I should have consulted her first.
We immediately went into high gear. We purchased material for my dress and the bridesmaids' dresses, ordered and addressed invitations and discussed what we would do about flowers and food. When they returned to Kansas, the rest of the planning was done by phone calls and letters.
The most memorable call was Jerome's to his Mom, requesting that she order a cake shaped like a duck for the reception table. She asked him to repeat the request, certain she hadn't heard correctly. He explained that it was to represent our favorite spot - the duck pond - and she understood. At least I think she understood.
We arrived in Kansas a couple of weeks before the wedding so I could meet his family and we could make final plans.
The wedding day was beautiful. My sister, friends and I gathered sunflowers from along the road running by the farm and placed them in the bowl of the old cream separator, which stood near the windmill. Mom, my sister, my sister-in-law and my aunts decorated tables for the reception. Dad, my brother and my uncles set up chairs outside. Jerome put a tape player in a window so we could have music outside.
People started arriving. The music began. The bridesmaids and groomsmen and Jerome proceeded to the east side of the house where the minister was waiting, then Dad escorted me on his arm past the family and friends who had gathered to witness our vows. The ceremony was under the cedar tree that my grandfather and great-grandmother had planted in the early 1900s.
At the reception, people commented how much fun they had and how neat it was that we had our wedding outside on the farm that had been in the Freeland family so long. The duck cake was by far the most talked-about part of the wedding.
September is always busy with school starting and the seasons changing. But while I won't see Jerome on our September anniversary, I'll stop many times to remember him and the memories will make me smile.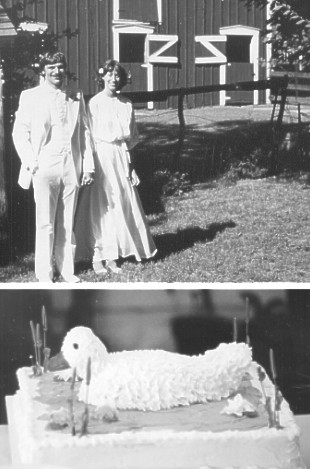 Jerome Johanning and I, were married on the
Freeland family farm Septemper 8, 1979.
Our reception-table "duck" cake was a reminder
of our favorite spot in San Josť - a duck pond.