Snapshots by Gloria Freeland - Sept. 2, 2004
Art and Smokey turned 60
Smokey the Bear and Art share August birthdays. In fact, both of them turned 60 this year.
There are some similarities between the two of them. They are both fairly large, can growl when they're irritated, love to catch and eat fish, and are protective and gentle with their families and friends.
I read about Smokey's 60th birthday when we were in Wisconsin early in August. The first national fire prevention messages featuring Smokey were distributed by the U.S. Forest Service in 1944. The Forest Service, working with the Advertising Council, authorized a poster of Smokey as the symbol of fire prevention.
Smokey's stern warning - "Only YOU can prevent forest fires" - is as imbedded in my childhood memories as firmly as the slogan "Nestle's makes the very best chocolate" and the jingle "from the land of sky blue waters - Hamms, the beer refreshing."
Wisconsin's Department of Natural Resources sponsored several celebrations for the bear, including a party at the Wisconsin State Fair. We didn't attend any of those parties, but I wanted to do something special for Art's birthday. The problem was that his birthday fell smack dab in the middle of the week - on Katie's first day of sixth grade, Mariya's first day as a freshman at K-State and my first day of the fall semester at the university.
Mom saved the day. She invited all of us to her house for supper. She fixed meatloaf and baked potatoes - among Art's favorite dishes. He favors pies over cakes so she scored more points by having apple pie for dessert.
By Saturday, I had time to plan my own celebration, which I was hoping to keep a surprise. I had invited my brother and sister-in-law, Mom and some friends to come for supper and asked them not to say anything.
However, my suggestion to Art that he should be home at 6 for a special meal was his first clue that something was up. That, along with the fact that I spent $100 on groceries the night before when he's usually the one who does the shopping. Oh, and probably the crock pot I borrowed from Mom that he discovered in the kitchen.
"Are you planning something for my birthday?" he asked, knowing full well that I was.
"Dang it!" I answered. "I was hoping I could keep it a secret."
He just grinned and told me he used to guess what people got him for Christmas until it upset them so much that he quit doing it.
"Fine," I said. "Just don't ask me what I'm fixing. At least that can be a surprise."
He left for the day to work on Mariya's apartment and run some errands. Katie and I got busy preparing the meal. She selected the menu and we both worked on the barbecued ribs, mashed potatoes, a salad made with kiwis, strawberries and avocados on a bed of lettuce, and her special dessert concoction of vanilla ice cream drizzled with raspberries we picked in Wisconsin and sprinkled with Grape Nuts. Art's the only one in our family who really likes Grape Nuts. We kid him that eating them is like eating sand.
Family, friends and Art all arrived within 15 minutes of each other. In fact, on the way home, Art even rescued one family who couldn't remember the way to our home. He thought he recognized their van and when he went by and saw familiar, but confused faces, he waited until they turned around and caught up with him.
In the end, a good time was had by all. After everyone left, Art and Smokey came together in my mind again. I'm not sure what a sleeping bear sounds like, but I have a hunch the noises are similar to those that emanated from the birthday boy on the couch.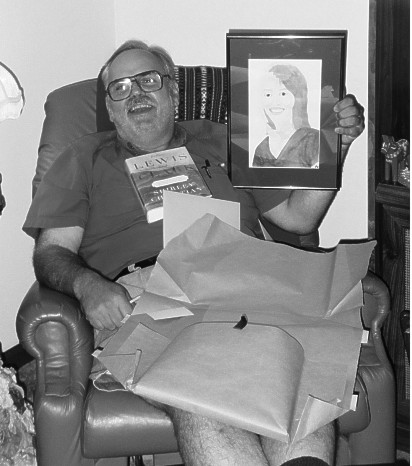 Art opens a drawing of me done by Mariya - one of his birthday gifts.