Snapshots by Gloria Freeland - July 8, 2004
Parade, picnic and pyrotechnics
Art was planning on being gone through July 5 on a short trip to Wisconsin, but he surprised us by returning home a couple of days early. The girls and I were glad because Independence Day just wouldn't have been the same without him.
"Oh, yay, let's go buy some dangerous fireworks and then Uncle Art can light them," my 11-year-old niece Larisa exclaimed.
My sister, our girls and I had gone out to buy fireworks on July 2, but they were mostly of the benign type - sparklers, strobe lights and snappers.
We didn't have to purchase any "dangerous" ones because Art had brought with him a package filled with colorfully named items such as Wild Dog, Mad Dog, Witchcraft, Kamikaze Attack and the Big Kahuna.
"These will definitely make some light and noise," I thought.
Our celebration began when we joined neighbors and friends along the parade route in Keats. It was hot and muggy, but we found a shady spot under a small tree shortly before the 6 o'clock starting time. A fire engine led the parade, followed by the grand marshals in a horse and buggy, bicyclists, four-wheelers, a donkey with a red, white and blue ribbon in its tail, black Labradors with red bandanas tied around their necks, politicians with banners and campaign literature, tractors, a float from the Keats-Riley United Methodist Church and classic cars.
"I'm older than that car, and that one and that one, too," Art said as the various Chevys and Mustangs went by.
The girls and other kids along the route scrambled to pick up the candy thrown by people in the parade.
Two squad cars from the Riley County Police Department passed, marking the end of the show. We were among the first to line up to buy buffalo burgers, sausage burgers, sauerkraut and baked beans. We scouted out a place in the park shelter, trying to find another spot away from the sun and hoping for a little breeze.
As we finished eating, a Boy Scout troop performed a ceremony to retire the old U.S. flag that had been flying at the park. One young Scout read a poem, "Old Glory," as fellow Scout members carefully held the faded old flag. Then they gingerly put it in a container to burn it. I knew this was the proper and respectful way to retire the Stars and Stripes, but I still felt a twinge as I saw the flames engulf it.
Another Scout played "Taps" and then we recited the Pledge of Allegiance after the new flag was raised.
We headed into Manhattan to finish our own celebration in Mom's back yard. We could see the city's "Thunder over Manhattan" show as well as enjoy our own.
We applauded and "ooh'ed and ah'ed" at appropriate times as Art - assisted by Mariya or my sister - lit the various fireworks. They alternately popped, whistled or screamed as they shot out red, green, purple and gold showers.
Our pyrotechnics and the city's display ended at the same time. It was then we realized that Mom's neighbors had another one going in the middle of the circle drive in front of her house. Some of us plopped down on the lowered pickup gate while others brought patio chairs from the back yard to enjoy yet more fireworks.
After seeing about as many "rockets red glare" and "bombs bursting in air" as we could handle, we headed home. Some spectacular lightning bolts flashed across the midnight sky. The real thunder over Manhattan had held off just long enough for us to celebrate our nation's 228th birthday. May she have many more!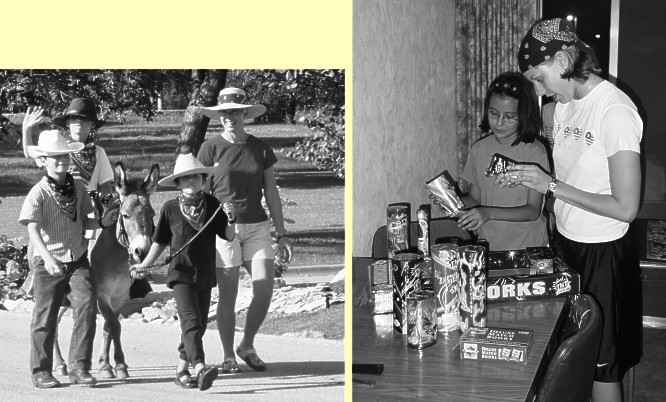 A donkey in the parade at the Keats park, left, and Mariya
and Larisa check out the "dangerous" fireworks Art bought.