Snapshots by Gloria Freeland - June 24, 2004
Letting go
We're now the proud parents of an official K-State freshman.
Mariya and many of her fellow RCHS friends are among the 3,300 new students who have gone through the enrollment process on campus the past couple of weeks.
The orientation included a lot of general information about K-State, and also tips to help students and parents adjust to the changes that will soon come. We were told - and we know from experience - that changes produce stress, anxiety, optimism and excitement.
As students try to understand themselves better, we parents hope that we've given our children the background - and backbone - to stand up to the challenges they'll face in college and beyond.
Although they've been moving away from us every day since they were born, now is the time they'll really try their wings.
According to the academic and student life experts, once our children begin their college experience, they will do a number of things: make academic decisions, search for independence while striving to create interdependence, make new friends, go through homesickness, learn to get along with roommates, find new ways of thinking, make important life choices, feel financial anxiety, wonder if college was such a good idea and find that home is less familiar.
And what will we parents be going through? We'll feel relief because we no longer have to blast our teenager out of bed in the morning to get them on their way to school and wistfulness because they'll no longer be an ever-present part of the family. We'll praise them when they manage their money wisely and bite our tongues when they buy something we think is frivolous. We'll be proud when they make the decision to study abroad and worried that something terrible might happen to them.
At orientation, students learned helpful hints such as go to class; get help early if they need it; lighten up about picking a major (four of five students change their majors; 60 percent change majors three times); find someone who knows they're there; and get involved in one of the 375 student groups on campus.
They were encouraged to get out of their comfort zone, take advantage of lectures by diverse speakers, join a multicultural organization, serve on a planning committee for one of the many heritage celebrations on campus and befriend international students - in other words, to embrace the diversity that is in the world.
"When you eat a can of mixed nuts, you don't eat just the cashews because they're your favorites," one speaker said. "The nuts come in different sizes, shapes and colors and you should try different ones."
The whole process brought back the excitement I felt 33 years ago when I started college, and it made me want to go back to school. As Mariya was selecting the courses she'll take this fall, I skimmed through the course catalogue.
"There's an anthropology class I'd like to take," I said. "Oh, and there's Italian and Arabic! That theater class would be neat. Man, I wish that history class had been offered when I was in school."
But this is Mariya's time - HER new adventure. I'll just stand back in the wings rooting for her.
You go, girl!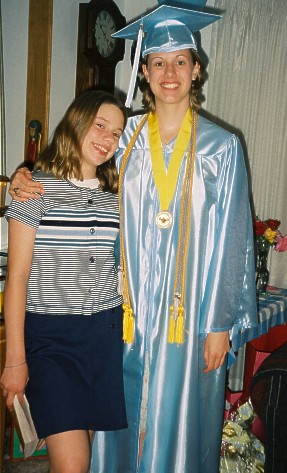 Katie and big sister Mariya on Mariya's graduation day.